Scoring an interview with a top tech company is quite the achievement, but actually landing a job is a whole other story. Take Google for example. With over 2 million applications a year, Forbes reports you have a better chance of getting into Harvard than getting hired at Google.
One look at Google salary data on paysa.com and it's easy to understand why millions of people are vying for jobs there: in addition to some of the best perks and benefits in tech (including gourmet food, bowling alleys and death benefits that pay half a deceased Googler's salary to his/her spouse for a decade), Googlers make an average salary of $202k. That's over 3.5x higher than the US median household income in 2015.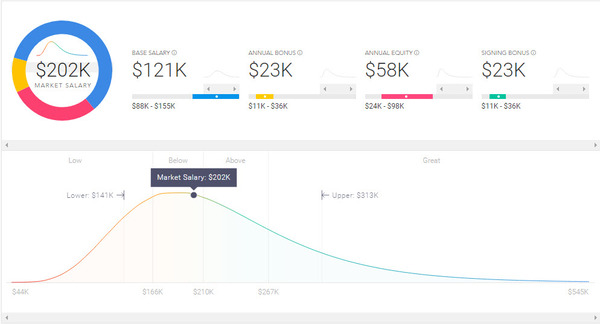 Average Google salary per Paysa data
It's not just Google that's willing to pay its employees handsomely, either. Paysa.com's SalaryRank tool, which compares thousands of salaries for tech talent across top companies, shows that the average market salary for tech positions at Uber, Pinterest, Airbnb, and Google is a whopping $260K. That's higher than the annual salary of the Vice President of the United States.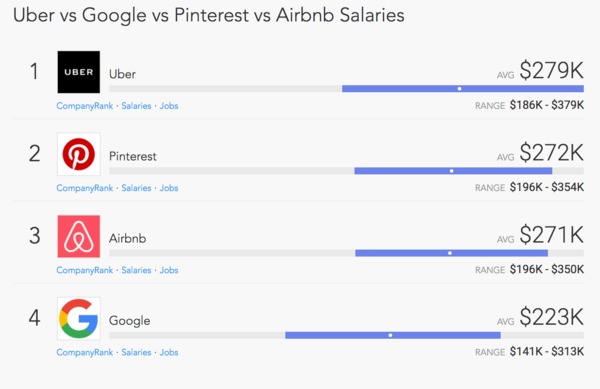 Uber vs Google vs Pinterest vs Airbnb Salaries per Paysa data
Without a doubt, top tech companies will pay a premium for the best talent, but in order to ensure they are getting the best, their interview processes may include some pretty off-the-wall questions to gain insight into how you strategize and problem-solve. Interviewees beware: while these questions may appear silly or irrelevant at first, your answers are often more important than anything on your resume.
Here are ten of the most off-the-wall questions top tech companies have asked, along with insight into what your answer tells companies about you and the way you think.
Apple: Testing your problem-solving and critical thinking skills
With over 66,000 employees in the U.S. and some of the highest salaries in Silicon Valley according to paysa.com, there's no doubt that Apple jobs are some of the most coveted in the world. And with over 600 corporate Apple jobs posted online, there are plenty of opportunities for qualified candidates to get their foot in the door.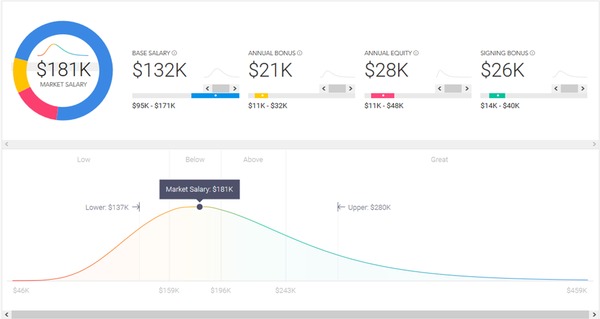 Average Apple salary per Paysa data
We've previously highlighted the highest paying Apple jobs on our blog, but long before you're signing an offer you'll need to make it through Apple's notoriously grueling interview process and answer some tricky puzzles along the way — like this one asked to a Global Supply Manager candidate: "How many children are born every day?"
Before you ask: no, Apple isn't looking to get into the pregnancy wearables business. The question, like many of the seemingly off-the-wall questions top tech companies ask, is meant to catch a glimpse of your critical thinking skills. Your interviewer isn't so much concerned with your answer as they are with your thought process.
Why do they ask this question?
With over 45 million iPhones sold in the last quarter of 2016, a Global Supply Manager at Apple needs to have a firm grasp on estimating and calculating quantity and volume. Asking a potential candidate about their previous global supply management experience or testing them on complex math equations might tell you what they know, but asking a candidate "how many babies are born every day" gives Apple the chance to see how the candidate thinks about numbers and volume. While the question is obviously unrelated to the responsibilities of a Global Supply Manager at Apple, the skills being tested by this question are directly related to the role.
What's the right answer?
UNICEF estimates around 353,000 babies are born worldwide each day. But remember: Apple isn't looking for you to know this stat; they want to see how you could estimate a number by perhaps using some more commonly known figures like world population and average life expectancy.
Similar-style off-the-wall questions from other companies:
Google: Testing your decision-making ability and sense of humor
Google has been ranked among Paysa's top three companies for tech talent since the summer of 2005 and doesn't show any signs of dropping down. The search giant is now part of a larger parent company, Alphabet, and has expanded its portfolio to include everything from artificial intelligence to virtual reality and self-driving cars.
Like Apple jobs, Google jobs are some of the best paid in tech. So, if you're one of the lucky few that land an interview with Google, you need to be prepared. And while Google has moved away from some of the brain teasers that were the inspiration for an entire book about their interview process, you should still be ready for off-the-wall questions like: "If you could only choose one song to play every time you walked into a room for the rest of your life, what would it be?"
Why do they ask this question?
The answer is simple: to see how you react to something you do not expect. At a small startup, this question could carry some weight in determining whether you're a culture fit (no one wants to listen to you pump Bon Jovi through your desktop speakers at a WeWork – no offense), but with 62,000 employees and counting, Google is well-past the point of cutting candidates due to differing music tastes. Instead, this question, which likely followed a much more complex technical question, is meant to test how well you can pivot your thinking.
Likewise, the question tests how quickly and confidently you commit to a decision. Do you linger too long in the decision between "Eye of the Tiger" and "Thriller"? Or are you able to make a definitive judgment call and stand by it, even when your choice elicits snickers from the interview team?
What's the right answer?
It's probably this. But really, it's any song you want, provided the answer is delivered fairly quickly, with full confidence and a sense of humor. Interviews for Google or Apple jobs are notoriously intense; recognize these moments where your brain can have a breather and take advantage of the opportunity to show off a bit of your personality.
Similar-style off-the-wall questions from other companies:
Tesla/SpaceX: Testing your expertise
Working for Elon Musk as part of Tesla Motors or SpaceX means more than just an incredible salary: it means potentially changing the world through science and innovation.
Getting hired by Musk, who still sits down for an interview with many important potential hires, is equal parts intimidating and rigorous. In Ashlee Vance's biography of Musk, he details the coding expectations for prospective engineering talent:
"Companies will typically challenge software developers on the spot by asking them to solve problems that require a couple of dozen lines of code. The standard SpaceX problem requires five hundred or more lines of code."
According to Dice, prospective SpaceX hires are also asked to write an essay for Musk on "why they want to work at SpaceX". Additionally, they should be prepared to answer this tough geography puzzle: "You're standing on the surface of the Earth. You walk one mile south, one mile west, and one mile north. You end up exactly where you started. Where are you?"
Why do they ask the question?
Musk's intelligence and hard-working, sometimes volatile attitude are well-documented, so it should come as no surprise that this question isn't a brain teaser where your thought process is all that matters: Musk is looking for the correct answer here and a wrong one likely means you're out.
To be clear: Musk isn't looking for you to know the answer off the cuff, much like Apple jobs don't hinge on you keeping a running tally of babies born each day. But considering the nature of the work done by SpaceX, the ability to solve the puzzle is a critical demonstration of your baseline understanding of how our planet operates.
What's the right answer?
You're either at the North Pole or within a mile or so of the South Pole. If you're interested in knowing why, this video will break it down for you.
Similar-style off-the-wall questions from other companies:
"You have a 1-mile-long x 1-mile-wide private island that you wish to turn into a resort. A plane requires a 2-mile-long runway to take off. What do you do?" (Riot Games)
Conclusion
Landing a job with a top tech company can change your life forever. You don't want to get turned down for an opportunity because you weren't prepared for an off-the-wall interview question designed to test the way you approach a problem and demonstrate how your expertise leads you to a solution.
Whether you're interviewing for a new job or seeking a promotion, Paysa is a tremendous (and free) tool that can help you get paid what you deserve. Visit paysa.com to get started today.