Move over doctors and lawyers: tech jobs at top-ranked companies are now some of the most desirable positions in the US workforce.
The days of growing up with aspirations of becoming a movie star or astronaut are behind us. Today's kids are writing letters to Google in hopes of one day landing a job with the tech giant.
Most people think of software engineers and data scientists when they think of tech jobs, but did you know that Microsoft employs a chief storyteller? Or that Google had an in-house philosopher on staff until 2013?
You might not be able to go to school to become a digital prophet, but that doesn't mean weird tech jobs aren't out there.
Get your resumes out and updated: we've rounded up a list of our favorite unusual tech jobs with the biggest growth potential (and sizeable salaries to match).
Performance and Capacity Engineering, Facebook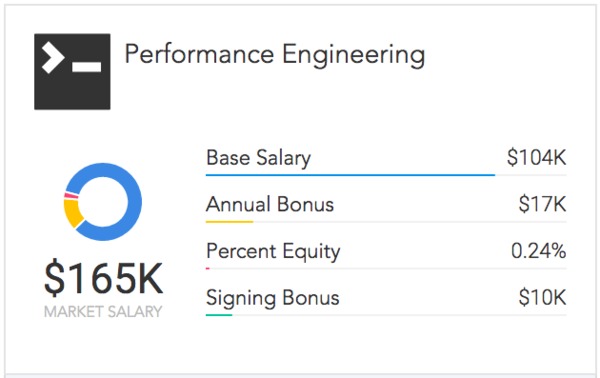 Average Performance Engineer salary, per Paysa data.
When Mark Zuckerberg launched Facebook from his Harvard dorm in 2004, he couldn't have imagined it growing to the 1.86 billion monthly active users it has today. And with no signs of growth slowing down, Facebook faces a persistent, age-old challenge: supply and demand.
How can Facebook effectively scale its hardware to meet the demands of its rapidly growing and ever-evolving software offerings?
Bill Jia works to solve that challenge every day. As the Senior Director of Performance and Capacity Engineering, Bill holds one of the most important tech jobs at Facebook. He's the guy responsible for making sure Facebook's hardware infrastructure can support the high volume of daily traffic the site receives.
"[The role] bridges digital world (all software products) with the physical world (servers, datacenters, power, and networking)," Jia wrote on Quora.
In short, Bill's one of the reason's Facebook hasn't had a serious outage (and you've haven't missed a friend's birthday) since September of 2015.
Jia shares in his Quora post: "As a veteran who has been in this role for years, I have to say it is a really cool position."
Sounds great! Who's hiring?
What was once a fairly unusual tech job is becoming more and more in-demand as companies like Uber and Dropbox work to appropriately scale their solutions to an increasing audience. As of publication, paysa.com had listed performance engineering jobs at VMWare, Workday and Kronos with market salary estimates as high as $282,000.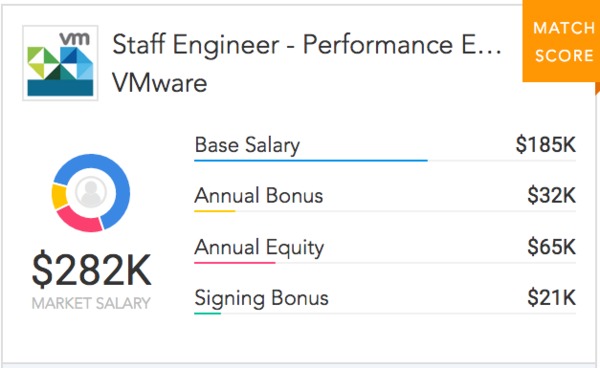 Average VMWare Staff Engineer – Performance Engineering salary, per Paysa data.
What skills do I need to be a performance and capacity engineer?
According to paysa.com, performance and capacity engineer roles require a lot of the same skills you'd need for a number of other tech jobs. Python experience seems like a must, along with forecasting skills and a strong infrastructure background.
Listening Czar, Dell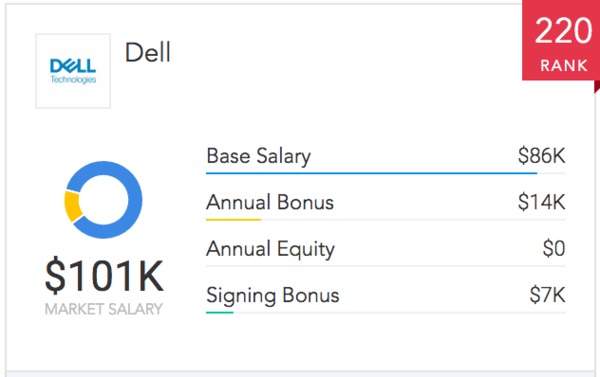 Average Dell salary, per Paysa data.
If you live in the twenty-first century and your job includes a title reserved for pre-revolution Russian emperors, chances are you may have a cool tech job.
In the early 2000s, Dell struggled with poor customer service and low satisfaction among consumers. The rise of blogging and social media meant a more vocal (and visible) audience of disgruntled customers, leading chairman and CEO, Michael Dell, to rethink Dell's approach to managing customer feedback.
From this initiative, the "listening czar" role was born. Intended as a bridge between online customer feedback and Dell's various business lines, the listening czar was tasked with reading and responding to the 4,000-5,000 mentions per day Dell was receiving at the time, while also working to identify feedback trends that could help shape the future of Dell products.
In a blog post from April 2010, then-Chief Blogger Lionel Menchaca said the goal of Dell's listening program "is to evolve our listening strategy to the point where we can identify the relevant conversations, parse the actionable ones so we can deliver them to employees within the company who can engage our customers."
Sounds great! Who's hiring?
The listening czar title disappeared around 2011, but the essence of the role lives on at Dell and a number of other companies in titles like chief listening officer and social media analyst. Today, you can find open positions with Brandwatch and Unilever on paysa.com with market salaries as high as $122,000.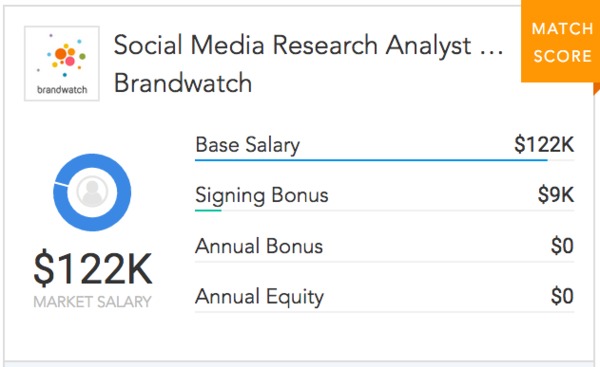 Average Brandwatch Social Media Insight Analyst salary, per Paysa data.
What skills do I need to be a listening czar?
To state the obvious: above average listening skills are a must. Otherwise, social media management, digital marketing, customer service, writing and even some human resources experience can be a big help in landing a role according to paysa.com.
Computational Linguist, Google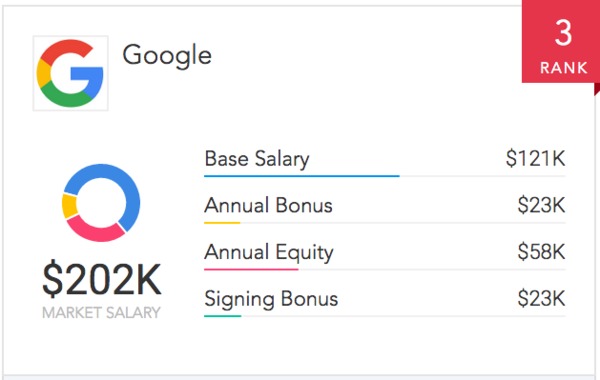 Average Google salary, per Paysa data.
"Ok, Google! What is computational linguistics?"
Ask your Pixel or Google Home that question and you'll actually be demonstrating exactly what computational linguists work on every day. Love a good conversation with your computer? Then this may be the tech job for you.
Computational linguists focus on a field of computer science called "natural language processing" or "NLP." The study of NLP by computational linguists is what makes Apple's Siri or Amazon's Alexa able to understand both your fast-talking SoCal friend and thick-accented aunt from Georgia with equal ease.
Anyone who took Spanish or French in high school can confirm: learning a language requires more than understanding simple vocabulary. Knowing the nuances of language, everything from sentence structure to slang, defines fluency.
Computational linguists teach computers to understand those nuances so they can better understand you.
Today, that means tools like Google Translate can help you decipher the menu of a fancy French restaurant online. In the future, that could mean complex, life-like conversations with artificial intelligence.
Sounds great! Who's hiring?
We're already seeing artificial intelligence penetrate our daily lives in a number of ways, but with everything from home assistants like Google Home to self-driving cars in need of language fluency, computational linguists are in high-demand. 2017 is being marked as a huge year for artificial intelligence by publications including Fortune, Inc. and Forbes. As AI continues to evolve, so will the demand for these exciting tech jobs.
A quick search for computational linguist jobs on paysa.com showed current openings at Facebook, Google, Microsoft and Dropbox with market salary expectations as high as $311,000!
What skills do I need to be a computational linguist?
You'll need all the skills of a software engineer plus experience with machine learning, infrastructure, and information retrieval. Not to mention a solid command of the English language.
Space Suit Design Engineer, SpaceX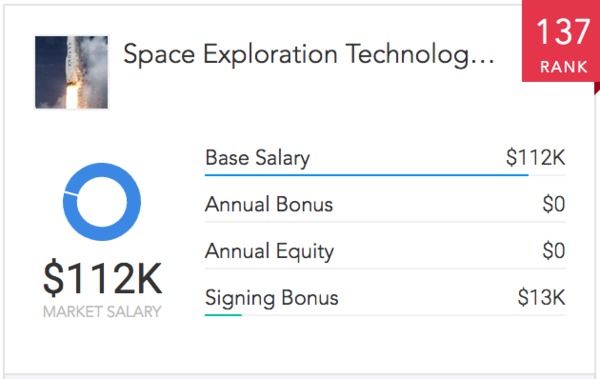 Average SpaceX salary, per Paysa data.
Want to influence the future of space travel through a mix of design efficiency and fashion? Well, Elon Musk and his team at SpaceX might just have the coolest tech job for you.
Musk's work to change the face of space travel extends as far as the suits our future astronauts will wear in their first encounter with Mars. According to Musk, the suits' esthetic appeal is just as important to him as its functionality:
"Our spacesuit design is finally coming together," Musk said in a 2016 interview with Gizmodo. "We are putting a lot of effort into design esthetics, not just utility. It needs to both look like a 21st-century spacesuit and work well."
That's why Musk hired a Hollywood super hero costume designer to help build the spacesuit of the future. We haven't seen any images of the suit yet, but considering the designer worked on Batman vs. Superman and X-Men: Apocalypse, you can bet they're going to be cool.
According to a 2013 job posting on SpaceX's careers site, the space suit design engineer works with SpaceX's Dragon spacecraft crew designing and testing suits to "support our ultimate goals of aviation-like spaceflight capability and making humanity a multi-planet species."
When it comes to tech jobs, it doesn't get much more ambitious or exciting than that.
Sounds great! Who's hiring?
SpaceX doesn't have a job posted for the position at the moment, but there are some positions listed on paysa.com that can help you build the skills and experience required to take on the position in the future. Afterall, with SpaceX's ambition and growth, it's only a matter of time before more roles like this one are open to new candidates.
What skills do I need to be a space suit design engineer?
A minimum of two years designing and manufacturing structural or composite hardware is a must, along with the ability to be "undaunted by the impossible."
Conclusion
Tech jobs have always been cutting edge and innovative by nature, but these four positions reveal some unusual paths to consider for your career. Additionally, they pull back the curtain on the direction top tech companies are moving, giving us a glimpse of the future of our world.
Paysa.com is the best source for information on salaries, jobs, and skills for both traditional and unusual tech jobs. You can research top companies, get accurate, up-to-date salary data, and find jobs that match your skills and expertise. Our blog shares news, trends, tips and tricks to give you a competitive edge for top tech jobs. Visit paysa.com today to begin mapping out your future.