Be sure to review our guide to preparing for your annual review.
If you're lucky enough to work at one of Silicon Valley's top companies, you know competition for tech jobs is fierce. After all, with companies like Google paying software engineers nearly $200,000 in annual salary according to Paysa data, it should be no surprise when top talent from around the world fights for one of these open tech jobs on their team.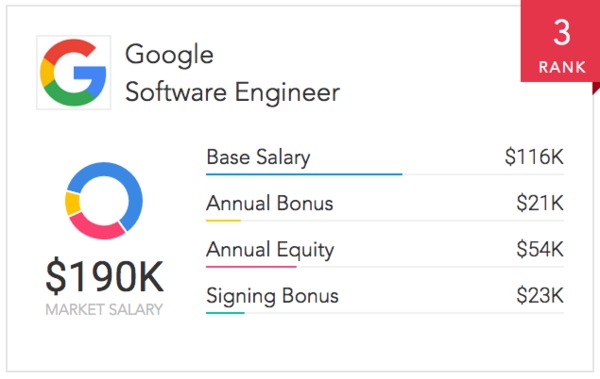 Google software engineer salary, per Paysa data
As a result of such healthy demand, current employees at top tech companies need to consistently prove their worth or else risk losing their positions to more capable talent.
There's no better opportunity than your annual review to demonstrate the value you've brought to the team over the last year, along with how you plan to continue your path of excellence moving forward.
That's why you need to be prepared. Not just for the review itself, but for the steps to take after your annual review.
Whether the feedback is good or bad, this post will help ensure you're taking the right steps after your annual review.
Step #1: Take Time to Digest the Feedback
Annual reviews are often a long, stress-inducing process.
Molly Graham, former Director of Mobile Strategy at Facebook, shared the social media giant's annual review process in a 2013 Quora post.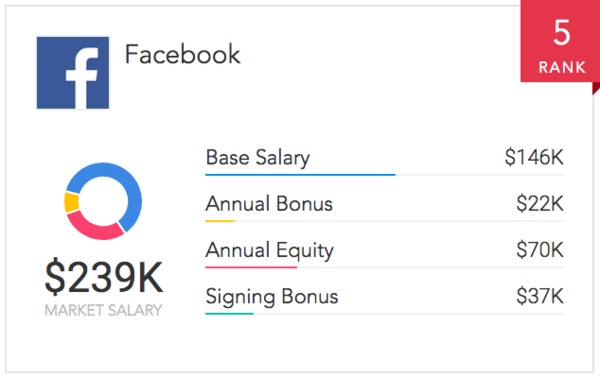 Average Facebook salary, per Paysa data
First, comes "a two week period where employees solicit peer feedback (usually 3-5 peer reviews), write a self-assessment, and write a manager assessment."
After feedback is collated, "managers meet to look at the assessments of everyone on their team and ensure that people are rated correctly relative to their peers."
Finally, "managers have performance conversations with employees where they summarize the feedback (in person and in writing) and give them a compensation letter that includes their rating, bonus, and any additional information."
Most companies like Facebook don't provide copies of your review prior to the meeting with your manager. Therefore, you're likely going into your annual review blind.
Sure, you'll likely have a gut feeling if your performance over the last year was exceptionally good (or, for that matter, exceptionally poor), but for the majority of people in tech jobs, the review itself is a flurry of information with little or no time to digest.
That's why you need to take some time to digest the feedback and put together a plan of action.
Making rash decisions during your review — whether it be vehemently defending a critical decision you made on a recent project or demanding a raise — likely won't go over well with your manager.
Here's what to do instead:
Thank them for the important feedback and ask to schedule a follow-up. By politely ducking out of the conversation, you're buying yourself some time but also making it clear to your manager that you want to revisit the conversation. Aim for a 30-minute follow-up meeting a week later.
Request a written copy of your review. You'll likely have a tough time remembering everything that was said, so a written copy will help refresh your memory.
Write out your thoughts. This is just for you, not for your manager. Take a few minutes to write out your feelings post-review. Are you nervous, stressed or even angry because it didn't go as well as expected? Are you excited or nervous because it went well? (A good review can often be equally as stressful.) Write it out while it's still fresh in your mind.
Once you've done those three things, move on to Step #2.
Step #2: Put Together a Plan of Action
Regardless of whether your review was spectacular or awful, the next step after your review involves putting together a plan to improve in the upcoming year.
Top-performers in tech jobs need to be thinking about how to take their careers to the next level. Poor performers need to be thinking about how to course correct for the upcoming year.
How do you create an actionable plan after your review?
Based on the feedback you received from your manager and your own self-reflection, think of the big goals you want to set for yourself this year and then break those goals down into milestones throughout the year.
As Dominique Jones, Chief People Officer at Halogen Software stated in an interview with CIO.com:
"Those milestones are important, because otherwise, especially if your reviews are annual, it'll be twelve more months and nothing has happened. Figure out what you and your manager are trying to accomplish, what strengths you can leverage, and then focus on sticking to that development plan."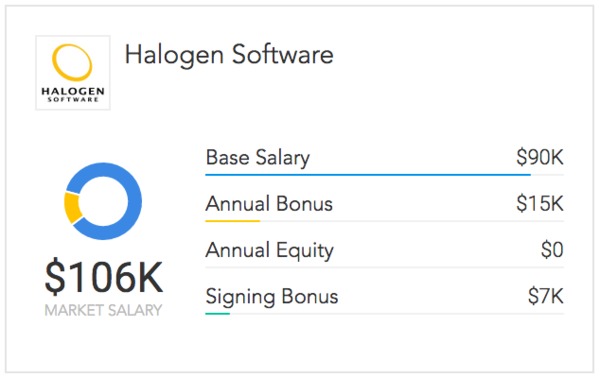 Average Halogen Software salary, per Paysa data
Once you have a plan in place, it's time for the next step.
Step #3: Hold a Follow-up Meeting 
This meeting is where you'll present your plan to your manager for their sign-off and ask any pertinent follow-up questions.
If your review went well and you plan to ask for a raise during this meeting, be sure to check out Paysa.com first.
According to Paysa's guide, "How to Negotiate a Raise," Paysa "uses a data science approach to analyze a person's background and lets them know what they're worth in the market."
You can plug your current salary information into Paysa's "Get a Raise" tool and receive a custom report that provides an average market salary for your role. That report can be an incredible tool to leverage during your negotiations.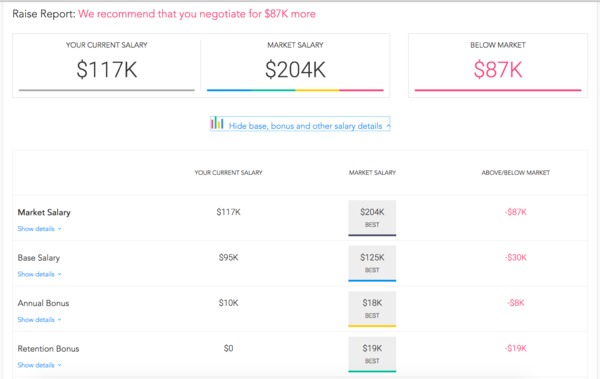 Custom Raise Report, per Paysa data 
Outside of salary negotiations, the meeting should be an open conversation with your manager about goals for the upcoming year. Some questions you may want to ask during the follow-up meeting include:
What skill gaps do I need to focus on this year to be a top-performer in my role?
What opportunities exist internally to develop those skills?
Can we schedule monthly check-ins on goal progress?
Once you've completed the follow-up meeting and have reached an agreement with your manager on the upcoming year's action plan, you're ready for the next step.
Step #4:  Keep a Performance Journal
Part of tracking your progress toward the milestones set in your action plan includes maintaining a performance journal or "work diary."
As Sean Conrad writes on the TalentSpace Blog:
"Journal notes provide an easy way to keep a record of milestones, accomplishments, successes, and challenges as they occur, when the details are fresh in your mind."
The goal should be to spend 10-15 minutes twice a week writing down detailed accounts of major work events along with your perspective about how or why the event occurred.
Ask your manager if he or she would be willing to keep a journal as well, even if it's just on a monthly basis. Again, Sean Conrad highlights the importance of this practice:
"Unless [your manager] kept detailed notes throughout the year, writing employee performance reviews at the end of the year tends to result in skewed evaluations. While we easily remember what happened in the last quarter, we tend to forget the details of what went on earlier."
Here are some questions to ask yourself while reflecting on the week's events:
Did I allow myself adequate time to reach this milestone?
What prep work could I do next time to get better results?
What cross-functional partners can I leverage to ensure future success?
What am I proud of this week?
What do I need to improve on for next week?
Get in the habit of sticking to this exercise over a few weeks, then move on to Step #5.
Step #5: Explore Other Tech Jobs 
Both good and bad reviews alike are opportunities to explore the job market.
If you're on the receiving end of a poor review, keeping an eye out for opportunities is a smart move for obvious reasons: you know your job is potentially at risk.
But even beyond exploring opportunities for security purposes, a job search might be the best way to ensure you're working for a company aligned with your values and goals.
For example, if you received a poor review because you didn't hit a client outreach quota that you feel borders on annoying to clients, ask yourself: do you really want to hit that quota? Or is it time to explore other tech jobs?
For those who received positive annual reviews, now is a great time to test your worth in the job market. This is true especially if you're good review isn't accompanied by growth – either in compensation, responsibility or both.
Exploring new tech jobs after a good review may seem counter-intuitive, but if you've plateaued with your current company, it may be time to look elsewhere.
Paysa.com should be your go-to source for discovering open opportunities with top tech companies.
With thousands of jobs organized by skills, company, title and location, finding a quality opportunity is easy. Paysa also includes detailed salary information for all open jobs, like this one for a Product Manager at Verizon.
Product Manager at Verizon salary, per Paysa data
Conclusion
Taking these steps following an annual review – good or bad – ensures you're on the right path to advance your career in the year to come.
Paysa.com is here along the way. Whether you're using our Raise Reports or exploring new job opportunities, leverage Paysa as your go-to tool after your annual review.
Be sure to review our guide to preparing for your annual review.