In a recent post here on the Paysa blog, we shared six tech jobs where you could earn more than $200,000 per year. One of the things we learned in putting together that piece was that the majority of roles paying over $200k were leadership positions, requiring extensive experience and a desire to lead a team.
But if we examine just one level below – roles that pay $150k and up – we found quite a few tech jobs on the market today where you can earn at that level without needing to take on a team of your own.
And that's why we've put together this post sharing five jobs where you can earn over $150,000 per year.
You'll find it's possible to earn a great paycheck as an individual contributor in a broad range of roles all across the country.
But first, let's take a look at what is included in evaluating a compensation plan.
When you use Paysa to research salary information, you'll find compensation plans broken down into four key areas:
"[The purpose of a signing bonus is] to compensate for you leaving a job where you have an existing vacation balance, or a medical spending account, or unvested options, or are expecting a year-end bonus for work already done and which you will be foregoing by leaving, or will have additional incidental expenses which would preclude you taking the job otherwise."
Here's an example of what that all looks like when you use Paysa's salary search: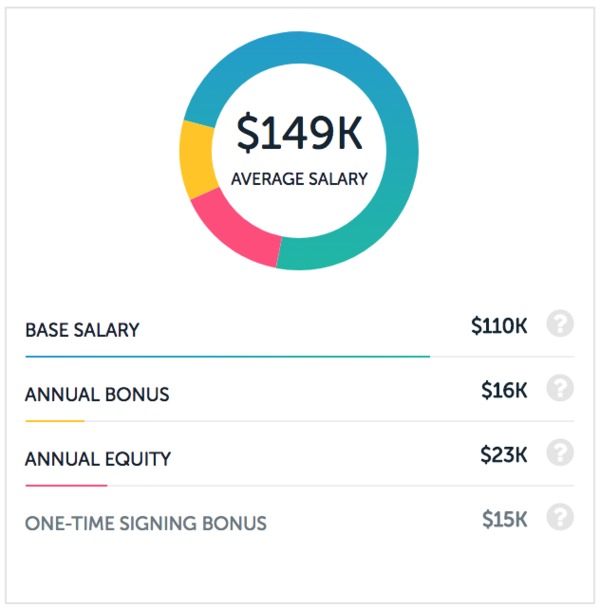 Average salary for a sales engineer at Yahoo!, per Paysa data
Notice what's not included when considering compensation (even though these factors could save you money and be tremendous incentives for considering a new opportunity):
Benefits. Insurance, paid time off and retirement benefits don't get included.
Perks. Nor do unique company perks, like gym memberships, commuter passes, or any of the other cultural incentives companies offer to entice talent to work for them.
Now that you know exactly what's being considered when Paysa evaluates compensation, let's take a look at five jobs where the earning potential exceeds $150k per year.
Data Analyst, Seattle 
Have you ever considered moving to the Pacific-Northwest? If not, you definitely should.
Not only is Seattle home to companies like Microsoft, Amazon, and Starbucks, it's also more affordable than other major tech hubs like San Francisco and New York.

Average cost of living in Seattle, per Paysa data.
If that's not enough, jobs in Seattle actually pay more than the same positions in the Bay Area.
So not only is the cost of living better, but you'll actually get paid more, too.
Not bad, right?
And one of the positions where you can walk in and quickly earn upwards of $150K is a data analyst.
According to Paysa, data analysts make $165K on average in Seattle.  For comparison that's over $200K in San Francisco when adjusted for cost of living.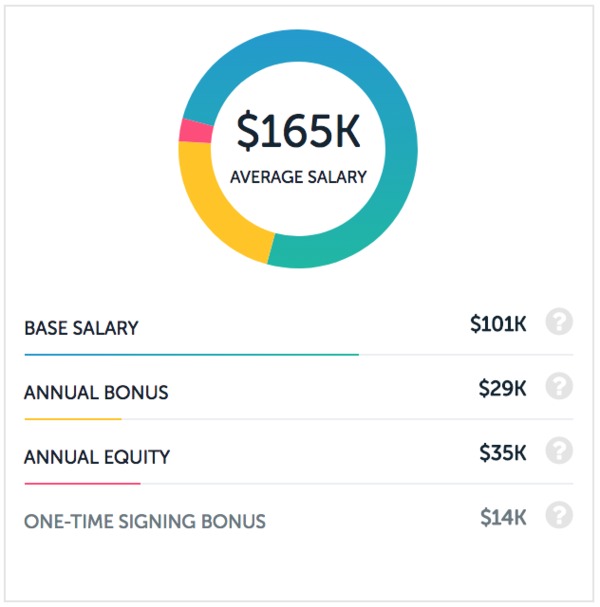 Average salary for a data analyst in Seattle, per Paysa data.
Data analysts work with company data to help turn numbers and metrics into actionable insights. It's a highly analytical role, but also requires the ability to "humanize" data – to see past numbers to extract what the data tells you about your company's customers.
For those who are talented enough to do it, you'll command a good salary no matter where you go, but the combination of low cost of living, high salary, and great quality of life makes finding a position in Seattle the best choice.
Want a head start? Here's a link to all the current open data analyst positions in Seattle.
Software Engineer, San Jose
With Google's recent announcement that they'll be expanding their campus to accommodate up to 20,000 Googlers in downtown San Jose, you can imagine this area is about to become even more of a tech hub than it already is today.
And it's no secret that software engineer salaries are some of the heftiest in all of tech. The competition for top-tier engineering talent is high, and many companies pay top-dollar for the right people who can help bring the company's vision to life.
Here's what the average salary of a software engineer in San Jose looks like in 2017: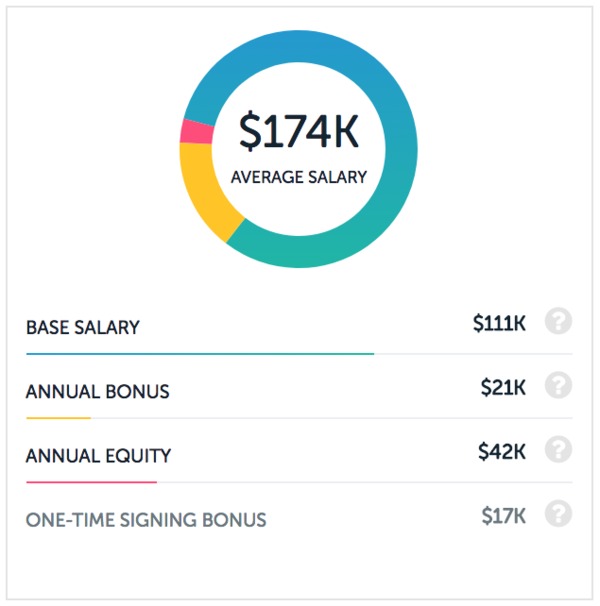 Average salary for a software engineer in San Jose, per Paysa data.
Now you might be asking yourself:
If I'm going to live in the Bay Area, why not work in San Francisco?
And again, it comes down to cost of living. The average monthly renter expense in San Francisco is nearly $1,000 per month more than San Jose. But, the average software engineer salary is only $8,000 more in SF than in San Jose. So though it's 20% more expensive to live in San Francisco over San Jose, you'll only earn about 4% more.
Software Engineer, Denver
If California isn't your thing and you prefer the snowy slopes and scenic views of Denver, there are equally enticing offers to be had there as well. Cost of living is even more affordable in Denver than in San Jose and plenty of tech companies are setting up shop there, including:
That's right – Google actually has an engineering hub based in Boulder, CO (40 minutes outside downtown Denver). So if you're talented enough to work for the search giant, you might choose the quieter life in beautiful Colorado over the hustle and bustle of the Bay Area.
Here's a look at what you can expect to see for software engineer salaries in Denver: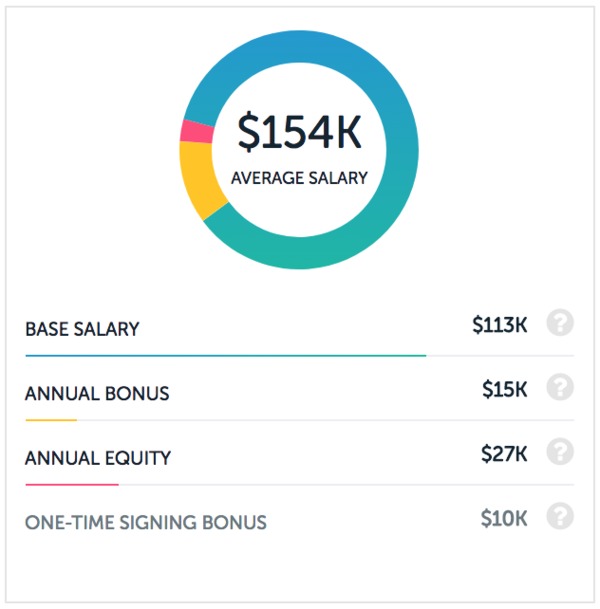 Average salary for a software engineer in Denver, per Paysa data.
Senior Developer, San Francisco
Despite the hefty cost of living price tag, there's no denying that if you want to work in tech, San Francisco is the place to be. Software developer salaries can climb well above the $150K mark at any of the thousands of startups or established tech giants that constantly battle for quality talent.
Here's a look at what you can expect in San Francisco as a software developer: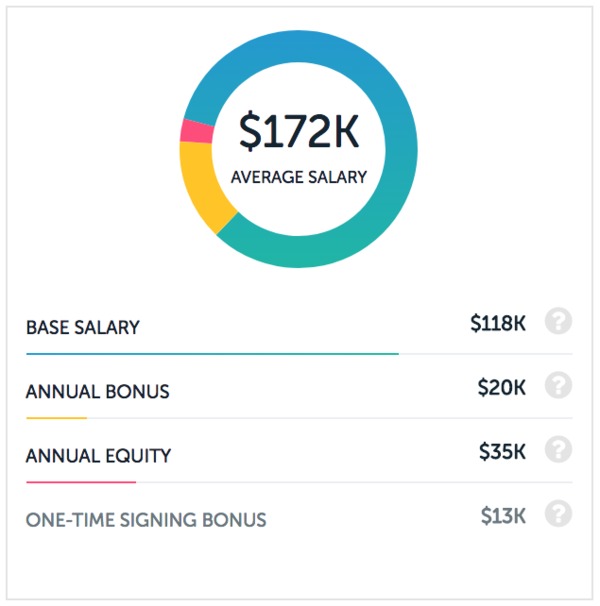 Average salary for a senior developer in San Francisco, per Paysa data.
Data Scientist, Boston
You don't have to be a Sox fan to enjoy all that Boston has to offer (it does help, though). In recent years, more and more tech companies have jumped ship from the inflated costs of New York City to saddle up next to the academic elite of Harvard, MIT, and Cambridge in the heart of New England.
Data scientists in Boston have no trouble surpassing the $150K per year mark.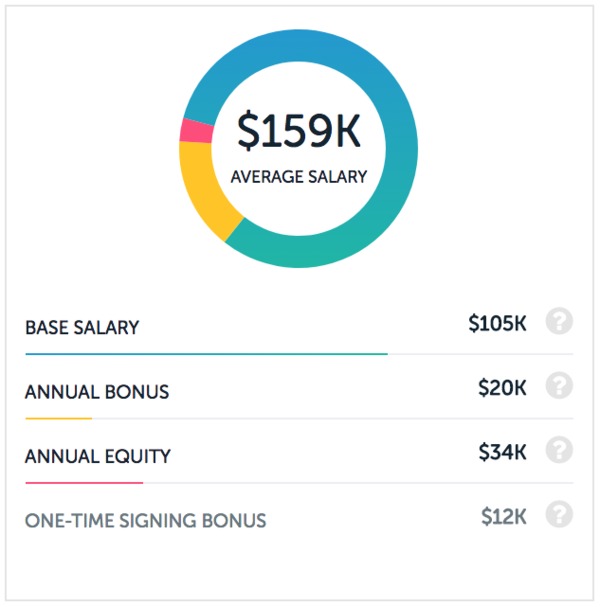 Average salary for a data scientist in Boston, per Paysa data.
There's also a quality of life here that's hard to match elsewhere. Sure, you'll deal with some cold winters, but generally speaking, Boston is an interesting city with a booming tech industry.
Conclusion
Ready to find your own $150K+ job? Well then head on over to Paysa.com to explore open jobs across the U.S., compare salaries across thousands of tech companies, evaluate the cost of living in every domestic market, and much more.