Here's a question worth pondering. Is there really a correlation between a company's success in the marketplace and the strength of its salary and compensation package? Here's another one. Does attracting top talent always lead to better company performance?
A look at two well-known tech companies, their attitudes toward employees, their compensation plans, and their Paysa company rankings reveals some interesting insights and answers to those questions. The two companies up for consideration are Yahoo and Google.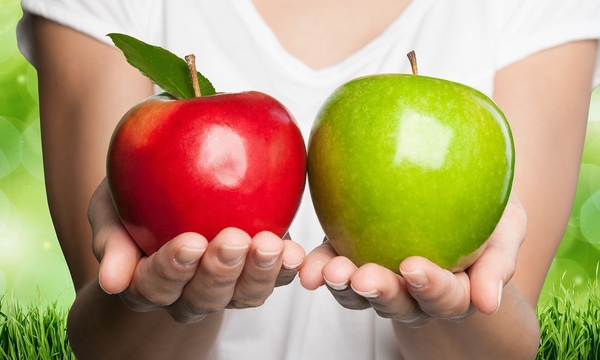 It's time for Paysa's apples to apples comparison of Yahoo and Google.
Google and Yahoo – The Snapshot View
Needless to say, both companies have made a name for themselves. Google holds the title as the number one search engine, with an estimated 1,600,000,000 unique monthly visitors. Yahoo holds the number three rank, with 300,000,000 unique monthly visitors.
They have other similarities as well. Founders of both companies have strong Stanford ties and both companies are headquartered in the tech heartland of California. Both companies enjoyed early success and followed an evolutionary path that took excellent advantage of the internet trends of the late 1990s and early 2000s.
But a look at their Paysa company ranking over time reveals that, at some point, the destinies of these two companies diverged considerably. While Google holds the rank as number 4 of the tech companies Paysa has analyzed, Yahoo's rank of 144 illustrates a significant and widening gap between the two organizations.
This gap did not always exist. Here's a look at the way the rankings fluctuated over time: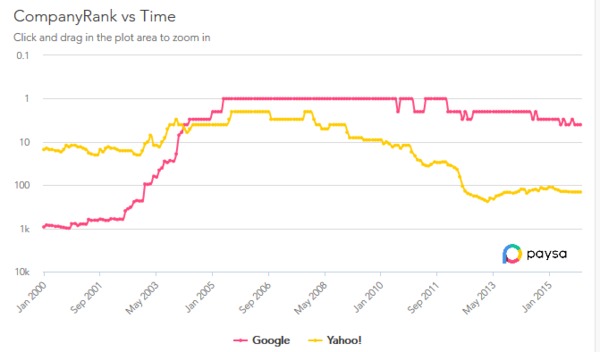 As the chart reveals, in 2004 the companies were virtually neck and neck, with Google ranked at number 4 and Yahoo at number 5. But while Google's rank has remained fairly steady in the intervening years, Yahoo's rank has dipped dramatically.
A Drop from the Top: A Look at Yahoo's Downward Trajectory
Paysa's CompanyRank algorithm measures the density of top technical talent at a company and ranks companies by the density of this talent over a period of time. As the chart above shows, the talent pool at Yahoo has clearly shifted over time, while Google has managed to maintain its sharpest talent over the same period.
The Relationship between Talent and Corporate Culture
Retaining core talent is never the easiest of tasks. Retaining elite tech talent is even more difficult. Forbes' "4 Tips for Finding and Retaining Tech Talent" notes: "The job market for tech talent is tighter than ever: if tech pros aren't a needle in a haystack, they're a very popular — and poachable — haystack."
This means that tech companies must be extremely competitive with salary and compensation to attract and retain top talent. Additionally, companies must ensure that their corporate culture is designed to incubate and nurture talent at all levels.
While offering a good compensation package may be like rolling out a welcome mat, offering other perks like flexible schedules, work-at-home options, and a good work/life balance is ensuring that a person sits down, props up his feet, and stays awhile. It is for this reason that the Forbes article advises employers: "Align your employer brand and recruiting platforms to better speak to the most innovative workplace values."
Then, there is the matter of turnover at the top. High turnover at the helm of a company makes employees itchy to find something with a little more stability.
How has Yahoo done in these departments as compared to Google? Consider these essential areas:
Turnover at the Top
With six different people taking the reins as CEO of the company over a little more than a decade, Yahoo has seen its share of wobble at the top. USA Today's "The Long, Troubled History of Yahoo's Top Execs" details a series of blunders and missed opportunities that caused Yahoo's stock price to fluctuate dizzyingly and ultimately only grow from $33.00 per share to $36.52 per share from 1995 to April of 2016. At one point in 2009, the price per share was as low as $12.10.
PC Magazine's "The Slow, Sad Death of Yahoo" expresses this strong opinion about Yahoo's leadership and organizational structure: "The company had a string of unremarkable CEOs, all of who were ill-equipped and lacked the vision needed to guide the company. Perhaps the biggest failing was the organizational structure, which did not seem to exist at all."
Meanwhile, there have been comparatively few changes at the top for Google. This steadiness at the helm has likely contributed to the meteoric rise of Google's stock value over the last decade.
Reactive Versus Proactive Approaches to Trends
Another widely remarked upon difference between Yahoo and Google is in their basic approach to internet trends. CNet's "Why Yahoo Faded: The Internet Changed, But It Didn't" observes: "Google, Facebook and Amazon survive the brutal pace of online change in part because they're helping drive that change themselves. Yahoo has made plenty of history on the Net, but recent years have spun away in a pattern of being reactive."
Yahoo was an early leader in search, and concentrated heavily on becoming a go-to web portal. In the mid-1990s, that stance made perfect sense. Web portals are still around, of course, but for the most part, the way people interact with the Web has evolved over time.
While some of Google's innovations have contributed mightily to that evolution, Yahoo's path has been somewhat less in step with trends. The rise of social media and mobile has largely left Yahoo struggling to adapt and adjust. Rather than continuing on its original course of innovation, Yahoo's vision has seemingly faltered at times during the last decade.
To be fair, the company has made a valiant effort under the leadership of Marissa Mayer to get back on track, taking action like modernizing its mobile app. However, even this is a reactive measure, albeit one that has helped Yahoo's stock to finally rise a bit above its initial value once again.
Employee Engagement and Productivity
How has all of this affected employee engagement and productivity? This is arguably a chicken versus egg situation. Does rapid turnover at the top and stagnant innovation come from a lack of employee engagement and productivity, or does a lack of employee engagement and productivity come from rapid changes at the top and stagnant innovation? You decide.
Regardless of which factors came first, Yahoo's employee productivity (or lack thereof) has been in the spotlight for some time. In the aforementioned PC Magazine piece, John Dvorak offers this opinion: "One irony is that I know a lot of very smart experienced folks who work at Yahoo. Unlike Google, a company intent on loading up with engineering talent, the Yahooligans are more the business creative types who understand engineering. It begs the question: How can a critical mass of geniuses accomplish so little?"
The issue of Yahoo employee productivity made big news in 2013, with Marissa Mayer's widely discussed and dissected decision to institute a no-work-at-home policy. Forbes' "4 Reasons Marissa Mayer's No-Work-at-Home Policy is an Epic Fail" pointed out at the time that "Google's 53,861 employees generate $931,657 in revenue per worker, 170 percent higher than Yahoo's $344,758 worth of revenue per employee."
Mayer sought to narrow that margin by pulling her employees back into the office, hoping to increase productivity and collaboration through physical proximity. This news was not received warmly, and caused somewhat of a negative backwash of hostility toward the tech company.
However, underlying all the hype about that decision is the more relevant truth that Yahoo was suffering from a serious lack of motivation among its talent pool. This is significant, because it affects the company's fortunes, not only today, but into the future.
To be fair, Google has also had some stops and starts in its talent acquisition and retention strategies. Google takes tremendous pride in hiring the best and brightest and yet, around the same time Mayer was attempting to address unproductivity in her employees, Laszlo Bock, Google's VP of HR, revealed in an interview with New York Times that Google was still looking for a better way to predict employee outcomes in its hiring process.
One of the more provocative things Bock said was: "On the hiring side, we found that brainteasers are a complete waste of time. How many golf balls can you fit into an airplane? How many gas stations in Manhattan? A complete waste of time. They don't predict anything. They serve primarily to make the interviewer feel smart."
He went on to add: "One of the things we've seen from all our data crunching is that G.P.A.'s are worthless as a criteria for hiring, and test scores are worthless — no correlation at all except for brand-new college grads, where there's a slight correlation. Google famously used to ask everyone for a transcript and G.P.A.'s and test scores, but we don't anymore, unless you're just a few years out of school. We found that they don't predict anything."
How do Mayer's actions and Bock's comment relate to each other? Wired's "The Google vs. Yahoo HR Smackdown That No One is Talking About" provides this insight: "Telecommuting policy and candidate screening practices might seem like they have nothing in common. But the common foundation to these stories reveals a critical difference between how Google and Yahoo view their employees."
Response to Employee Motivation Issues
Obviously, both Google and Yahoo are trying to attract and retain productive, successful employees. Both companies have major talent on board. The question, then, is how does each company address the issue of employee productivity?
Yahoo focuses on building teams in physical proximity to each other and is somewhat famous for its various team building strategies. While many in the HR field view the no-remote-work policy of Yahoo as a step backward from improving the work/life balance of employees, it does at least show that Yahoo is trying to bolster its company culture to keep top talent in place.
On the other hand, Google has gone full-in on the premise that a good work/life balance makes for happier and more productive employees. Perhaps even more importantly, Google makes a concentrated effort to ensure its managers are top-notch, understanding that a team's ultimate success has more to do with its manager's effectiveness and less to do with its geographic location.
This difference in the approach to employee productivity may be a significant reason that Google's talent acquisition strategies have largely outperformed those of Yahoo.
Yahoo and Google Salaries and Compensation Statistics
Among talent acquisition strategies, offering competitive salary and compensation packages is a must. How do Google and Yahoo compare in this critical area? First, we'll take a look at the overall compensation packages for both companies, and then we will drill down to consider specific jobs within each company for comparison.
First, take a look at Google's salary information: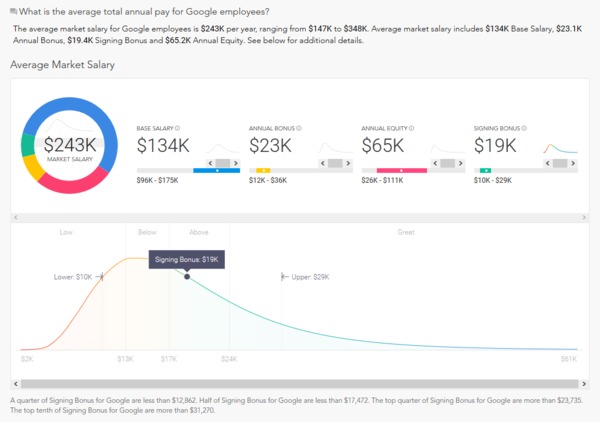 Yahoo's salary information looks like this: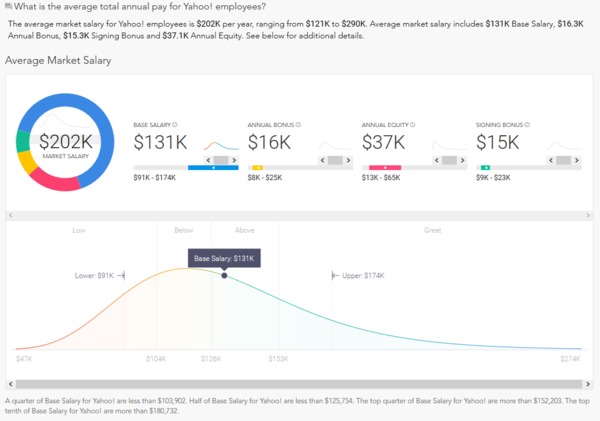 While the spread between the base Yahoo and Google salaries is negligible, the spread is considerably wider in the areas of annual bonuses and equity. Market salary for Google blisters past market salary for Yahoo by an average of $41,000 annually. This is, of course, largely due to the revenues the companies are bringing in each year, but it is worth noting that both companies require somewhat comparable educational background and skill sets.
Compensation for Specific Job Titles
Since skill sets and educational requirements to work for both companies overlap, it makes sense to compare the two based on some common job titles to truly see the differences in compensation more clearly.
For instance, here is a quick comparison of the compensation and demographics for software engineers at both companies:
Yahoo Software Engineers

The average base salary for a Yahoo Software Engineer is $110,616 per year, ranging from $88,769 to $133,562. Men outnumber women by 4 to 1. 8 percent of Yahoo Software Engineers studied at University of Southern California. 72 percent of Yahoo Software Engineers know Java. 81 percent of Yahoo Software Engineers have a Bachelors degree. 54 percent Yahoo Software Engineers are Asian.
Google Software Engineers

The average base salary for a Google Software Engineer is $131,587 per year, ranging from $105,012 to $159,529. Men outnumber women by 6 to 1. 7 percent of Google Software Engineers studied at Carnegie Mellon University. 70 percent of Google Software Engineers know Java. 83 percent of Google Software Engineers have a Bachelors degree. 37 percent Google Software Engineers are Asian.
Compensation for Product Managers for both companies vary considerably as well:
Yahoo Product Managers
The average base salary for a Yahoo Product Manager is $122,139 per year, ranging from $100,070 to $145,220. Men outnumber women by 2 to 1. 14 percent of Yahoo Product Managers studied at Stanford University. 78 percent of Yahoo Product Managers know Product management. 66 percent of Yahoo Product Managers have a Bachelors degree. 39 percent Yahoo Product Managers are white.

Google Product Managers
The average base salary for a Google Product Manager is $144,041 per year, ranging from $116,303 to $173,139. Men outnumber women by 4 to 1. 20 percent of Google Product Managers studied at Stanford University. 77 percent of Google Product Managers know Product management. 80 percent of Google Product Managers have a Bachelors degree. 46 percent Google Product Managers are white.

Search Engineers Are Paid Comparably
Interestingly, however, for Search Engineers, the compensation between the two companies runs neck and neck, at least as far as base salary is concerned. Google Search Engineers have an average base salary of $123,634, whereas Yahoo Search Engineers have a razor-thin edge at $124,496. When annual bonuses and equity are added in, however, Google once again edges out Yahoo by approximately $14,000 annually.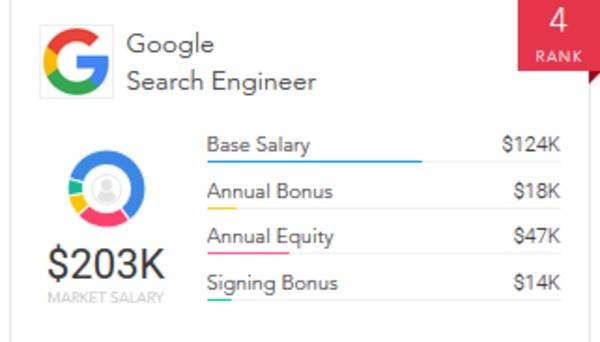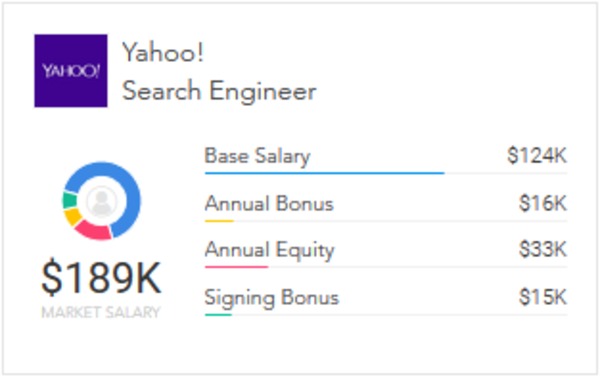 As for demographics, at Yahoo, 14 percent of Search Engineers studied at University of California Los Angeles. 64 percent of Yahoo Search Engineers know Scalability. 69 percent of Yahoo Search Engineers have a Bachelors degree. 51 percent Yahoo Search Engineers are Asian.
At Google, 36 percent of Search Engineers studied at M.I.T. 78 percent of Google Search Engineers know Distributed systems. 85 percent of Google Search Engineers have a Bachelors degree. 54 percent Google Search Engineers are white.
The Bottom Line
Google's performance over time makes it a desirable company for those in the tech field. With steady leadership at the helm and an emphasis on improving management to ensure employee motivation and productivity, Google has seen significant growth and remained at the forefront of innovation. Salary and compensation for employees reflects the company's success and rising revenue streams.
What lessons can be learned from this comparison of Yahoo and Google? The competition for top tech talent is fierce, and Google and Yahoo are both likely to feel the pinch of a tech talent shortage. In such an environment, it makes sense for those considering a career move to get the most up-to-date information about salary and compensation for all major tech companies to optimize their career path.
Paysa enables you to do just that. Sign up to personalize Paysa for you. Providing everything from data to help you negotiate your market salary to personalized job and skills recommendations, Paysa gives you the tools you need to optimize your position and reap the rewards of your talent.