According to Amazon, "if you love to build, to invent, to pioneer on a high-performance team that's passionate about operational excellence—you'll love it" there. The company has over 340,000 employees across the globe and recently ranked #2 on LinkedIn's 2017 Top Companies list, which tracks "where the world wants to work now."
Amazon seeks pioneers, innovators, and workhorses, and they're seeking quite a few of them these days. Over the next 18 months, the company has committed to creating more than 100,000 new full-time, full-benefit Amazon jobs in the U.S.
Here's a look at what the average salary for an Amazon employee: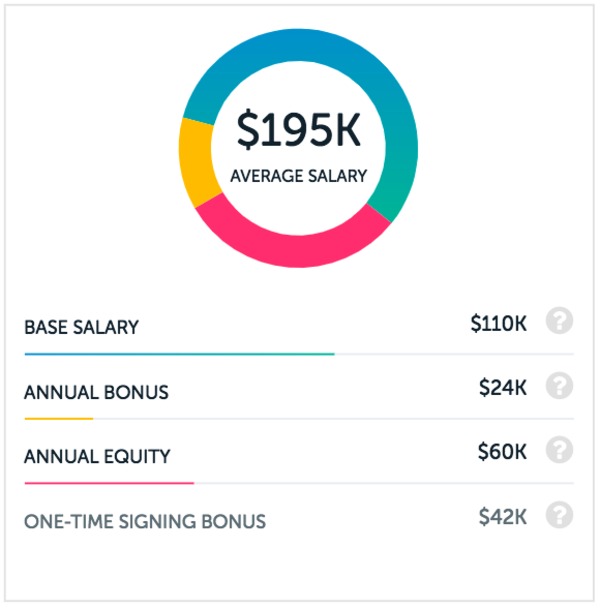 If you're looking to jump aboard the Amazon train, it's helpful to know what to expect from the company's hiring process. Here are a few tips to help you prepare:
Hiring is an ongoing process at Amazon
Amazon has a unique hiring process. From the beginning, CEO Jeff Bezos was willing to go the extra mile for the perfect employee, telling a colleague "I'd rather interview 50 people and not hire anyone than hire the wrong person."
Time will tell how this philosophy fits in with the company's recent push for creating jobs, but the hiring system that's currently in place has been fine-tuned to ensure each new hire adds to the productivity of the team he or she joins.
How does the company do this? By using what they call "bar raisers." These are full-time Amazon employees who take on the job of gatekeeper in addition to their regular duties. Bar raisers reportedly spend up to 30 hours each week interviewing applicants for jobs in other departments. They can veto any candidate for any reason, and several are required to sign off before the applicant can get that offer letter.
Bezos says this method weeds out the "cultural misfits" who aren't a good fit for the company. And by using bar raisers who work in departments that aren't connected to the open position, the need to hire someone simply to fill a position decreases. As a product manager for Amazon puts it: "Best mechanism I've seen to prevent "urgent need" from outweighing "right person" in the hiring process."
It takes time
The rolling nature of hiring at Amazon and the fact that the bar raisers also have full-time jobs can lead to a sometimes painfully long process. A former Amazon employee says:
All these people must coordinate reviews and agree that you meet all the areas they have decided to review as well as your fit with the leadership principles of the company. Then getting all these people on phone calls at the same time to discuss your position is a challenge to coordinate.
And he should know—it took nearly nine months for him end-to-end.
About those leadership principles…
Culture, culture, culture. You can have all the skills in the world, but if you don't fit into Amazon's culture, you won't work there, period. To make it easier to define that culture, they have leadership principles, which employees use daily. According to the company, "It's just one of the things that makes Amazon peculiar." If an applicant doesn't align with these principles, they will likely not get a job offer.
So let's take a quick look at Amazon's leadership principles:
Customer Obsession – Start with the customer, and continually work to build customer trust.
Ownership – Think long-term for the company as a whole, beyond your own team.
Invent and Simplify – Constant innovation without self-limitation gets the gold star.
Are Right, A Lot – Leaders have "strong judgment and good instincts."
Learn and Be Curious – Learning never ends, self-improvement never ends.
Hire and Develop the Best – Leaders are expected to develop new leaders and raise the bar with each hire.
Insist on the Highest Standards – What some might call unreasonably high standards are expected.
Think Big – Bold innovation that serves customers is highly valued.
Bias for Action – Move fast and take calculated risks.
Frugality – Less is more. Be resourceful.
Earn Trust – Leaders are expected to listen, be forthright, and treat others with respect.
Dive Deep – Get into the nitty gritty at all levels. Keep an eye on the details and stay on top of metrics.
Have Backbone; Disagree and Commit – Don't compromise in order to maintain "social cohesion."
Deliver Results – The goal should always be quality results delivered on time.
Veterans and their spouses should apply now
In addition to its announcement about creating 100,000 new jobs, Amazon has made a Joining Forces Pledge. The company recently announced it would hire 25,000 additional veterans and military spouses over the next five years.
The Amazon Warriors network offers additional support for veterans and their families after they're hired:
Amazon Warriors are Amazonians who have served in their respective countries' military forces, those who are still serving, and Amazon employees who support them. The group provides members with a professional network and a means to organize community outreach programs, to aid veterans during their transition into the Amazon workforce, and to be a resource for the Amazon Military Talent Partnership, which supports Amazon in recruiting top military talent.
It helps to research the team and position you're hiring for
When Amazon employees are asked about the hiring process, the most common answer is, "it depends." The number of interviews, amount of time it takes to get the offer, and general vibe varies depending on the team you're being considered for. Some research into what the team works on and what their goals are, what role someone in the position you're applying for might be expected to play, and what skills you'll need to play that role will go a long way.
For example, employees who worked on the Amazon Echo team describe the vibe as "absolutely relentless," and note that "people were not afraid to try every trick in the book to get this thing to work." As far as the future, one anonymous employee says "It's up to us to maintain our momentum, keep iterating and building some awesome features to stay ahead of the game."
Paysa has gathered data showing the top skills required for each position. Here is a look at the skills that are generally valued at the company: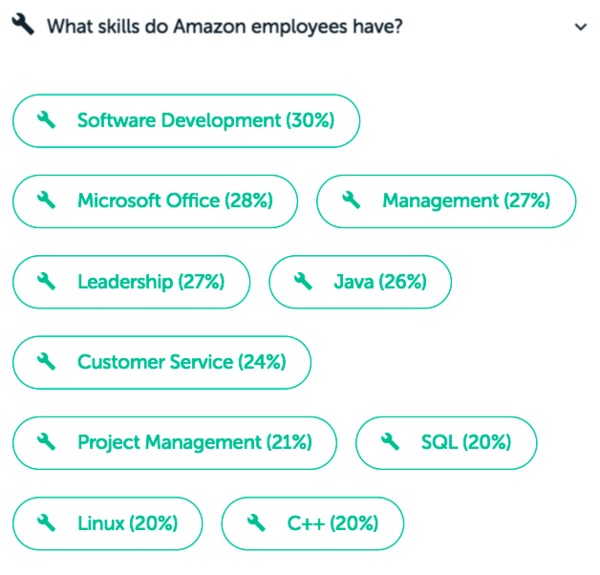 There will be multiple tests
In addition to multiple interviews, you will likely also undergo multiple tests, specifically aptitude and programming tests. The aptitude test reportedly has around 20 questions focused on fundamentals, and the programming test consists of two questions with a 45-minute time limit. Then there are multiple technical interviews focusing on problem-solving, data structures, and algorithms.
You might get some strange questions
Amazon is notorious for odd questions that encourage out-of-the-box thinking. Remember: they're evaluating your answers to assess how well you fit into the company culture, and questions that catch candidates off-guard are a good way for interviewers to understand how a person thinks. For instance, a product development candidate was recently asked: "[Amazon CEO] Jeff Bezos walks into your office and says you can have a million dollars to launch your best entrepreneurial idea. What is it?"
Here are some more examples:
"What is the angle between the hour hand and minute hand in an analog clock?"
"What is the most exceedingly bad misstep you at any point made?"
"Describe what Human Resource means to you."
"How do you detect whether or not a word is a palindrome?"
"How would you improve Amazon's website?"
Ready to Apply for a Job at Amazon?
The hiring process at Amazon is slow and rigorous. They want their candidates to not only have top-notch technical skills but also great leadership skills. They're looking for the perfect cultural fit, and they're willing to spend the time it takes to find exactly what they're looking for.
Click to find out more about how to nail your interview and how much you can expect to earn at the company.
If you're ready to apply for a job at Amazon or another company, Paysa can help you make the most out of your career. Sign up today for a free, personalized platform that can help you get the salary you want at a company you love.