As many tech businesses can attest, full stack developers are a hot commodity in today's job market. Having this much-lauded skill set means that a developer is adept at all aspects of the development process and can create code and practical solutions for every step of a project, from planning and implementation including both back and front-end coding.
Because of their valuable and diverse coding skills, many organizations would rather invest in one full stack developer than hiring two or three engineers to do the same job. For those who are looking for a competitive, but well-compensated position, this is an excellent career choice. But what does it take to succeed?
What Do Full Stack Developers Do?
Full stack developers are developers who are comfortable working with databases such as PHP, HTML, CSS, JavaScript and everything in between. While many people believe that full stack developers are simply exceptionally skilled web developers, many diehards among them are proficient, if not fluent in the following:
Customer and business needs
Interaction with APIs and the physical world
UI and UX
Quality assurance
Safety and security
Relational and nonrelational databases
Server, network, and hosting environment
In other words, full stack developers are the polyglots of the technological world. Not just a jack — but a master — of all trades.
What Skills Do Full Stack Developers Need?
The days when a developer can succeed with only one primary skill set or coding language are fast coming to a close. While the definition of a full stack developer may somewhat vary,  prospective talent should understand that to succeed in this challenging field; you must familiarize yourself with many coding languages.  And while the history of this term is somewhat hazy, many believe that the concept of a full stack developer emerged with Facebook, specifically with a developer named Carlos Buenos who often contributes his expertise on the topic.
To this day, Facebook mostly hires full stack developers — generalists with a keen understanding of how the layers of a system operate. This means that a well-qualified full stack developer should be proficient in an ever-growing list of skills such as PHP, HTML, CSS. You may also have to be prepared to perform more advanced tasks like converting a Photoshop file into front-end code.
According to Paysa's expertly curated data, the most in-demand skills for full stack developers are:
Javascript (market demand, very high)
CSS (market demand, very high)
PHP (market demand, high)
jQuery (market demand high)
HTML (market demand, high)
Java (market demand, high)
Education and Degree Requirements
While some full stack developers do not have a degree, for the most part, developers looking to work with large tech companies need at least a bachelor's degree. According to Paysa data, 49% of recent full stack developer job postings requested a bachelor's degree, 12% requested a master's degree, and 7% requested a doctorate. Here is Paysa's data for full stack developer degree requirements: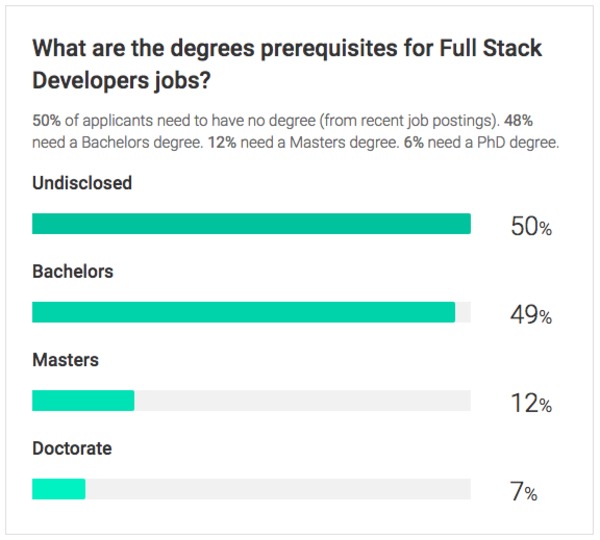 Gender Demographics
While women are still a rarity in this role, there is plenty of room for them to grow. According to Paysa, men still outnumber women as full stack developers, eight to one: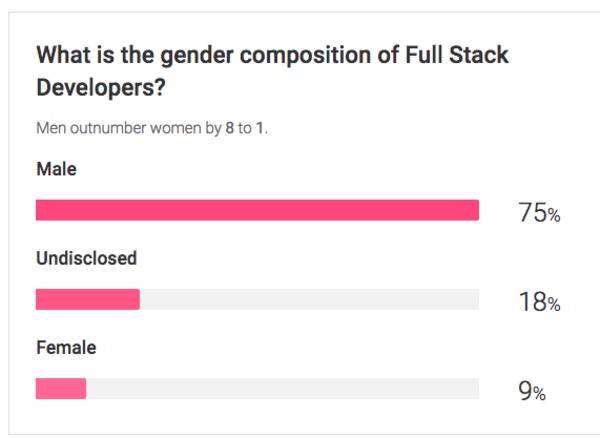 Ethnic Makeup of Full Stack Developers
At this point, 47% of full stack developers are White, with many others opting not to disclose their background, and Asians ranking next at 18%: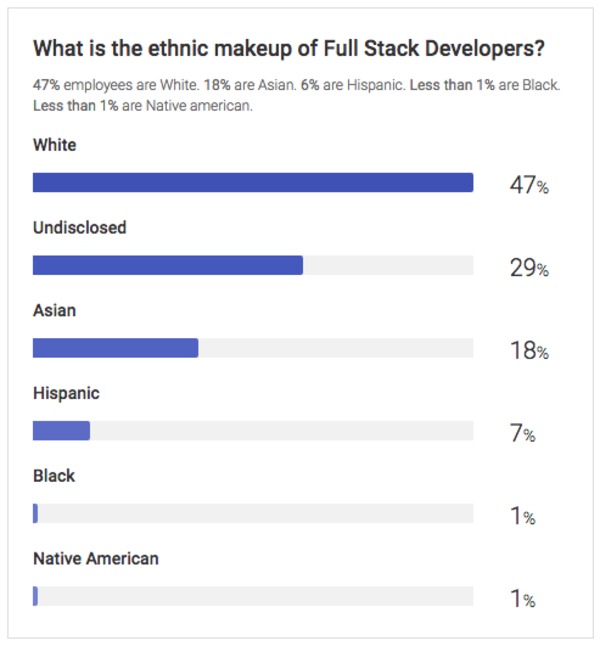 Personality Traits of Full Stack Developers
In a full stack developer role, attitude and temperament are just as important as education and skills. Useful character traits for full stack developers include the following:
Analytical thinking
Creative vision
Business acumen
Patience
Ability to work as part of a team, either in an office or remotely
Discipline
Patience
Attention to detail
Check out this full stack developer, Aaron talking about a day at his job.
Educational Resources for Full Stack Developers
For those seeking to become a full stack developer, there is perhaps no better resource than self-education and continuous learning. According to Quora, here are some of the best educational resources for those interested in this field.
Additionally, here are some resources recommended by the experts at Paysa.
Earning Potential for Full Stack Developers
The average full stack developer makes between $62.1K and $105K per year, with the average annual take-home salary being about $82.8K a year. However, with the right skills and proper advocacy, some can command a market value of upwards of $121K a year.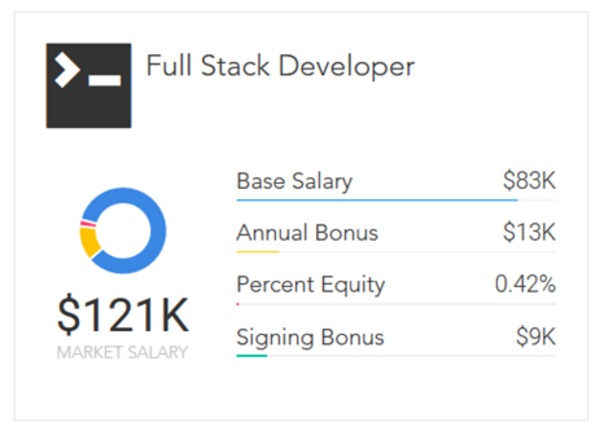 Average full stack developer salary, per Paysa data.
Top Cities and Employers for Full Stack Developers
Some full stack developers work as self-employed freelancers and work all around the globe at their own discretion. For those who prefer to work for tech companies, some of the top tech companies for employment as a full stack developers are:
Other companies on the lookout for top tech talent in full stack development include, but are not limited to, DIRECTV, Snapfish, and Monsanto.
As for location, the top cities for full stack developer employment are:
Find jobs for full stack developer here.
Getting Promoted
Time to promotion for full stack developers varies among the top tech companies, at Coding Dojo, the average time is three years. At Apple, it's 3.1 years. At General Assembly, on average it's just 14 months.
The Bottom Line
Full stack Development is an exciting field that will undoubtedly continue to grow in the coming years. The pay scale for these jobs is lucrative, and the opportunities for advancement are many. If you are considering a career as a full stack developer, let Paysa serve as a guide. Paysa can be personalized to give you job recommendations, skills recommendations, and compensation information that will help you negotiate a job offer or a raise in a job you have already. Take a moment now and learn more at paysa.com.