As a UX designer, your job is to create a best-in-class experience for the people using your app or product. You spend countless hours thinking through what feels right from a user experience perspective. You meticulously design a plan to ensure your customers get the maximum possible value from your solution.
Why wouldn't you want to do the same thing with your own life?
As someone who puts a lot of thought into creating great experiences, you're in the best possible position to curate your own "user experience." Choosing the right company is one thing; choosing a city that suits you personally and professionally is another thing entirely.
The good news is that as a UX designer, you can live in almost any major city in the country and find a good-paying job. Considering the success of every tech company hinges on customers using their product, UX designers play an essential role in every organization. As a result, UX designer salaries are relatively consistent across the country.
And with more companies branching off from the typical tech hubs of San Francisco and New York, there's ample opportunity for you as a UX designer to "design" a lifestyle that meets your career needs, while also suiting your personal interests. To help you get started, here are nine U.S. cities where UX designers earn the most:
#1. Seattle, WA
Seattle is quickly becoming one of the best places for tech jobs in the U.S. The city is not only home to Microsoft, Amazon, Starbucks, and Boeing; it's also a hub for hikers, campers, and nature-lovers who want to buzz of a big city with the ability to "get away" in less than an hour's drive. And with an average salary for UX designers of $145,000 per year, you can have all of that plus a compensation plan well-above the national average.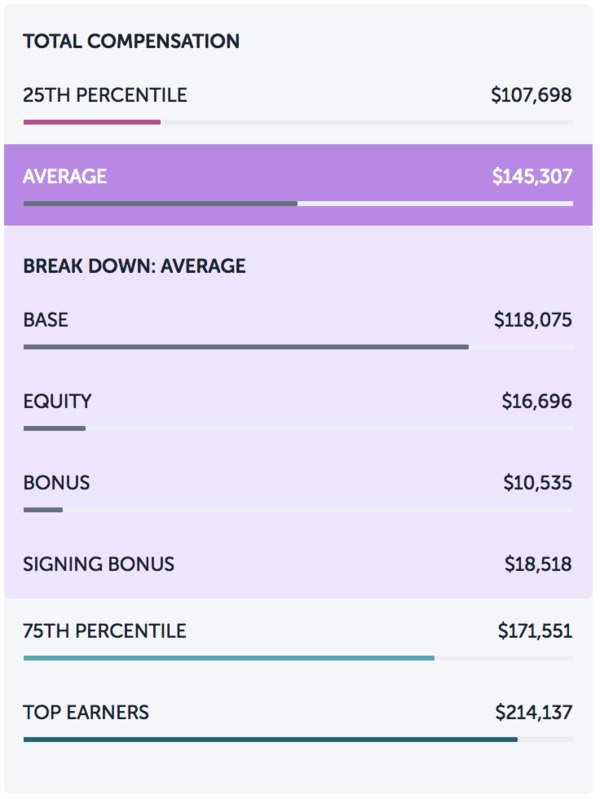 Average salary for a UX designer in Seattle
That $145,000 includes a $118,000 base salary, $10,500 annual bonus, and nearly $17,000 in equity each year according to Paysa.
#2. San Francisco, CA
Love it or hate it, the San Francisco Bay area is still a mecca for tech companies. The city has long been at the center of developing technologies and as a result, top UX designers have historically flocked here looking to land a spot with the next big company. Despite the now exorbitant cost-of-living, San Francisco has a lot to offer culturally in addition to the tremendous career opportunities.
The average salary for a UX designer in San Francisco is $108,000 per year: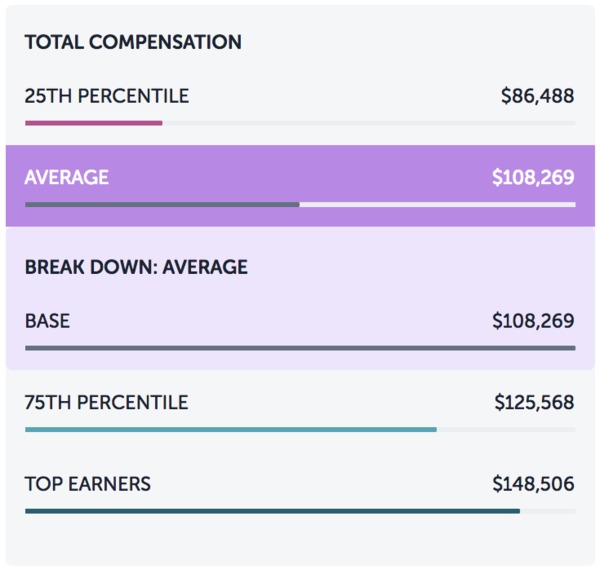 Average salary for a UX designer in San Francisco
Keep in mind that based on current Paysa data, this figure does not include any bonuses or equity plans that would likely factor into the overall compensation plan and give it a considerable boost.
#3. Los Angeles, CA
LA might have a storied history as the home of the entertainment industry, but tech companies are taking notice of the City of Angels and starting to understand why Hollywood became a hub for talented people. With its sunny beaches, near-perfect year-round weather, and access to some of the best cultural cuisines in the world, LA is a great place to be no matter what you do. As a UX designer, it's the third best-paying city in the country. UX designer salaries in Los Angeles average out to $104,000 per year: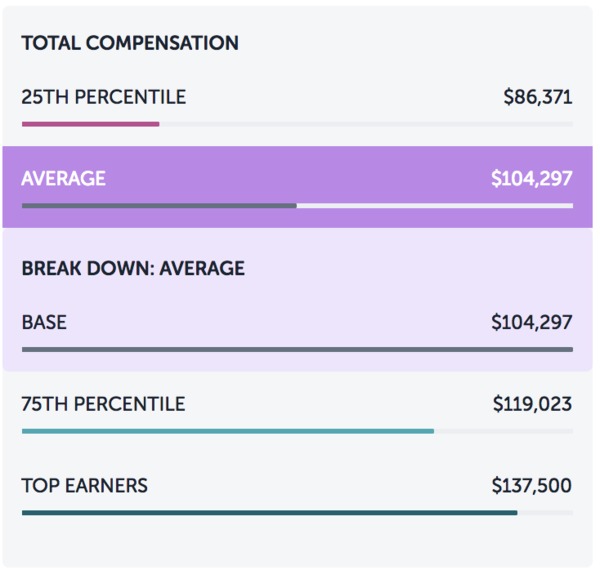 Average salary for a UX designer in LA
#4. New York, NY
Call it what you like—the Big Apple, the City that Never Sleeps, the Concrete Jungle—there's nothing quite like New York City. The history, the diversity, and the culture all make NYC a destination for over 60 million tourists each year. Now imagine how cool it would be to actually live there? As a UX designer, you can totally make it happen. The average salary for a UX designer in New York is $95,000 per year: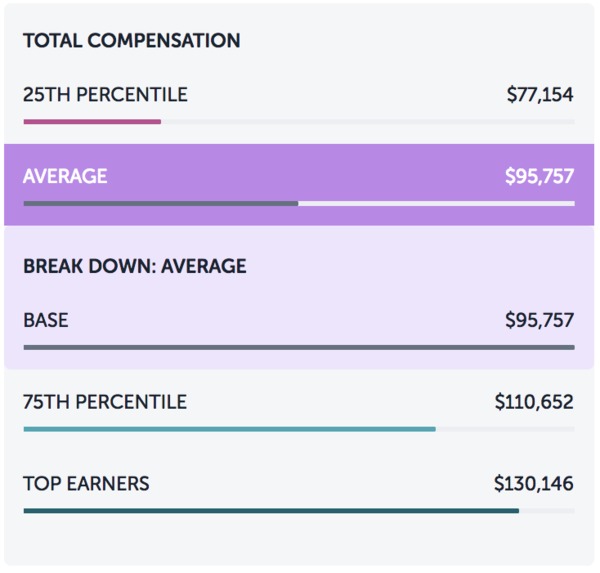 Average salary for a UX designer in NYC
#5. Boston, MA
Few people recognize Boston for the tech hub it is, but Beantown has quickly become a home to a number of fast-rising startups. As a result, the city has seen a flux of new residents coming in to soak up the incredible seafood, amazing history, and legendary sports teams. As a UX designer, you can be one of those new arrivals yourself. UX designers in Boston earn an average salary of $94,000 per year according to Paysa data: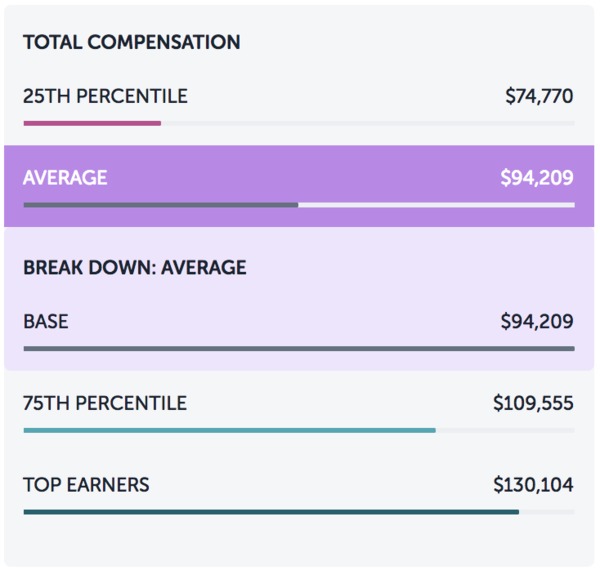 Average salary for a UX designer in Boston
#6. Austin, TX
People love Austin so much they don't want you to know about it. The expression "Keep Austin Weird" can be seen plastered all over the city, almost as a wink to current residents to keep how cool their city is a secret from the outside world. Well, sorry Austinites—we're coming for your breakfast tacos. UX designer salaries in Austin are a "cool" $91,000 per year: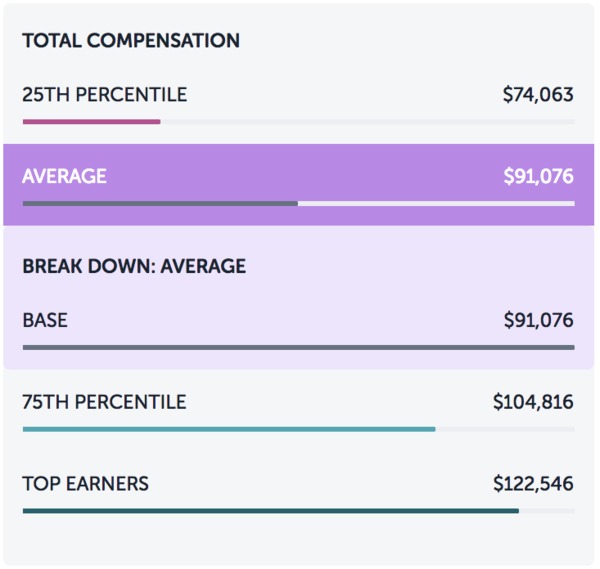 Average salary for a UX designer in Austin
#7. Atlanta, GA
There's been a lot of hype around Atlanta as of late. More and more tech companies are setting up shop in the ATL, with Amazon notably shortlisting the city as a potential location for its second U.S. headquarters. With that in mind, UX designers with a taste for the south might consider Atlanta a top destination. Here, UX designer salaries average out to $88,000 per year: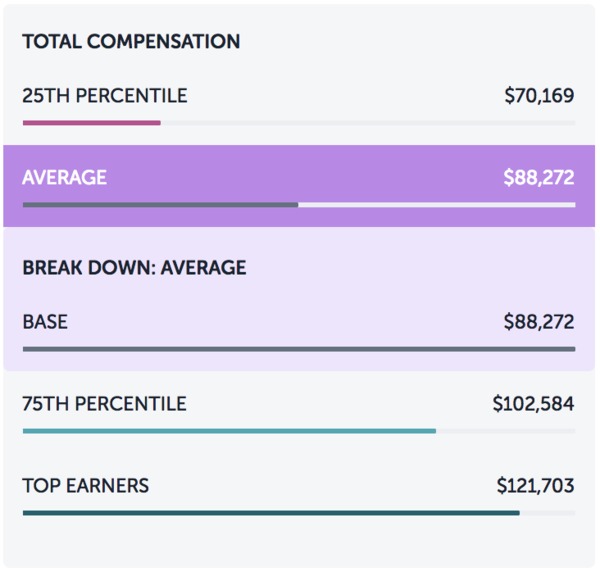 Average salary for a UX designer in Atlanta 
#8. Washington, DC
Washington, DC. Our nation's capital. Not only is the city filled with the history of our nation; it's also just a really fun place to live. Plenty of tech companies are steering clear of politics and moving to DC to set-up shop. As a result, UX designers are following suit. UX designer salaries in Washington DC average out to $83,000 per year: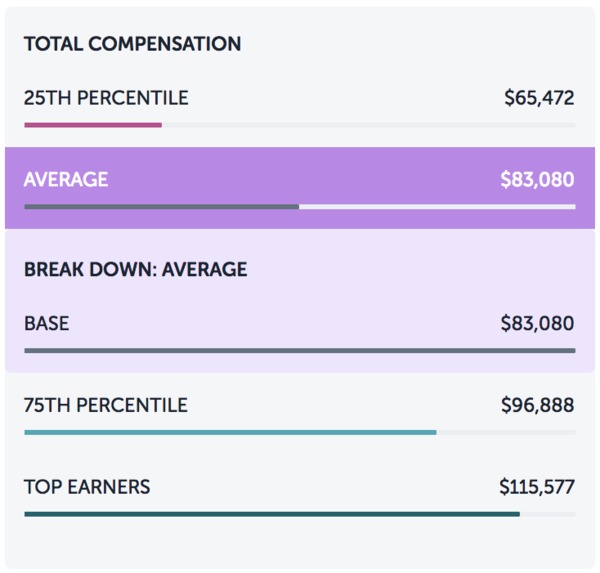 Average salary for a UX designer in Washington, DC
#9. Chicago, IL
Rounding out the list is Chi-town: one of the most fun cities in the country that still manages to be reasonably affordable. If you can handle the often (let's be honest, always) brutal winters, there's potentially no better place to be than Chicago. UX designers earn an average salary of $81,000 per year in Chicago: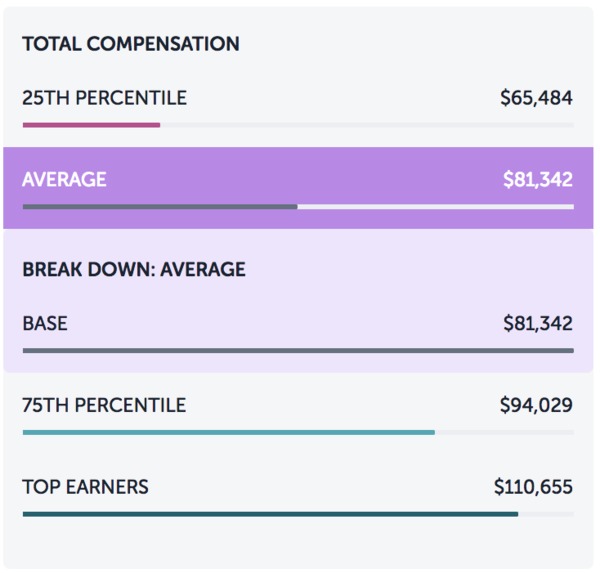 Average salary for a UX designer in Chicago
Want to Find More Salary Information?
At Paysa, our users continuously keep us up-to-date on current salaries for every imaginable role at over 100,000 different companies in the U.S. And we make that salary information available to you so that you know where you can go to earn more.
Visit Paysa to learn more about UX designer jobs and check out our salaries page to see other information for top tech jobs around the country.