When people debate over Box versus Dropbox, it's not usually about whether Dropbox salaries are higher or Box has better benefits. It's typically about which cloud storage service is better. The two companies launched within 24 months of one another and since then have been in constant competition for the top cloud service provider position with enterprise customers.
In fact, the two companies are so intertwined in the race-to-the-top that Gartner predicted 70 percent of the two companies' competitors would be gone by 2018.
That competition doesn't stop with customer acquisition either. Given the similarities in product, location (the two companies are about 30 minutes from one another in the San Francisco Bay area), and even name, it's no surprise that the brands compete for talent, too.
Here at Paysa, we've shared some insights into Dropbox salaries before, but to help you evaluate different job opportunities at Dropbox and Box, we've pulled together a handy guide comparing Box and Dropbox salaries for a variety of common tech jobs.
But first, let's look at a comparison of the average Box and Dropbox salaries for all roles:
Average Box Salaries
Box has approximately 1,400 employees in 2017 (and is looking to hire more) with an average overall salary of $250,000 per year, according to Paysa data. Not too shabby, right? That includes an average base salary of $140,000, an annual bonus of $32,000, and because Box became a publicly traded company in 2014, $78,000 in annual equity.
Box Average Salary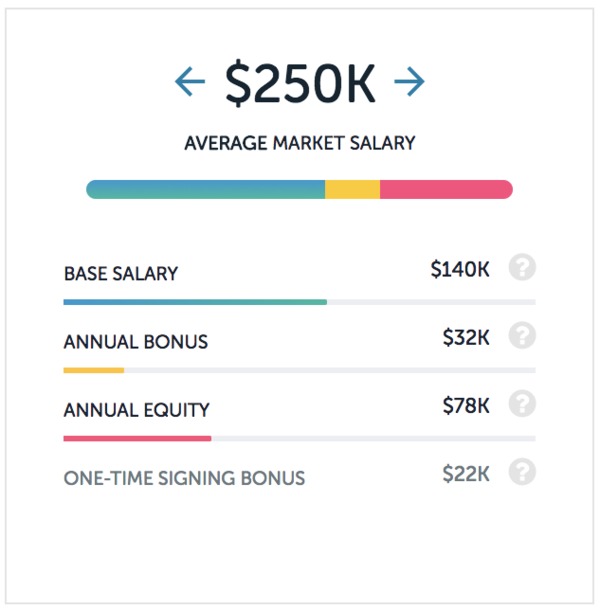 Average salary for a Box employee, per Paysa data
Average Dropbox Salaries
According to LinkedIn, Dropbox currently has approximately 2,500 employees. Like Box, the company is definitely bringing on new talent (check out some current job openings here). According to Paysa data, Dropbox salaries are over $50,000 more than what you'd find at Box. The average base salary at Dropbox is $144,000 per year with an annual bonus of $30,000. Both of those are pretty on-par with what you'd expect to see at Box, but it's the annual equity that gives Dropbox a considerable edge.
Because Dropbox is one of those tech "unicorns" that have not yet had their IPO, equity is considerably higher there than with Box. The average employee sees $129,000 per year in annual equity, bringing the overall compensation to over $302,000 per year. Equity is a serious chunk of the overall compensation for Dropbox jobs. Some tech professionals may see it as an exciting opportunity to land a position with a pre-IPO company. For others, the risk may be too high and the safety of a career with Box may sound more appealing.
Average salary for a Dropbox employee, per Paysa data 
Can you expect the same difference in Box and Dropbox salaries for individual jobs? Let's take a look:
Pages: 1 2