If you are a talented tech rock star waiting to burst onto the tech scene in a big way, you may be eyeing a career with Facebook, Google, or Apple. Each of the three companies has a reputation for drawing some of the top innovators in tech today.
According to Paysa's CompanyRank algorithm, which tracks top tech talent over the course of time, Google currently holds the number three rank, Facebook comes in at number five, and Apple is not far behind at number 12. Here is a look at how the companies have tracked over the past three years.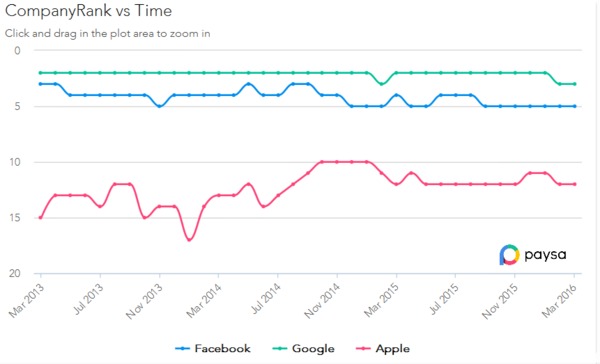 Paysa CompanyRank over three year period.
In addition to enjoying a top spot in the hearts of would-be tech workers everywhere, there is something else the three have in common – a rigorous interview process. What does it take to get an Apple, Google, or Facebook job offer? Here is the rundown.
Facebook Jobs: For the Seriously Mission-Driven Tech
With a little over 13,000 employees across 64 offices, Facebook is widely regarded as one of the best companies around for attracting highly skilled tech employees. This might be why, of the three companies profiled here, Facebook holds the highest rank salary-wise.
According to Paysa data calculated from 7,700 profiles, the average base salary for Facebook employees is $146K per year, ranging from $113K to $182K. The average market salary is $275K per year, which includes $146K base salary, $22.3K annual bonus, $37K signing bonus and $70.3K annual equity.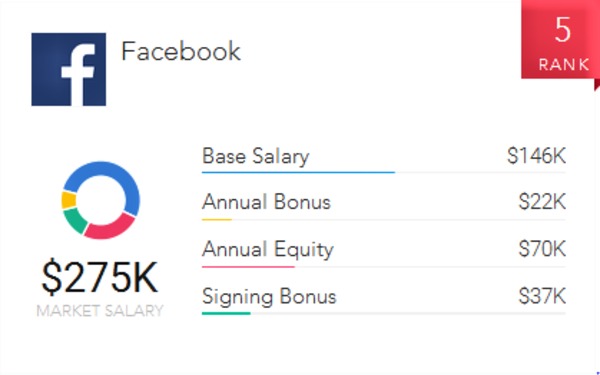 Facebook salaries per Paysa data.
Across the board, 70 percent of Facebook employees have a bachelor's degree, 37 percent have a master's degree, and 12 percent have a doctorate. Men outnumber women at Facebook 4 to 1. Here are some of the skills needed to work for Facebook: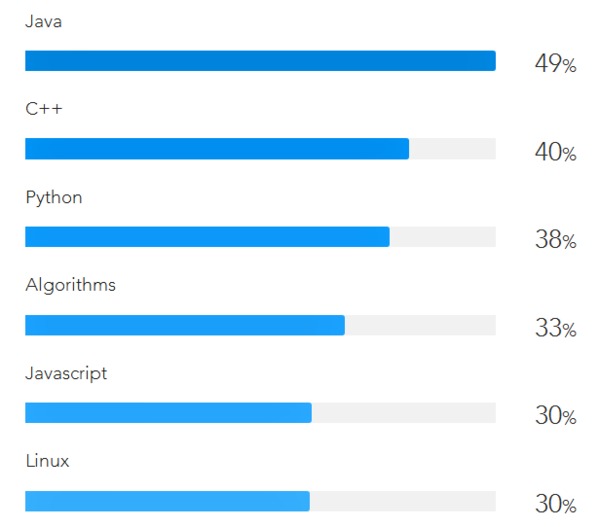 What Facebook Wants: Miranda Kalinowski, Facebook's global head of recruiting, states about the type of worker Facebook wants:
"We need to make sure that we're hiring people who are deeply invested in us, first and foremost. And we hire builders. So regardless of whether we're hiring an engineer or a finance analyst, they're going to be the people who like to build things."
Facebook is looking for true believers, those tech workers who adhere to the company mission, which is "to give people the power to share and make the world more open and connected." If that mission does not align with your own ideals, Facebook advises that you work elsewhere.
Interview Process: Facebook's interview process starts with a phone interview with a recruiter that lasts anywhere from 15 to 30 minutes. The recruiter's job during this initial interview is just to confirm your professional experience and ascertain your level of passion about the company.
If that interview goes well, you will likely have another phone interview, this time with a decidedly more technical slant. The interviewer will be someone that already has the job for which you are applying. This ensures that your interviewer knows what to look for in terms of your technical prowess. Typically, this phone interview may last about 45 minutes and there may be some coding involved.
If all goes well during this phone interview, the third interview takes place onsite and includes an office tour and an ice-breaking demo of the Oculus virtual reality headset. This interview and any that follow include whiteboard coding, assessment of cultural fit, and abundant opportunities for you to both show off your skills and ask appropriate questions to learn more about the role you will play once you have a Facebook job.
To ace the interviews, Bloomberg offers a "cheatsheet" with this great list of dos and don'ts:
DO engage with your interviewer.
DO know Facebook products in and out.
DO ensure your resume is current.
DO know Facebook's mission.
DO practice whiteboard coding while talking.
DO acknowledge your weaknesses.
DON'T hesitate to ask questions.
Many Facebook hiring managers have one favorite question in common, so be prepared to answer it. The question is, "On your very best day at work – the day you come home and think you have the best job in the world – what did you do?"
Your answer should showcase your personal drive, your willingness to stretch your innovative wings, and your passion for your work. If you can convey those things in the interview process and if your skills are top-notch, Facebook will likely extend an offer of employment.
Google Jobs: No One-Size-Fits-All Interviews Here
Among tech companies, Google is world-renowned for being a great place to work. While the company is huge, employees say that it has retained all the enthusiasm of its start-up roots. Google's perks are legendary, and the salary it offers is not too shabby either.
According to Paysa data calculated from over 34,000 profiles, the average base salary for a Google employee is $121K per year, ranging from $88K to $155K. The average market salary is $223K per year, which includes $121K base salary, $22.7K annual bonus, $22.8K signing bonus and $58.4K annual equity.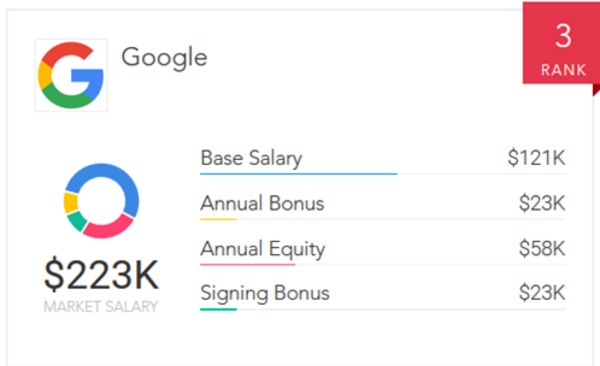 Google salaries per Paysa data.
Across all positions, 68 percent of Google employees have a bachelor's degree, 36 percent have a master's degree, and 13 percent have a doctorate. Men outnumber women at Google 3 to 1. Here are some of the top skills needed at Google: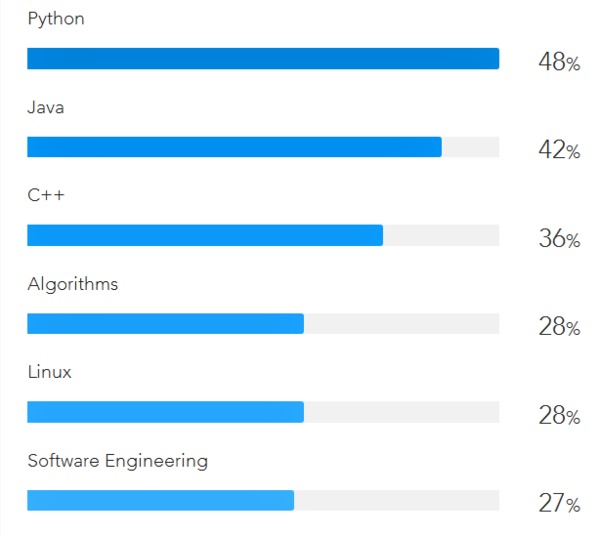 What Google Wants: Google's own career website states:
"There's no one kind of Googler, so we're always looking for people who can bring new perspectives and life experiences to our teams. If you're looking for a place that values your curiosity, passion, and desire to learn, if you're seeking colleagues who are big thinkers eager to take on fresh challenges as a team, then you're a future Googler."
Interview Process: One item that stands out concerning Google's application process is that applications are read by actual humans. In some cases, this means that Google may contact you about a job different from the one for which you applied. Those tasked with reviewing Google applications are skilled at matching skill sets to job openings, and therefore may be able to see unique ways in which your particular skills will fit.
The interview process itself starts with a phone interview or a Google Hangout. Conducted by a peer or manager, this interview lasts anywhere from 30 to 60 minutes. For engineering roles, 60 is the likelier estimate. Engineers will need to code inside a Google doc. All interviewees can expect to answer behavioral, hypothetical, or case-based questions that cover your role-related knowledge.
Lazlo Boch explains Google's mix of interview questions this way:
"The goal of our interview process is to predict how candidates will perform once they join the team. We achieve that goal by doing what the science says: combining behavioral and situational structured interviews with assessments of cognitive ability, conscientiousness, and leadership."
Once you successfully complete the phone interview, it is time for a round of interviews onsite. Expect to spend a full day with interviewers. Engineering candidates will spend some more time coding on a whiteboard and will likely be asked to talk through their solutions in-depth.
All interviewees are assessed in four major areas:
General cognitive ability
Daniel Tunkelang, former Googler and Quora contributor, explains what happens next: "After the interview, an interviewer had to fill out extensive feedback, including a transcript of any code the candidate wrote. The interviewer also assigned the candidate a score from 1.0 to 4.0, where 3.0 was the threshold of hire vs. no-hire. Interviewer feedback was collated and sent to a hiring committee, which ultimately decided whether to move forward with an offer, reject the candidate, or take some other next step."
Google uses a hiring committee to help reduce the possibility of hiring bias on the part of any one hiring manager. Hiring committees help Google to follow a standard hiring protocol and adhere to a company-wide hiring standard. Once the committee recommends you as a new hire, their feedback goes to a senior leader, who will also review your entire interview packet objectively. The senior leader then sends his or her recommendation to executive review, where the final decision about your job offer is made.
While that may seem like a lot of hoops to go through, most Google employees report that the process works well and is not as stressful as you may think. Time to hire may be a bit longer for Google, largely because of the sheer number of applications being processed at any given time. So, if you are thinking of applying with Google, remember that a bit of patience may be required.
Apple: High Bar but Well Worth the Effort
Apple, the quintessential innovation company for years, sets a notoriously high bar for its applicants. Adjectives such as "tough", "grueling", and "intense" paint a picture of a company determined to hire only the best of the best. But, for those who are hired, a position at Apple on your resume is a golden ticket for all sorts of tech career opportunities.
According to Paysa data calculated from over 23,000 profiles, the average base salary for Apple employees is $132K per year, ranging from $94.7K to $171K. The average market salary is $206K per year, which includes $132K base salary, $20.7K annual bonus, $26.2K signing bonus and $28.2K annual equity.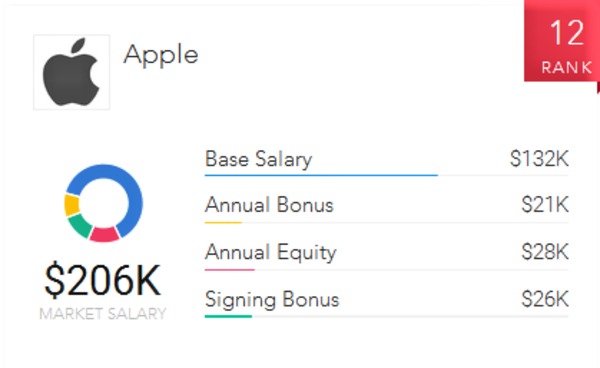 Apple salaries per Paysa data.
Across all technical positions, 54 percent of Apple employees have a bachelor's degree, 23 percent have a master's degree, and 10 percent have a doctorate. Men outnumber women at Apple 3 to 1. Top skills needed for a job there are: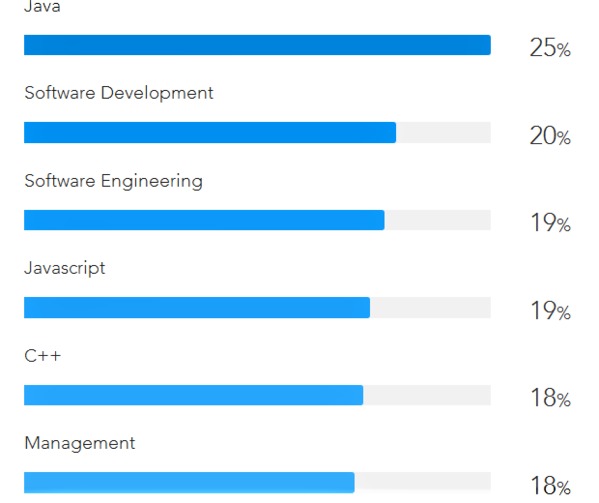 What Apple Wants: Apple's self-description of employees states:
"We're perfectionists. Idealists. Inventors. Forever tinkering with products and processes, always on the lookout for better … We need the best of the best to create hardware and software."
The Interview Process: While it is possible to submit an application through the Apple website, Quora users indicate that is not the best way to go. Oleg Polyakov, a Quora contributor and developer at Apple states simply:
"Referrals or HR contact you through Linked is the best way to get into Apple. You will have very low chance getting an interview by applying directly through a web site."
In the same Quora thread, Rod Ricky Brown adds:
"They have an in-house sourcing team of recruiters that find qualified candidates through LinkedIn, Github, Quora, StackExchange and internal referrals."
Apple's interview process differs according to the position for which you are applying. Each department at Apple has its own interviewing process. One Quora contributor notes:
"If you're interested in multiple groups, you interview with each of them separately, and it's not even clear that they compare notes."
In general, however, the process looks similar to that of other large tech companies. Once you have been contacted by a recruiter, a phone interview follows. When you make it through the phone screening, the next step is an onsite series of interviews, usually taking place on the same day.
Jeremy Foo, a current Apple employee, told BusinessInsider.com that he struck out on two separate hiring occasions, but the third time was the charm.
Describing the interview process, Foo states: "The onsite interviews were structured with 2 interviewers in 45 minute session with 5 sessions in total and a short break for lunch. It was perhaps the most intense thing I've ever done to get a job, yet throughout the whole time I fed off the challenge that presented itself and had a blast. I am eternally grateful for the hiring team because they did not ask crazy computer science 101 questions. Sensible topics were discussed and coincidentally, most of the problems were things I've already tackled at work. Some were even core philosophical ideas I had about engineering."
While Apple's application and hiring process may be lengthy, employees at Apple generally say that the work is innovative, challenging, and highly enjoyable. If that sounds good to you, Apple may be the work environment of your dreams.
Choosing Your Career Path with Confidence
Whatever career path you chose in tech, Paysa is a valuable resource for you. By scouring thousands of job descriptions and collecting compensation data from tech companies both large and small, Paysa provides you with actionable intelligence about your worth in the tech job market. Visit Paysa.com today to get personalized recommendations for your tech career!