For top tech talent, there's never been more interest in Amazon jobs than there is today.
The internet retailer – founded in 1994 by a former hedge fund manager, Jeff Bezos – has grown to do much more than selling household goods across the world. Amazon is now an entertainment company, a publisher, creator of a home assistant and – as of early June 2017 – a grocer.
Amazon recently announced plans to acquire Whole Foods, the high-end grocery chain with over 430 locations, for $13.7 billion, firmly solidifying their intentions to expand into a dominant competitor (and innovator) in the grocery industry.
Needless to say, it's an exciting time to be working at Amazon. And with nearly 5,000 Amazon jobs currently posted on Paysa, there's ample opportunity to find a career that matches your skillset.
But getting hired with the e-commerce giant might be another story. Like many of the top tech companies whose interview processes we've reviewed here on the Paysa blog – including Apple, Dropbox, Airbnb, and Google – Amazon has a notoriously difficult interview process.
But, for those who make it through, the opportunity can be tremendous. Yes, Amazon did catch some slack in 2015 for the intensity of their workplace, but the overall employee experience is overwhelmingly positive. And compensation can be outstanding as well. According to Paysa data, the average "Amazonian" salary is $213,000 per year.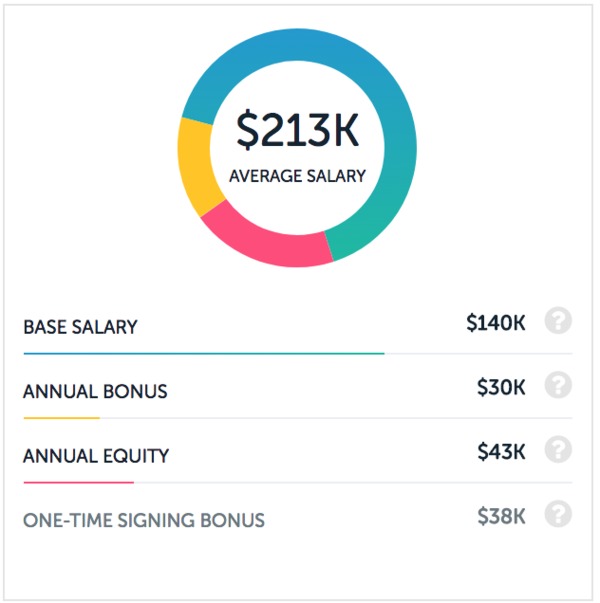 Average salary for an employee at Amazon, per Paysa data. 
Pretty incredible, right?
Considering the big things Amazon has in its purview, it's time you learned exactly what you need to do to not just survive, but thrive, in Amazon's interview process.
That way, if you decide to explore one of the many open Amazon jobs on the market today, you'll know what you need to do to make it through your interviews and join the ranks of nearly 350,000 employees at Amazon.
First, Let's Look at What Amazon Wants to See on Your Resume
Before you can start looking ahead to an interview, you need to actually attract the attention of a recruiter.
A quick search on LinkedIn shows nearly 3,000 recruiters working at Amazon currently. Each of those recruiters goes through thousands of resumes for each job they work on. And considering Amazon currently holds the #7 spot on Paysa's CompanyRank, it's safe to assume there's a lot of very talented people vying for open Amazon jobs.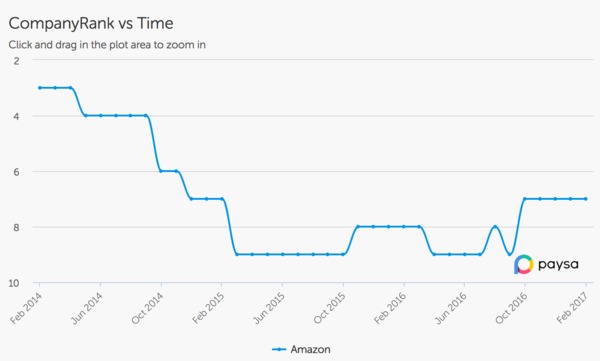 CompanyRank history for Amazon, per Paysa data.
So how exactly can you catch their eye? 
Here's what you need to be sure to include in your resume:
Big wins. Recruiters aren't looking for you day-to-day responsibilities – they want the highlight reel. What projects have you worked on over your last couple roles that might make a hiring manager's jaw drop? Be sure to include specific data on the impact of these projects. For example: "My work on the shopping cart design decreased abandoned sales by 15% in the first six months after launch."
Team projects. Amazon is a very team-oriented work environment and recruiters want to see you're comfortable in a collaborative setting. It's OK to do well working alone, but you need to be able to prove you can communicate and work well with others. Highlighting team projects is just one way to make it happen – leadership experience is often a great demonstration of your ability to collaborate, too.
Technical skills. When scanning through thousands of incoming resumes a week, recruiters don't have time to dig through thick paragraphs of text to find the languages you can code in or the various skills you've developed over the course of your career. Pull out the important, relevant skills into a bulleted list at the top of your resume. Need to know where to go to find the most important skills? Check out Paysa for a full breakdown of relevant skills by role. Here's an example for software development engineers at Amazon: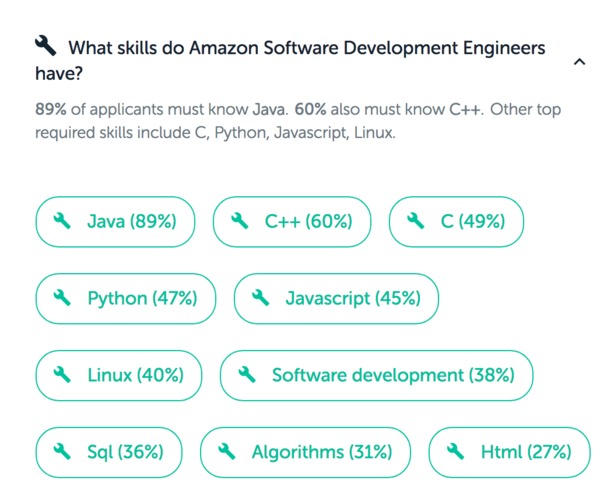 Average skills requirements for a software development engineer at Amazon, per Paysa data.
It's also generally a good idea to include a brief, two-paragraph cover letter introducing yourself and why you're interested in Amazon. Don't make the mistake most people make on cover letters and just repeat information from your resume in paragraph form. Take the opportunity to actually share some insight into why you're applying for this role specifically and what makes you excited about the prospect of working at Amazon.
The Interview Process: Prepare Yourself for These 5 Steps
As with most top tech companies, Amazon jobs have a rigorous multi-tiered interview process. But unlike some smaller startups where the rigor and intensity is a result of poor organization and an ill-defined interview process, Amazon has created a well-oiled machine for identifying and hiring only the best of the best.
It's a policy harkening back to the early days of Amazon. Jeff Bezos has never been willing to hire anything but top-tier talent for his teams. In 2004, he told Fast Company "I'd rather interview 50 people and hire no one than hire the wrong person."
With that in mind, succeeding in the interview process needs to be looked at step-by-step. No one step is more important than the others – they all matter equally because at any point, an Amazonian could say "no" to your application and that's the end of it.
Interview processes will vary slightly based on your role, but here's a general idea of what you can expect:
Step #1: Coding Test
For people exploring development roles, Amazon may actually start the interview process with a coding exercise. That's a big difference from many other tech companies, where coding is reserved exclusively for the final stages.
While you don't need to be worried about any complex exercises that will stretch your understanding of algorithms in this initial test, you do need to be prepared to have the fundamentals tested. That means a quick refresher on common coding languages is probably a good idea.
Step #2: Phone Interview with a Recruiter
If you pass the coding test, your next step in the process will be to connect with a recruiter for a 30-45 minute phone interview. Occasionally, these might happen over Skype as well.
The big thing to remember about your recruiter interview is to take it seriously. Some people treat their phone interview like it's just checking a box, but as Jeanne Skinner, a leadership recruiter for Amazon, shares, that's definitely not the case:
"When you are considering a career change, you may think of a recruiter as just a person you have to speak with in order for your resume to be seen by the hiring manager (the person with whom you really want to engage). What you may not realize is that your recruiter is actually the person who has to make the first judgement call on your candidacy, evaluating your fit with Amazon's culture and Leadership Principles, and deciding if you are someone we might want to be part of our company…It's my job to know the difference between someone who has a very specific set of skills and someone who will be successful at Amazon long term. Recruiters take that responsibility seriously."judgement call on your candidacy, evaluating your fit with Amazon's culture and Leadership Principles, and deciding if you are someone we might want to be part of our company…It's my job to know the difference between someone who has a very specific set of skills and someone who will be successful at Amazon long term. Recruiters take that responsibility seriously."
That's why it's so important to prepare for your interview with an Amazon recruiter just as you would any other step in the process (remember: take things one step at a time). Here's how you can prepare:
Look at the recruiter's LinkedIn profile. Know a few things about them before you get on the phone and drop nuggets from their profile into your conversation. It can help you break the ice, but also just shows the recruiter you're prepared and taking things seriously.
Prepare questions ahead of time. What are the things you need to know to move forward in the interview process? Make sure you've prepared those questions ahead of time.
Be ready to talk about your skills. Often, a first interview with a recruiter can be fairly surface-level – that's not the case with Amazon. Recruiters are highly trained and well-versed in their respective areas of expertise. Expect to go through your technical skills before being invited in for the in-person meeting.
Take the call from a quiet space. As Skinner states: "Please don't take my call while on your walk to Starbucks." It's a dead giveaway that you're not taking the interview seriously (and likely a guaranteed way to get yourself cut from the process).
Step #3: In-Person Interviews
Make it through the recruiter interview and you'll be invited on-site (all expenses paid, of course) for a full day's worth of interviews.
Of course, for most candidates, these interviews feel like they're the most important and therefore the most stress-inducing. While you certainly want to take the time to study up and prepare, the truth is, these interviews are not any more important than the recruiter interview or any of the other steps that come after.
While you'll likely go through four or five interviews while on-site, here are two that you should be prepared for:
Interview with a Bar-Raiser. Amazon has a program for top-performing employees – called "bar-raisers" – where in addition to their job responsibilities, they are responsible for conducting interviews for teams outside of their own each week. This is one of the ways Bezos mitigates risk on hiring the "wrong" people. Managers working to fill spots on their own team often make mistakes in hiring due to stress or desire to get the role filled as soon as possible. But when a bar-raiser from a completely unrelated team comes in and interviews you, they have no incentive to rush you through the process. Bar-raisers help ensure Amazon continues to hire only the best.
Coding Interviews. You started the process with coding and will end it that way, too. There are several accounts online of the problems you can expect to see in the coding interviews, but no matter what, always remember to make the session collaborative. Coding interviews are, of course, a test of your ability, but they also highlight how well you work with teams, your listening skills, and how receptive you are to feedback.
Conclusion
With so much happening in the world of Amazon today, it's no surprise more and more people are interested in Amazon jobs. And if you want to make sure you're fully prepared for your interview, Paysa is here to help.
With an entire database of Amazon salaries, it's easy to evaluate expected pay for any of the open Amazon jobs currently posted.
And if you succeed in the interview process, Paysa can help you evaluate your offer to be sure you're earning what you should be for the level of experience and role.