In the case of product management jobs, people who work in this field may self-identify with up to 200 job titles.  For many ambitious professionals looking to make a name in this growing profession, one of the most sought-after roles is technical product management. However, most people are unaware that the job title, "technical product manager" doesn't refer to a person as much as it does a role.
Technical product managers are the virtuosos of the product management world. They tend to have a technology background and work on the day-to-day management of a product rather than its development and implementation. Overall, different companies will have different requirements based on their business needs and what type of product or service they provide.
What Do Technical Product Managers Do?
Not to be confused with a standard product manager, technical product managers bring a deeper technical expertise to their role. They have a solid foundation in product management but are more likely to have a technology background. While product managers bring a much-needed business mindset, most companies depend on their technical product managers to take a deeper dive into the technical aspects of their products. In this sense, technical product managers are called upon to answer not just the "why" and"what" questions, but also the "how."
What Skills Do Technical Product Managers Need?
Many people who ascend to the level of being a technical product manager start off as either IT professionals or product managers. With this in mind, it's unsurprising that 57% of applicants must know product management. 40% also must understand Agile methodologies. Other top required skills include project management, software development, management, and product development.
According to Paysa's expertly curated data, the most in-demand skills for technical product managers are:
Product Management: 37%
Agile Methodologies: 28%
Project Management: 23%
Software Development: 21%
Management: 20%
Product Development: 16%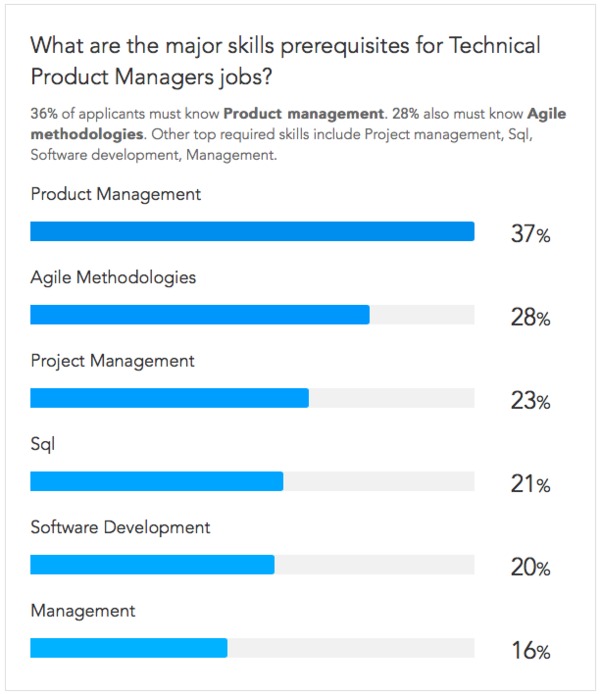 Skill requirements for technical product managers, per Paysa data
While this data encompasses the hard skills most technical product managers are expected to possess, there are a number of less tangible "soft" skills that also serve them well. According to expert tech industry bloggers at Aha!, these skills include clear communication, diplomacy, leadership, and diplomacy.
And for those looking to climb the ranks in the product development field, some additional skill sets to bear in mind are as follows, per TechProductManagement.com.
Active listening and empathy
Fostering good relationships in the workplace
Negotiation and compromise
People management and delegation
Education and Degree Requirements
While some technical product managers do not have a degree, for the most part, those looking to work with large tech companies need at least a bachelor's degree. According to Paysa data, 56% of recent technical product manager job postings requested a bachelor's degree, 24% requested a master's degree, and 1% requested a doctorate. Here is Paysa's data for technical product managers degree requirements: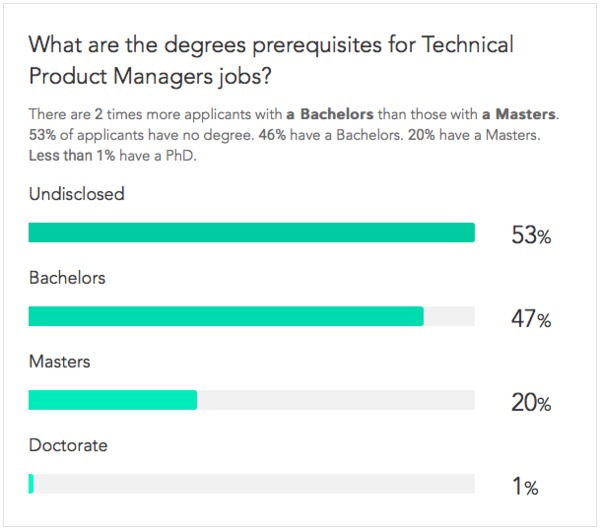 Education requirements for technical product managers, per Paysa data
Gender Demographics
While women are still a rarity in this role, there is plenty of room for them to grow. According to Paysa, men still outnumber women as technical product managers, 2 to 1: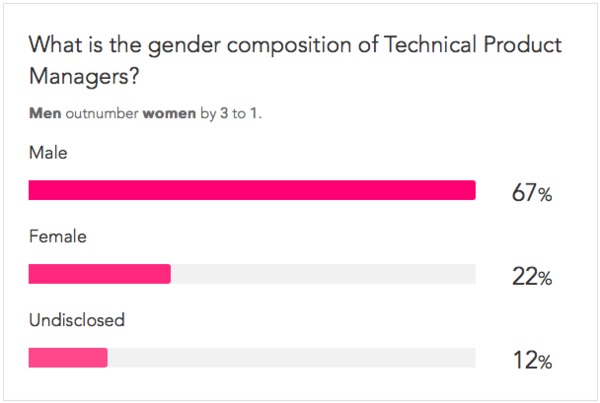 Gender demographics for technical product managers, per Paysa data
Ethnic Makeup of Technical Product Managers
At this point, 55% of technical product managers are White, with many others opting not to disclose their background, and Asians ranking next at 15%. Only 4% identify as black or African-American: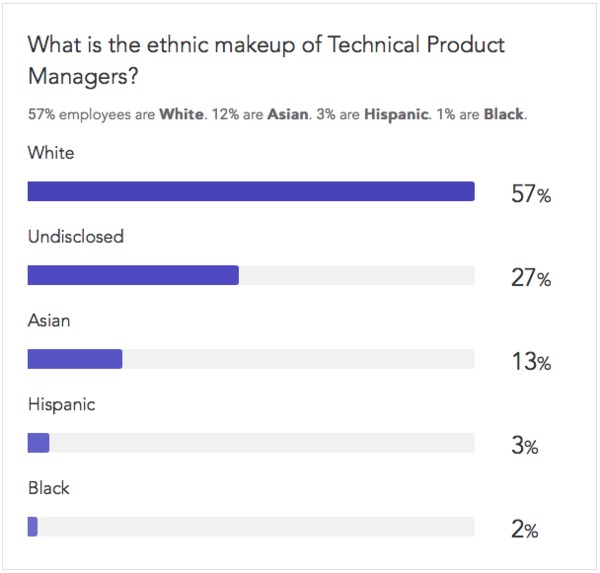 Ethnic makeup of technical product managers, based on Paysa data
Personality Traits of Technical Product Managers
Going back to the "soft skills" we discussed above, there are a number of non-technical skills that separate great technical product managers from average ones. This is a role with diverse responsibilities ranging across a variety of functions and skill sets. As such, it requires a personality that is open to learning from experience, learning from others, collaborative, intellectually curious, and resourceful. Many technical project managers consider themselves to be a "people person" — which is an increasingly rare personality type in the tech world. This is because they often function kind of like peacemakers in their organizations, bringing a sense of diplomacy and harmony to the table when, for example, engineers and business developers start to butt heads.
While these soft skills are in demand for technical product managers, we cannot forget that these IT professionals still must be highly adept with technology. Many of the products and services they work with will be technically-oriented and require a lot of tech savviness to wrap one's head around.
Educational Resources for Technical Product Managers
While more than half of individuals who call themselves product managers in any capacity have a bachelor's degree or higher, continued learning is the name of the game for upward mobility in this competitive field.
Here are some educational resources that technical product managers use to keep their skills sharp and stay ahead of emerging trends in the industry:
Earning Potential for Technical Product Managers
The average technical product manager makes between $112K and $196K per year, with the average annual take-home salary being about $154K. However, with the right skills and proper advocacy, some can command a market value of upwards of $300K a year.

Average salary for technical product managers, per Paysa data
Top Cities and Employers for Technical Product Managers
Technical product managers work in an array of industries and are becoming an increasingly popular investment for organizations of all types. For those who prefer to work for tech companies, some of the top tech companies for employment as a technical product manager are:
PayPal: $215K
Expedia: $212K
Amazon: $206K
Apple: $191K
Other companies on the lookout for top tech talent in technical product management include, but are not limited to, Intel, Groupon, and GE.
As for location, the top cities for technical product managers are:
New York, NY
Seattle, WA
San Francisco, CA
Cambridge, MA
Highlands Ranch, CO
Getting Promoted
Time to promotion for technical product managers varies among the top tech companies. While it's hard to find promotion data specifically as it pertains to technical product managers, experienced parties in project management agree that hard work, an inquisitive mind, and great product storytelling are some key aspects of those who achieve the higher ranks in this challenging role.
The Bottom Line
As professionals who sit at the intersection of business, user experience, and technology, technical product managers hold key insights that can help any company thrive and achieve the next level of progress. While most technical business managers are not expected to know how to sit down and write code, they need a certain level of tech savviness to really sink their teeth into the "meat" of a business problem and find an actionable solution.
For those with the technical acumen, work ethic, and the right personality skills, this can be a rewarding career path that challenges your mind while you reap financial success for yourself and your family. If you're looking for a career in this exciting area, be sure it's with a company you love. Take the wise advice of PayPal's Scott Dunlap, as quoted in Forbes: "Find a company where you adore the product/service, and jump right in."
Need guidance on your next career move? Use paysa.com and make sure you're being paid what you're worth. Our intelligent program uses aggregate data from tech jobs with companies all over the world to help you with your career search or next salary negotiation. Never leave money on the table again.