The relatively new field of User Experience Design is a great choice for someone looking to break into the tech industry. UX Designers are in-demand, career satisfaction tends to be high, and it's a great job for telecommuting. No surprise, then, that CNNMoney ranked UX Design number 14 in its 2015 list of the best jobs in America, with ten-year job growth of 18 percent.
If you're interested in becoming a UX Designer, it's best to start at the beginning, with a question that seems to stump a lot of people, even those working in the tech industry…
What Does a UX Designer Do?
The International Organization for Standardization defines user experience as a "person's perceptions and responses resulting from the use and/or anticipated use of a product, system or service."
In its simplest definition, User Experience Design is the design of those perceptions and responses. But it's obviously more than that.
A UX Designer makes people feel good about using a product or service. Whether that is through the movement of a button from the right to the left, a visual accent, or how fast a page loads on a mobile device, a UX Designer knows how to improve the experience of using a product. As Wikipedia defines it, UX Design is "the process of enhancing user satisfaction with a product by improving the usability, accessibility, and pleasure provided in the interaction with the product."
This encompasses a wide variety of skills, and while some complain that the broad definition of UX Design should be more specialized for clarity's sake, it allows for a low barrier to entry for a vast range of qualified candidates. This increases the chances for a great graphic designer, for example, to nab a position, and it also allows employers to scoop up undiscovered talent.
Another important thing to keep in mind: UX Design isn't all about the user. A UX Designer needs to also focus on the business goals of the organization he or she is working for. In order for the user to feel good about the company, to buy that product, to choose that service, their experience using the product has to feel good.
Here is a typical description of UX Designer responsibilities, from the website Toptal:
– Translate concepts into wireframes and mockups that lead to intuitive user experiences.
– Facilitate client's product visions by researching, conceiving, wireframing, sketching, prototyping, and mocking up user experiences for digital products.
– Design and deliver wireframes, user stories, user journeys, and mockups optimized for a wide range of devices and interfaces.
– Identify design problems and devise elegant solutions.
– Make strategic design and user-experience decisions related to core, and new functions and features.
– Take a user-centered design approach and rapidly test and iterate your designs.
– Collaborate with other team members and stakeholders.
– Take smart risks and champion new ideas.
Key Qualifications for UX Designers
Let's take a look at some of the key qualifications for UX Designers.
Education
From recent job postings for UX Designers, 61 percent of applicants need a Bachelor's degree. 37 percent of UX Designer postings require no degree. 18 percent of UX Designer postings require a Master's degree, and 1 percent of job postings are looking for a candidate with a Ph.D.
Skill Set
The skill set required for UX Designers is as broad and varied as the job description, but recent job postings reveal a common set of qualifications that are frequently included.
User Experience: 71 percent of job postings
User Interface Design: 64 percent
Interaction Design: 47 percent
Graphic design: 44 percent
Personality
The most important personality requirement for a UX Designer is empathy. If you're designing an experience for the user, you have to be able to put yourself in the shoes of people from a wide variety of backgrounds, of various ages and personalities. Other personality traits that work well with the UX Design profession include:
Ability to work well with a team or solo
Ability to express oneself with clarity and detail
Check out this video interview with a UX Designer to learn more:
Role Models in the UX Design World
When breaking into a new field, it's a good idea to study those who came before you. Examine their career trajectory, look at what strategies they use, and listen to any advice they offer. A great place to start is Twitter. You can create a UX Designer list and follow some of these top designers:
Scott Jenson: 25 years of experience in UX and UI (User Interface) Design is nothing to shake a stick at. He's worked for the big names (Apple and Google) and holds over 20 patents. In addition to following him on Twitter, you can check out his website, which includes a blog and videos of his speeches.
Julie Zhuo: Product Design Vice President for Facebook. Need we say more? How about: she started when she was 22? She also shares her insights on Medium.
Taylor Ling: If you like using Google and Android, you should probably add Taylor Ling to your list of greats. He's a Professional Android Designer and a Google Development Expert. He's the author of Android UIUX, which is chock full of design expertise.
Matias Duarte: A combination of what's interesting about the previous two. Duarte is Vice President of Design for Google. Definitely someone to follow!
Adham Dannaway: Dannaway is a UI/UX Designer and Front End Developer living in Sydney, Australia. His Twitter feed is full of daily design tips and resources.
And finally, two additional resources on Twitter. @UXFeeds is a syndicated feed of related articles, so you can be sure not to miss anything. And Peter J. Boagaards @BogieZero is a self-proclaimed infophile and content curator of "all things experience design." The feed is full of valuable design tidbits from across the web.
Professional Organizations for UX Designers
Another way to get your feet wet is to join an organization full of people in the field. Here's a list of a few to check out:
User Experience Professionals Association (UXPA): Membership includes a subscription to User Experience Magazine, professional networking, curated content, training, mentoring, and discounts to their annual conference
Interaction Design Association (IxDA): No formal membership, but the IxDA offers a newsletter, and there are local groups to help you connect with other designers in your area
Salaries for UX Designers
Based on 5,800 profiles, UX Designers earn an average market salary of $113,000 per year, ranging from $66,100 to $166,000. Average market salary includes $89,000 base salary, $16,000 annual bonus, $11,900 signing bonus, and $33,500 in annual equity.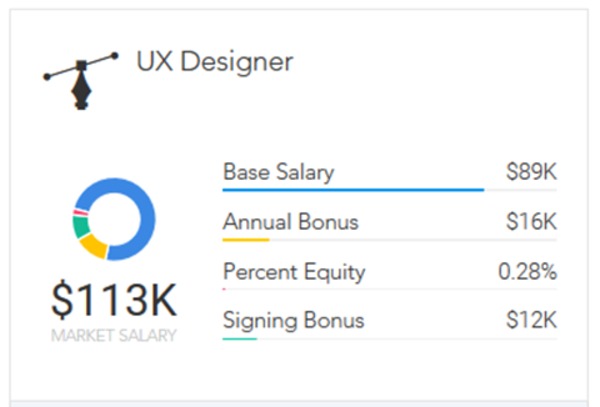 Average market salary for a UX Designer per Paysa data
Top Tech Companies and Locations for UX Designers
According to Paysa data, the top companies for UX Designers are:





According to Paysa data, the best locations include: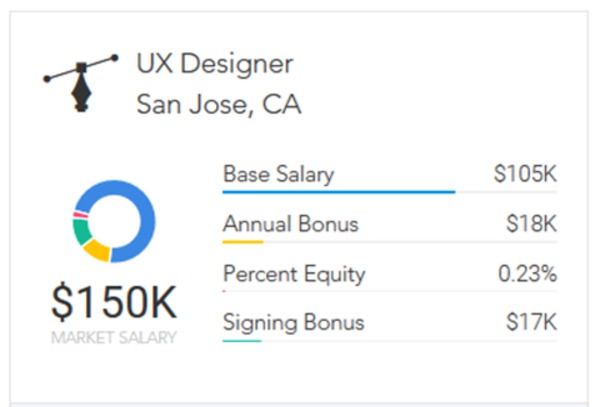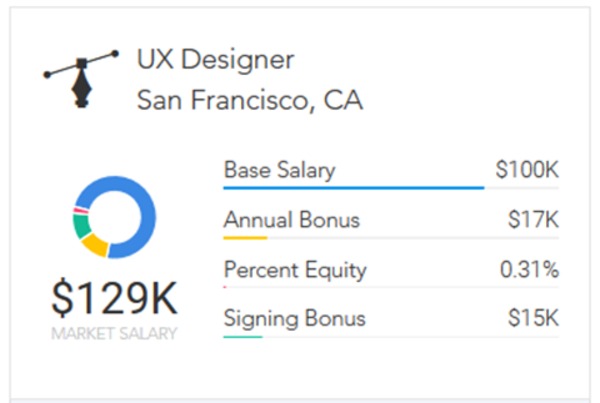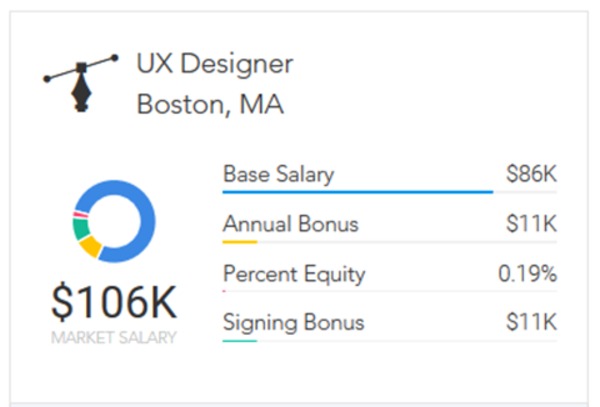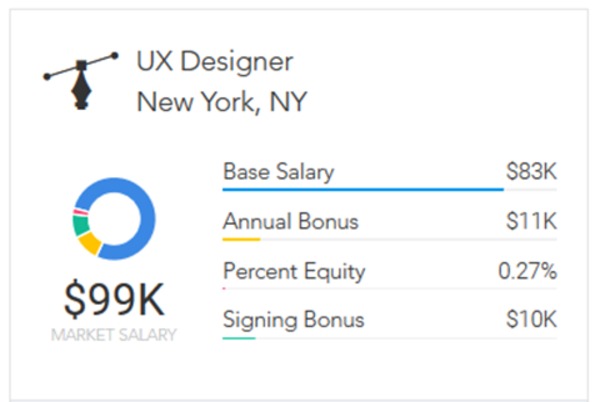 Time for Promotion
The time it takes before you can expect a promotion varies by company, but it takes an average of between two and three years for a UX Designer to move up at one of the top tech companies. For example, it takes an average of two and a half years for a UX Designer at Amazon to be promoted, and an average of three years at Google.
The Future for UX Design
A UX Designer stands to benefit greatly as we approach what the press are calling "the decade of design." The name of the job may change, the field might become more specialized, but an expert in how a customer feels when using a company's product or service, someone who can turn good feelings into profit, that person will never go out of style. If you're considering a career in UX Design, Paysa can provide personalized job recommendations, skills recommendations, and compensation information that will help you negotiate a job offer or secure a raise at your current position. Visit Paysa.com for more information.

Related article:
How to get Promoted as a UX Designer