If you're thinking about becoming a web developer, you'll find top companies like Apple, Google and HP are always hiring for entry-level positions. However, you'll undoubtedly want to level-up in your career eventually. With this in mind, what does it take to advance your career and get promoted in top web developer jobs at such companies? Here are Paysa's secrets to continued success in this role.
Promotable Technical Skill Sets
According to Paysa's expertly compiled data, the top skills needed to become a successful web developer are many. These will vary depending on one employer or one position to another, but several skills are common to most web development jobs. The most marketable (and promotable) web developers will always be improving their existing skills and developing new ones to stay on the cutting edge of emerging trends.
Here are the most demanded skills based on recent job postings:
JavaScript: Very High
CSS: Very High
HTML: High
Web Development: High
PHP: High
JQuery: High
While these skills represent the primary requirements for an entry-level web developer role, there are additional technical skill sets recommended for promotion and career advancement. For example, familiarity with the nuances of UI/UX, staging updates, top to bottom web site security, and one or two server-side programming languages while being intellectually curious and detail-oriented in your work.
Promotable Intellectual Skills and Work Habits
Beyond the technical expertise one must have to be an employable web developer; there are some equally important character and personality traits that will also determine your success or failure in this field. Working well both independently or as part of a team is critical, as is having the necessary patience needed for testing. Web developers are always looking for errors and striving to make improvements. This is not a position for those who like to sweep problems under the rug and hope they go away. You need to be radically honest with yourself about your work, be able to take constructive feedback, and always strive to do even better.
The most competitive web developers are emotionally mature, with high motivation, patience, and diligence. They are good team players, can listen to and communicate effectively with their colleagues, make concessions when necessary and negotiate the best possible outcome.
According to
Treehouse.com, the best web developers have the following traits:
Analytical Mindset: good systems-level thinking, passion for problem-solving, ability to balance "big picture" with details.
Curiosity and Inquisitiveness: ability to ask "why" and dig deeper to find the causes of issues, comfort with asking questions of colleagues and superiors to understand expectations and requirements, willingness to experiment even if success is not guaranteed.
Empathy: understanding that software is ultimately about people and being interested in meeting their needs, ability to relate to client and your team.
Flexibility: ability to switch context or scope of project unexpectedly, adapt and respond to issues as they arise, adjust to needs of business or product when change is necessary.
Love of Learning: enjoys staying on their toes and encountering new challenges, desire to stay current and up-to-date on emerging trends, investigates problems and finds creative solutions rather than getting frustrated and giving up.
Pragmatism: understands that the best solution isn't always the "correct" solution, can take advice from trusted sources but doesn't treat it as a substitute for their own good judgment, understands best practices but not married to the rules.
Team Player: works well with other developers, designers, and engineers as well as with teams around the world, can collaborate with others whether working with them in-person or virtually.
Technical Mindset: agility with computers, specialized programs, coding language, and other related devices and programs (seems obvious but cannot be emphasized enough).
Avoiding Some Roadblocks to Promotion
While many of the companies that hire web developers have a more casual or startup-like atmosphere than traditional workplaces, certain behaviors should be avoided so you don't sabotage your career. Certain types of professional etiquette never go out of style. Don't wreck your chances of promotion by:
Neglecting to pursue continuing education or training opportunities
Sharing sensitive company organization or speaking negatively about your employer on social media
Sharing inappropriate social media posts (sexist, racist, homophobic, unkind or damaging statements about others)
Missing project deadlines
Losing your temper with coworkers or clients
Giving unconstructive or unfair criticism (i.e. "This software sucks" rather than "This needs improvement because…")
Not taking cultural or social cues from colleagues
Using inappropriate language at inappropriate times (Does your boss or the client need to hear that "f-bomb"?)
Having a sense of entitlement
Feeling complacent and "settling in" to your current job
Avoiding engagement with your colleagues and superiors
Not advocating for yourself
Not being a team player
Not dressing for the job you want
Failing to network
According to a question posed on Quora, many web developers fail to be promoted to senior or lead positions for a number of reasons. Some are simply not interested in taking on leadership or managerial responsibilities on top of their existing ones. Some are simply not skilled enough to be considered for such roles. Others are stuck in companies that are not looking to hire from within and would rather hire outside talent for these functions. In the latter case, developers in this position can benefit from Paysa's platform to determine what skills they need, improve or learn new ones, and advocate for better pay at their current employer or in a future role.
Common Career Advancement Paths for Software Engineer Jobs
The most common path to promotion at top companies like Google, Amazon, Apple, and Microsoft is:
Beyond these three basic job titles, career advancement at these tech companies varies substantially based on organizational needs and professional development initiatives.
Junior Web Developer
At this level, you're expected to know the basics of coding we described above as well as some "bonus" skills to make you more marketable than other entry-level employees and recent grads.
Market salaries for junior web developer positions for some top companies are as follows (per Paysa data):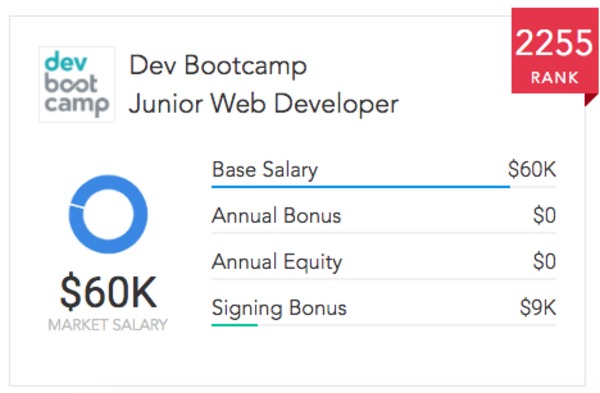 Web Developer
Web developers at the mid-career level should be able to write several types of code from scratch and work in a self-directed manner with minimal guidance and hand-holding.
Market salaries for web developer positions at selected companies are as follows (per Paysa data):
Freelancer: Average of $101K, which includes $73.6K base salary, no annual bonus, $8K signing bonus and $28K annual equity. Average time to promotion: 2.9 years.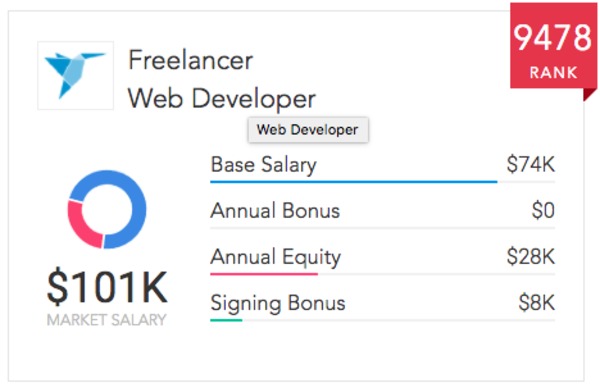 Wells Fargo: Average of $92K, which includes $82K base salary, 10K annual bonus, $6K signing bonus and no annual equity. Average time to promotion: 2.9 years.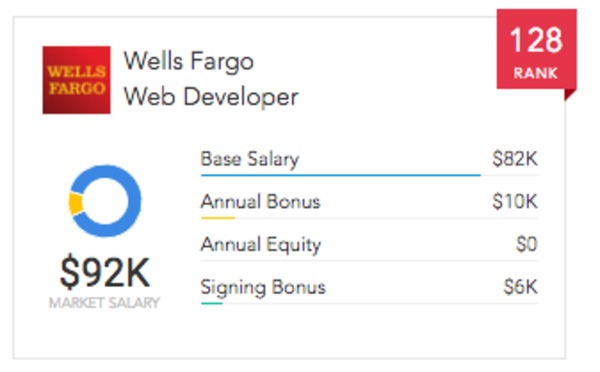 Tilly's: Average of $88K, which includes $74K base salary, no annual bonus, $8K signing bonus and no annual equity. Average time to promotion: 3.5 years.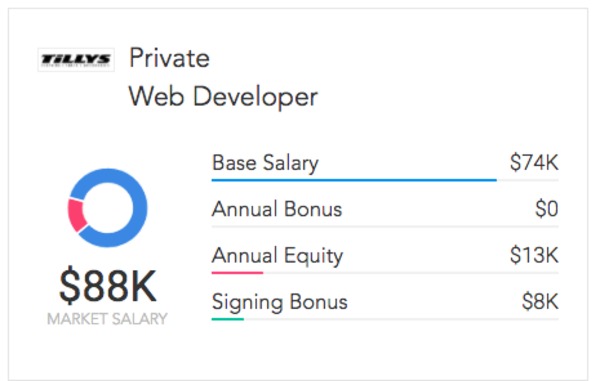 Freelance.com: Average of $79K, which includes $64K base salary, 12K annual bonus, $7K signing bonus and no annual equity. Average time to promotion: 3.4 years.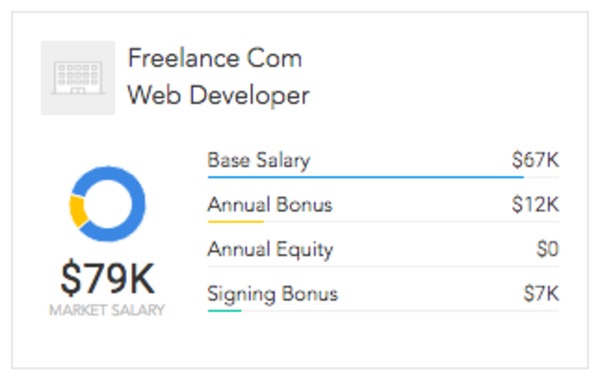 Brigham Young University: Average of $60K, which includes $60K base salary, no annual bonus, 8K signing bonus and no annual equity. Average time to promotion: 2.8 years.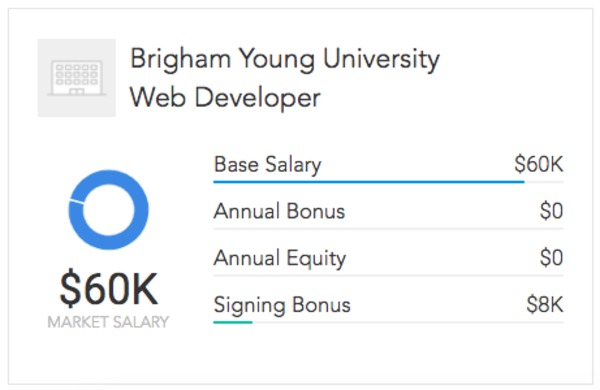 Senior Web Developer
At this point in your career, you'll be leading others or others will be looking to you for guidance. You can handle the entire software development lifecycle, end-to-end and can self-manage your own projects.
Market salaries for senior web developer positions at selected companies are as follows (per Paysa data):
LinkedIn: Average of $213K, which includes $134K base salary, 18K annual bonus, 25K signing bonus and 61K annual equity. Average time to promotion: 2.5 years.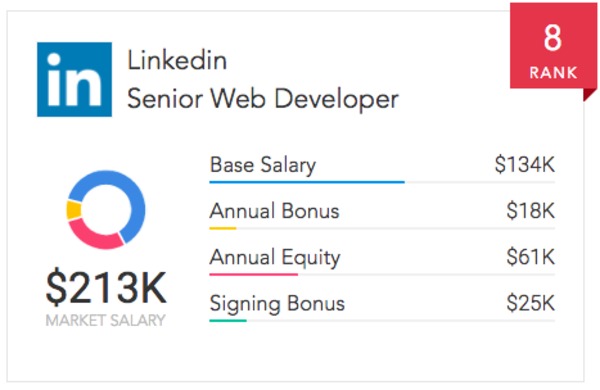 Google: Average of $183K, which includes $112K base salary, 12K annual bonus, 21K signing bonus and 51K annual equity. Average time to promotion: 3 years.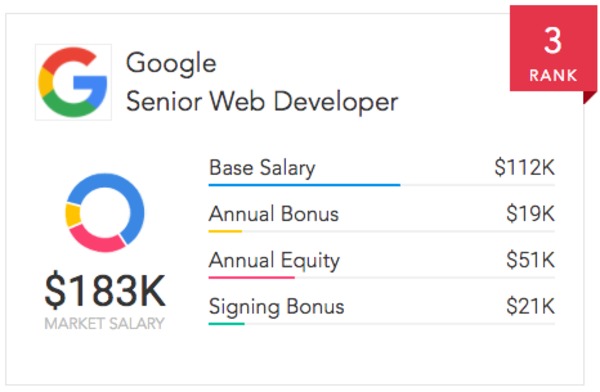 WebMD: Average of $145K, which includes $107K base salary, 12K annual bonus, 11K signing bonus and 26K annual equity. Average time to promotion: 3.1 years.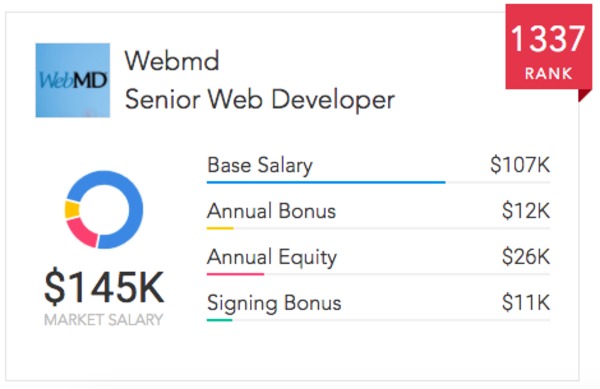 Wells Fargo: Average of $111K, which includes $99K base salary, 12K annual bonus, 7K signing bonus and no annual equity. Average time to promotion: 3.1 years.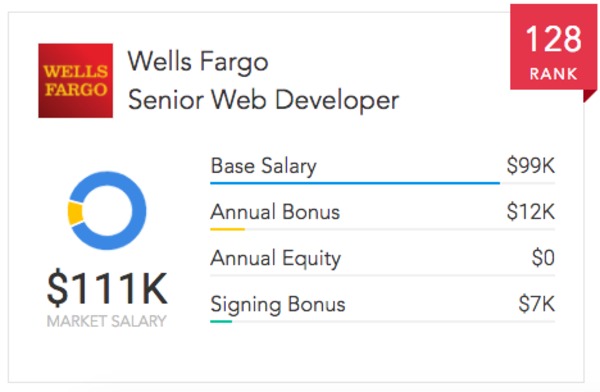 As you can see from the information provided above, web developer salaries can range quite a bit depending on seniority and organization. But the most substantial earnings increase usually occurs in the transition from the mid-career to senior career level.
Tools to Help You Negotiate a Promotion
Similar to the technical skills and intellectual acumen that will help you to advance within a top tech company, you also need the proper tools to effectively negotiate a promotion or a raise in pay. Paysa provides expertly-researched and data to help you navigate your next career move with confidence, knowing that your expectations are in line with industry and organizational standards.
Furthermore, Paysa can be personalized for your particular skill set, educational background, and job history. This level of personalization means that you can more precisely evaluate your own worth in the current job market. Paysa also provides recommendations as to next steps for advancement in your chosen career path. Sign up to personalize Paysa for you today.