In economically uncertain times, it makes sense to look to growth industries if you want job security. According to U.S. News and World Report, it is predicted that tech jobs will grow faster than the average for all jobs at a rate of 12 percent this decade. With tech skills in such demand, jobs in this sector offer above average pay and unemployment rates are very low.
If that all sounds good to you, the next question is where to begin to capture a top spot in tech. What are top tech companies looking for in the way of talent? How can you choose which tech path to take? And how can you maximize your chances of getting the tech job of your dreams at the salary you want?
Choosing a Career Path in Tech
From programmers to product managers, there are many ways that you can go with a career in tech. For this reason, it is a good idea to explore all your options. Factors to consider are:
Areas of personal interest and preference
Geographical locations preferred
Possibility for continued career advancement
When you take these factors into consideration, you may be able to narrow your tech choices down a bit. Doing some online research and personal networking with others interested in the technology sector may also yield actionable information about which path to choose.
Salary Comparisons for Different Tech Paths
Your earnings potential varies according to which tech path you take. For instance, take a look at these salary comparisons, based on data compiled by Paysa for top tech jobs.
Data Analyst: The average market salary for data analysts is $91K per year, ranging from $63.1K to $121K. Average market salary includes $74.9K base salary, $12.7K annual bonus, $8.04K signing bonus and $18.1K annual equity. The majority of data analysts have a bachelor's degree. Top companies for data analysts include Cisco Systems, IBM, and Apple.


Data analyst average salary.
Software Developer: The average market salary for software developers is $93.7K per year, ranging from $66.2K to $123K. Average market salary includes $80.5K base salary, $13.3K annual bonus, $7.34K signing bonus and $18.9K annual equity. Most software developers have a bachelor's degree. Top companies for software developers are Epic!, IBM, Microsoft, and Amazon.


Software Developer average salaries.
Software Engineer: Software engineers also typically need a bachelor's degree. The average market salary for software engineers is $118K per year, ranging from $72.1K to $168K. Average market salary includes $92.8K base salary, $17.6K annual bonus, $9.39K signing bonus and $28.6K annual equity. Top companies for software engineers include Google, IBM, Cisco Systems, and Microsoft.


Software Engineer salaries.
Product Manager: The average market salary for product managers is $133K per year, ranging from $86.3K to $185K. Average market salary includes $106K base salary, $16.5K annual bonus, $10K signing bonus and $28.8K annual equity. Most product managers have a bachelor's degree. Top companies for product managers are Google, Cisco Systems, Microsoft, and IBM.


Product Manager average salary.
Schools for Top Tech Talent
While most top tech jobs require a bachelor's degree, not all degrees are created equal. Historically, degrees from some schools net you a larger salary. You can read all about the top 10 universities to attend to maximize earning potential here. Based on average market salary within the first two years of employment, some of those top schools are:
Auburn University, with an average market salary of $186,000
Stanford University, with an average market salary of $146,000
Harvard University, with an average market salary of $142,000
Yale University, with an average market salary of $134,000
Top Companies and Skills Requirements for Techies
There are many different ways to rank top tech companies. Popular ways of ranking top tech companies include ranking according to salary or perks offered. You, of course, must decide what criteria are most important to you.
LinkedIn looked at overall compensation and employee satisfaction metrics and ranked the top ten tech companies as:
Meanwhile, Paysa's CompanyRank lists the top 10 tech companies as:
If you are comparing top paying tech companies, however, Paysa SalaryRank lists these companies as the top 10: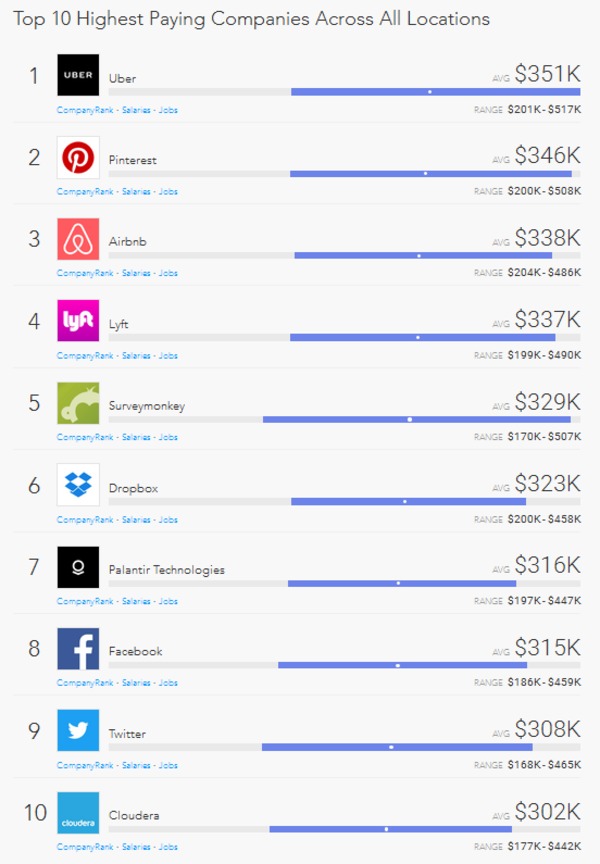 Interestingly, the skill sets you need to work at these companies can vary considerably. According to FastCompany, for example, programming is in high demand at Google. The article notes: "Nearly half (45 percent) of its 60,000 employees know Java, and 42 percent know Python. Only 13 percent are knowledgeable in Git (open source software development), and 14 percent have skills in cloud computing."
On the other hand, Salesforce puts a premium on other skills, with 46 percent knowing cloud computing and 39 percent being proficient in agile development. Facebook, meanwhile, prefers candidates with knowledge in multiple programming languages. 46 percent of Facebook employees know Java, and 44 percent know Python. Facebook also values skill in C++, distributed systems, algorithms, and machine learning. It is interesting to note also that 42 percent of Facebook's employees hold master's degrees.
Understanding Your Worth in the Tech Industry
As has been shown by the data presented here, there are a number of factors that influence the compensation you can expect for a position in technology. Paysa can help you understand what your skills, education, and position in tech are actually worth. FastCompany's "A New Tool Helps Tackle Tricky Salary Negotiations" says of the Paysa platform: "Plug in details such as job title, years of experience, company, location, education level, and skill set, and Paysa's analytics will give you a comprehensive picture of what your worth is in the market."
Chris Bolte, co-founder and CEO of Paysa, explains the goal of Paysa in this way: "We wanted to figure out how to help people better understand what their value is in the market, at least to enable them to have a more balanced, data-driven conversation with either a current or future employer."
Rather than providing just a static dataset, Paysa offers a personalized experience for you. Based on information you provide regarding your education, skill set, and current tech position, Paysa compares where you are with tens of millions of tech career paths, salary data points, and options. Then, Paysa provides personalized recommendations regarding new skills to pursue, salary negotiations, and potential career advancement opportunities. Put the power of Paysa in your hands by taking just a moment to sign up to personalize Paysa for you.