A new job is not always about the money, but a good salary offer certainly helps make your decision. In most cases, you're expecting an attractive comp package. What do you do when the offer comes in lower than expected? We've put together this post to help you navigate the often uncomfortable waters of negotiating a lower than expected salary offer. Knowing how to handle a lowball salary offer is crucial when you're trying to negotiate a fair rate for a job you really want
How Do You Know Whether an Offer Is Low or Not?
First, check the latest salary rate on Paysa.
Here you will get a clear salary snapshot of base, bonus, and equity.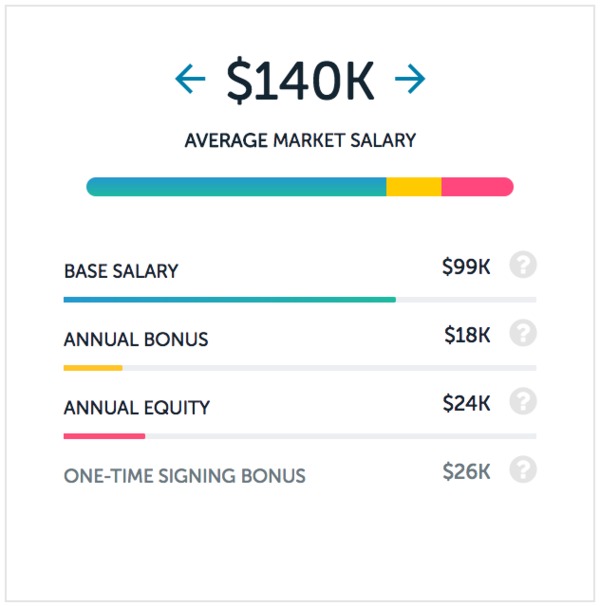 Average salary for a developer at Microsoft, per Paysa data
Second, use Paysa's evaluate an offer tool to get a clear salary difference recommendation.
If you were to receive an offer lower than what Paysa provides, it might be worth examining exactly why. Any number of factors may contribute including:
Market Location.

A developer working for LinkedIn in San Francisco will almost certainly receive a higher offer than one in Chicago. Consider the cost of living in your area as a factor in what might seem like a lowball salary offer.

The salary base, equity, and bonus mix.

Higher equity might compensate for lower base salary.

Your experience.

It's no secret that junior developers with less experience are likely to receive lower offers than those with a more experience. Be realistic about how your experience stacks up against the rest of the team you'd be joining. Plus, the experience you'll gain and the doors that could potentially open is often worth more than a few extra $$ on your salary, especially if you're a junior.

Other perks and compensation.

Some companies offer lower base salaries or bonuses but more equity or fabulous company perks instead. It's important you look at the whole picture when evaluating an offer. Although it's equally crucial that you don't get wooed by those lovely, but definitely not essential perks, and end up accepting a lowball salary offer in exchange for incentives that really don't add anything to your compensation package or your longterm feelings of fulfillment.
Now, let's say you consider those factors and still feel the offer you received is unjustly low. That puts you in the often difficult process of negotiating a better offer.
Here is the proper approach for handling a lowball salary offer without causing offense:
Step #1. Present Relevant Salary Data 
Collect your salary data points and present to the hiring manager, along with key information on your costs of living and your previous salaries. Some hiring managers simply don't know the going rate and may appreciate you doing the research.
But if the company seems hesitant or unwilling to negotiate, it's time to move to the next step:
Step #2. Evaluate the Opportunity and Determine Your Lowest Acceptable Offer
Some factors outside compensation should weigh into your decision to accept an offer or not. Growth opportunity, work-life balance, commute time, and learning opportunities should all be considered. Then in light of that overall job value, you need to determine the absolute lowest offer you'd be willing to accept.
Step #3. When Salary is Off the Table, Attempt to Negotiate Other Incentives
The Paysa team recently put together a whole post detailing six things you can negotiate outside of salary, including:
Equity
Sign-on bonus
Performance-based pay
Flexible work arrangement
Expense reimbursement
Time-off
Step #4. Know When to Walk Away
Know your line. If the company cannot meet the minimum expectations you set during Step #2, be prepared to walk away from the opportunity. With thousands of jobs available, you will undoubtedly have a chance to interview elsewhere and get the salary you need.
Paysa can help you get there. Visit Paysa salary tool to search salaries and find out more about what it takes to work for some of the world's top tech companies.

Related:
Six Things to Negotiate When More Salary is Not an Option