It's no secret that Facebook jobs are some of the most desired in the tech universe.
The social media giant holds the #5 spot on both Paysa's CompanyRank and SalaryRank lists, meaning they do a great job of attracting top-tier talent and that they compensate their people well. The average salary at Facebook currently sits at $285,000 per year.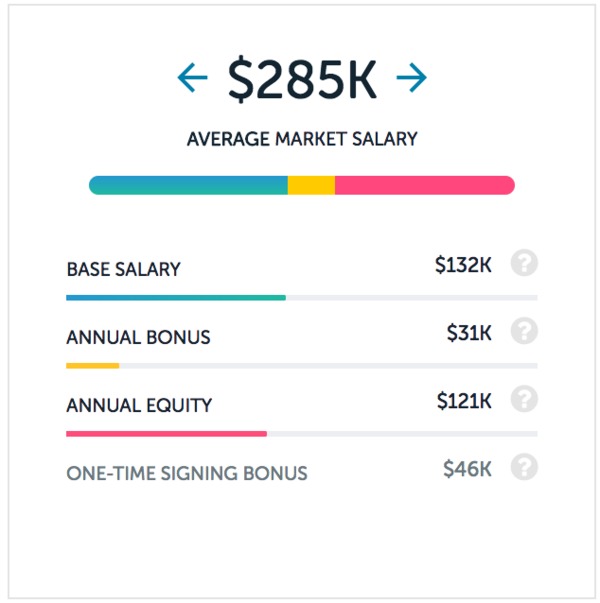 Average salary for a Facebook employee, per Paysa data
And while Facebook is always recruiting, actually landing a job with the second best company to work for in the U.S. isn't easy.
(Luckily for you, we've put together a great guide to the interview process for Facebook jobs here.)
If you're still in school though, a technical internship can be one of the best ways to up your chances of earning a full-time opportunity with Facebook.
Of course, landing a Facebook job is a feat itself and you'll need all the help you can get to make it happen. Which is why the Paysa team has assembled this guide: to show you exactly what it takes to be one of the lucky few invited to intern for one of the most innovative, fast-moving companies in Silicon Valley.
Step #1: Be Active Early
Your end goal might be a Facebook internship (followed by a post-graduation job offer), but chances are that's not where you'll start.
It's a common misconception that internships begin in your junior year of college. The truth is, with so much competition among computer science graduates, your success in landing an opportunity with Facebook (or any top tech company for that matter), relies heavily on how much you've already accomplished.
That means being active early in your college career. Here are a few ways to build the prerequisite experience you'll need to stand out from the thousands of other students interested in Facebook jobs:
Intern for Smaller Startups
While Facebook likely won't have any interest in your application until your junior year, plenty of startups need interns and are willing to bring on talented freshmen and sophomores. Completing an internship at a startup – even if it's unpaid – gives you a unique leg up in the race for a Facebook internship because you can demonstrate experience out of the classroom in a fast-paced, high-pressure work environment.
Facebook is far from a startup today, but that experience translates nicely into the "move fast and build things" culture there.
Check out Paysa's job search to find open internship opportunities with startups and top tech companies alike.
Contribute Code to Open Source Projects
Of course, not every computer science major will have what it takes to land an internship in their freshman year. But that shouldn't discourage you from being active and completing work outside the classroom.
For many students, that means contributing to open source projects online. Finding opportunities to develop your coding abilities demonstrates initiative on your part and helps you gain critical experience you won't find in a classroom setting.
Many tech companies – including Facebook – actually pair students with open source opportunities.
Build Your Own Stuff
If you're not interested in contributing to someone else's project and have an idea of your own, coding an app or piece of software you've developed yourself will definitely boost your visibility with Facebook recruiters.
Step #2: Learn Everything You Can About Facebook and Facebook Jobs
That means a lot more than how to change your profile photo or the difference between a "poke," "like," and "share."
If you want to successfully land an internship, you need to demonstrate you understand Facebook as a business – not just as a social media platform. Spend a significant amount of time digging into the specifics of how they operate and be prepared to answer any of these business-related questions:
How does Facebook make money?
What are the different teams and divisions within Facebook (including subsidiaries like Instagram and WhatsApp)?
What is Facebook's mission? What are the five core values of their culture and how are they demonstrated in the way the company operates?
What big projects does Facebook have their sights set on for the next year?
Step #3: Know How to Sell Yourself
Facebook jobs are so competitive that you may do everything right and still find yourself going to head-to-head against dozens of other equally-qualified candidates.
And that's where developing a unique value proposition can be a game-changer. Knowing how to "sell" yourself is about highlighting the aspects of your background, experience, and career goals that distinguishes you from the pool of otherwise great candidates.
While everyone's value proposition will be different, you can start crafting yours by looking at:
Major academic accomplishments (grades, projects, clubs, etc.)
Your specific niche (if you're a master of coding for Android, market yourself as such)
The people and professors you've worked with in school or on projects/internships
 Your network (any current or past Facebook employees you know who could help put in a good word)
And Of Course, Don't Forget About Paysa
In addition to our blog, which offers daily insights into top tech companies like Facebook, Paysa offers salary data, job posts, and other critical information you can use to gain a competitive edge in exploring tech internships.
Visit Paysa.com to learn more.