Everyone knows there are a few basic rules that apply to any resume.
Keep it brief.
Focus on achievements, not just responsibilities.
Include quality references.
But the right data science resume requires a little bit extra. Yes, references are important, and there's no doubt you should keep things brief and focused on your big wins, but becoming a data scientist is no easy task, and as a result, your resume needs to stand out to grab the attention of a hiring manager.
Luckily for you, that's exactly what this post will help you do. With hundreds of data scientist jobs available today, there's more than enough opportunity to make your mark in the field. This post will show you exactly what to include on your data science resume to demonstrate your potential value to a top tech company.
Tip #1: Get specific.
We all know those outdated, overused resume buzzwords: team player, results-driven, hard-working, etc.
Ask any recruiter and they'll tell you the phrases are gag-worthy. But the intention is good. Stating that you're a team player or results-driven is the job seeker's equivalent to saying, "you can trust me."
The problem is, hiring managers want to see they can trust you—not just hear it. And that's why getting specific on your data science resume is the first step toward standing out from the competition. It's not just about gravitating away from overwrought terminology; it's about demonstrating why you're a great candidate rather than just waving a flag that says, "I'm a great candidate!"
So, instead of writing "strong background in mathematics," get more specific with something like "undergraduate degree in Applied Mathematics with a Master's degree in Statistical Analysis."
Or, rather than writing "proficient in several coding languages," list out those specific languages: Python, Java, etc.
Of course, it helps to examine what specific skills a company is looking for ahead of submitting your application so that you can be sure to highlight those on your resume.
In addition to this blog post that highlights the top skills and education requirements for data science jobs, each job posting on Paysa lists required skills that you can incorporate into your resume.
Here's an example of the skills required for a data scientist position with Microsoft: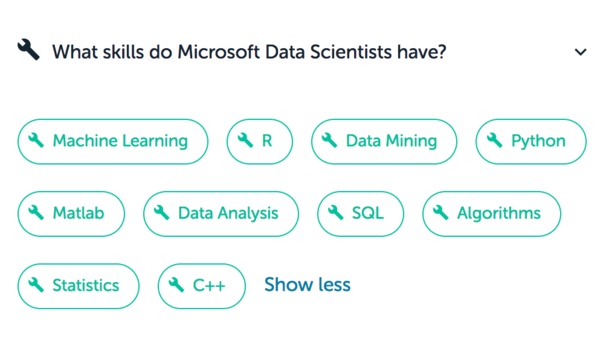 Skills required for a data scientist position at Microsoft, per Paysa data
Tip #2: Be data-driven.
Demonstrating results should be a component of any tech resume, but it's arguably more important for data science jobs than in any other field. Why?
Because your entire job is centered around data. Your profession focuses on leveraging data to make informed decisions. Therefore, if the goal is to help a hiring manager make an informed decision about which data scientist to hire, using data to influence that decision seems like it would be an absolutely critical component.
That means supporting your achievements with specific results. It's about more than simply listing what you've accomplished—it's about listing the impact those accomplishments had on your company at the time.
Tip #3: Whenever possible, link to specific projects.
Of course, the ability to actually share the projects themselves is even better. Maintaining an online portfolio of projects you've worked on either in school, your career thus far, or in side projects outside of your day job gives you an easy way to quickly demonstrate the quality of your work to potential employers.
And considering most data science job applications will be online today, it's easy to link directly to that portfolio (including specific projects that correlate with achievements) in your resume.
Tip #4: Size matters.
Like it or not, when it comes to data science jobs, the size of data in your experience makes a big difference. You may be a master of smaller data sets, but working with a large batch of data inevitably presents unique challenges. Experience facing those challenges might be extremely important to a potential employer, which is why you need to include data batch sizes in your experience.
Tip #5: Leave them hanging. 
The key to a great data science resume isn't just what you put in, but also what you leave out. If the goal of a resume is land a first phone call and give yourself a chance to "sell" your experience and qualifications for a specific role, then it's a good strategy to leave some unanswered questions in your resume that intrigues a hiring manager enough to want to talk with you.
Conclusion
Paysa.com should be a go-to resource for data scientists interested in exploring new opportunities. In addition to jobs from thousands of top tech companies, Paysa has a database of robust salary information and plenty of quality advice on succeeding in your career search.
Check out Paysa.com today to learn more.