Whether you're still in school or recently graduated and entering the job market, internships provide incredible opportunities to learn from and experience life at some of the top tech companies in the world.
Sure, internships often lead to full-time job offers, but the biggest win for you will undoubtedly be the critical on-the-job skills you're developing so early on in your career.
But of course, it's no secret that no one gets rich from an internship. If you're fortunate enough to land a paid internship (which most are in tech), chances are it'll be a fraction of the tech salaries offered for a full-time opportunity at the same company.
And while "learn before you earn" is an important principle when it comes to getting paid for intern work, it's a common misconception that internship salaries are non-negotiable.
That's simply not the truth.
In fact, if an internship is meant to be a learning opportunity, why not start learning even before you start the job?
Negotiating tech salaries will almost certainly be something you encounter in your career, and so getting some early practice by negotiating your internship salary is an important lesson.
And that's the exact lesson you'll learn in this post:
At Paysa, we know how to negotiate tech salaries, and in this post, we'll show you exactly how to ask for more money in an appropriate way for an internship.
Step #1: Research Tech Salaries for Interns
Before you can ask for a higher salary, you need data to support how much you should be making in an internship.
Researching intern salaries at the company extending the offer and other similar-sized tech companies is a critical first step and Paysa is the best tool to use to make it happen.
Here's what you need to do.
1. Visit Paysa.com and run a salary search for interns at the tech company extending the offer. For example, let's say you receive an offer from Airbnb to join as a software engineering intern. Well, according to Paysa data, here's what the average compensation looks like: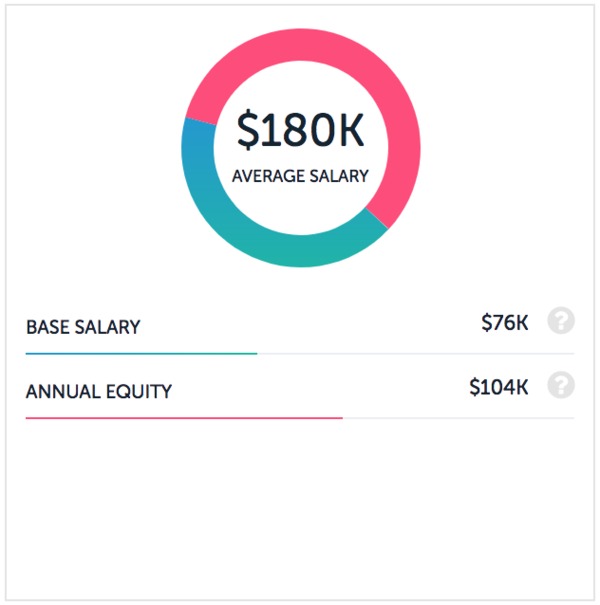 Average salary for an intern at Airbnb, per Paysa data
As you can see, the average base salary is right around $76,000 per year with total compensation at $180,000. So, if an offer comes through that's lower, you know you're justified in at least exploring a potential bump.
2. Do the same for other tech companies – particularly their competitors. Sticking with the Airbnb example: Now, it might be worth exploring intern salaries for other top tech companies. So, maybe you run a search on Paysa for intern tech salaries at Google, and here's what you find: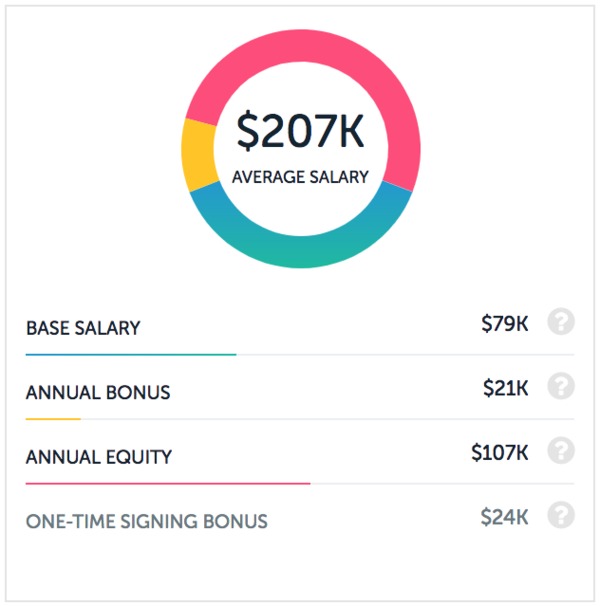 Average salary for an intern at Google, per Paysa data
Pretty dramatic difference, right?
And now you have the data you need to justify a bigger increase to your intern salary.
But, that's not the only data you'll need to bring to the table:
Step #2: Outline Your Expenses
You're also going to want to calculate your cost-of-living expenses to demonstrate why you need more money.
Employers often neglect to consider the costs of relocation, rent, food, and other expenses when putting together a pay plan for new interns. It's your responsibility to demonstrate exactly how much money you need to make to live comfortably in the market where the internship is based.
But what do you do if you don't actually know the cost of living in a market you don't live in currently?
Well, Paysa has you covered there too.
Use the "Cost of Living" tool on Paysa to get an estimate of exactly how much it costs to cover your basic expenses in any market.
For example, here's what the average cost of living looks like in San Francisco (where a huge number of tech internships take place):

Average cost of living in San Francisco, per Paysa data
So, if you're single and renting in San Francisco, expect to have around $4,500 per month in expenses. Now, let's go back to the $76,000 per year salary offered by Airbnb: That ends up being about $6,250 per month before taxes. So, presumably, it could be just enough to pay your bills (but not really enough to enjoy living in San Francisco).
Once you've gathered all the relevant data from Paysa, it's time for the next step:
Step #3: Build and Present a Proposal
As you likely know, there's a big difference between asking for a raise and demonstrating that you've been undervalued in an offer. Asking for a raise comes from a place of feeling like you deserve more. But demonstrating your value stems from facts—relevant data supports your argument and gives you reasonable negotiating power.
In order to present that data in an appropriate way, it's important to build a solid proposal that clearly highlights your value and aligns it to a reasonable bump to your offer. So what should you include in your proposal?
Consider including any (or all) of the following:
Relevant salary data from Paysa
Relevant cost-of-living data from Paysa
Reference letters from professors who can attest to the quality of your work
Reference letters from past or current employers who can attest to your work ethic
A portfolio of college projects and extracurricular work
Your proposed offer increase
Once you've gathered all that information, it's time to actually present the proposal to the internship manager.
Of course, negotiating an increase might be a bit nerve-wracking. But if you follow these tips, you'll have no problem coming across as reasonable and professional in your request:
1. Be confident. If you've really done your homework and know you're deserving of a higher tech salary, then you should have no problem presenting the proposal with conviction. Assume that the manager made a mistake and simply doesn't realize what the appropriate rate for an internship salary should be, rather than believing he or she intentionally low-balled you. It's your job to bring that mistake to light and get it corrected.
2. Practice before presenting. One of the easiest ways to beat nervousness in the interview is to simply rehearse your proposal ahead of time. Sit down with someone you respect (and maybe even fear a bit—a trusted professor works great) and present the proposal as if they were the manager.
3. Anticipate follow-up questions. Unexpected questions will undoubtedly throw you off during your presentation, so spend some time thinking about every possible question your manager may have for you during the proposal so you can prepare responses ahead of time.
Step #4: Have a Plan if They Say "No"
The truth is, you may be fully justified in asking for a higher salary, but your boss may still say "no." In which case, you have a tough decision to make: Do I stick it out for the sake of the opportunity? Or do I leave? There's no right answer here—it's totally up to you and dependent on your circumstances.
Search for internship jobs here.
Good luck!