As many tech professionals can attest, the decision whether or not to move forward with an advanced degree can be an agonizing one. On one hand, a masters' or a Ph.D. is supposed to increase one's marketability and earning potential, but on the other, it's also a decision that comes with a considerable cost, time commitment, and most of all, hard work.
At Paysa, we analyze a rich array of industry data to help tech professionals make better-informed decisions and reach the next level of their careers. Lately, one of the most common questions we receive is whether a master's degree in computer science is a worthwhile investment for career advancement.
The short answer? It depends. With a price tag that ranges between $30K-$120K, an advanced degree in computer science is no small expense, so it's important to make sure it's the right fit for you before embarking on this journey. But as always, let's look at what both the marketplace and our data have to tell us on the topic.
Assess the Career Landscape
In today's tech-centric business climate, highly-skilled and innovative talent is already a hot commodity, with many professionals earning upwards of six figures annually. According to data collected and analyzed by Paysa, the average annual pay for a software developer in the United States is $110K per year, while software engineers can expect to rake in an average of $139K a year. Compare this with the average American family whose household income was less than $65,751 in 2014, and it's easy to see why some of the nation's top talent gravitates toward this lucrative field.
Here are some average salaries for select tech professionals across the nation: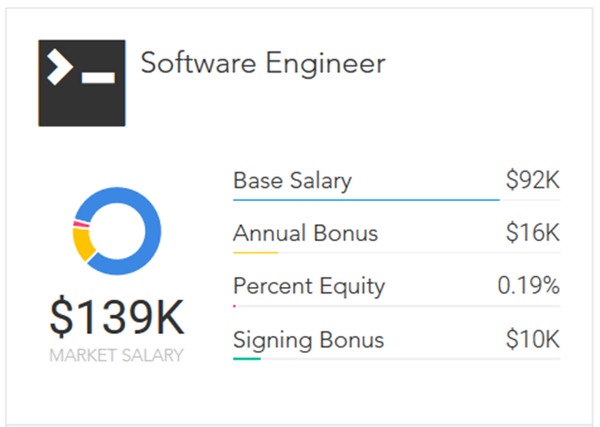 Average software engineer salary, per Paysa data.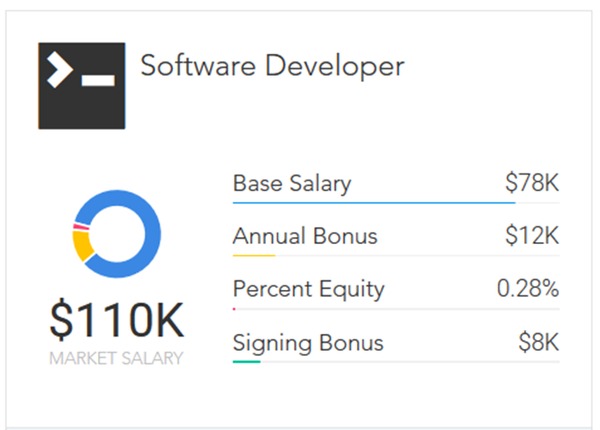 Average software developer salary, per Paysa data.

Average data scientist salary, per Paysa data.
Assess Earning Potential by Region
While these earning figures represent national averages, it's also important to remember that the region you live in will significantly impact the competitive landscape of your chosen field and your earning potential. Sometimes a move might be the more practical (and affordable) way to maximize your salary. Paysa is an ideal resource to determine your market worth with your current skill sets, see what you are worth at various companies and in different regions around the United States.
If you haven't yet considered it, it may be time to "Go West." Currently, the San Francisco Bay Area and Seattle are the leaders in tech jobs ranging from opportunities for those with bachelor's degrees through doctorates. However, other areas with lower costs of living are also reaping the fruits of the tech boom. According to a January 2016 article from Business Insider, tech professionals in low COL states like Arkansas and Indiana can earn upwards of $75K a year. With this in mind, packing up a U-Haul may be a more economical alternative than taking on the added expense and time investment of earning an MS in Computer Science.
Manage Your Expectations
Many will argue that a master's degree has become the new bachelor's and is now the minimum requirement to catch the eye of employers. There is some truth to that, but it doesn't tell the whole story. However, with so many qualified professionals in the talent pool, a master's in computer science isn't necessarily the "golden ticket" it was ten years ago. While an advanced degree can make you more marketable, don't expect to necessarily see a huge bump in pay immediately. Most tech professionals who obtain a master's in computer science can expect an annual pay increase of $5K-$10K — nothing to turn one's nose up at, but perhaps less lucrative than some would hope for.
Be Honest with Yourself
Before taking the plunge, consider your motivations. Ask yourself some questions:
Would a master's degree help you achieve your specific career goals?
Do most of your colleagues have them?
How about the peers whose jobs you want?
Are you in a personal and financial position to attend school right now?
Do you enjoy school? Or are you just looking to make more money?
Are you willing to finish what you start? (Remember, even if you don't graduate, you will still accumulate debt.)
Asking yourself these questions will help you determine if a master's in computer science is well-aligned with your career goals at this time. And even if it's not a match right now, it doesn't mean that it won't be in future.
Never Underestimate Experience
You can't learn collaboration or business acumen by cracking a textbook. Keep in mind that when hiring managers review a resume, the first thing they look for is experience, not your level of education or where you went to school. Also bear in mind that from an earning perspective, someone with an undergraduate degree and two years of work experience will likely earn more than a recent graduate with a master's in computer science. However, if you decide that an MS in CS is the right path for you, don't neglect to continue building up work experience while studying.
Understand the Pros and Cons of a Computer Science Master's Degree
Since computer science is a broad field with multiple applications, those with CS graduate degrees may enjoy promising career prospects soon after graduation. In addition to the degree's flexibility, there is an ever-increasing demand for skilled technology professionals in a growing number of sectors. However, due to the booming number of qualified individuals with master's degrees in computer science, the field is only becoming more competitive, and as aforementioned, it is not always the instant "in" it was considered to be in the past.
Moreover, some industry experts will go so far as to flat-out say that computer science degrees are a waste of money. In a 2015 article in Fortune, quotes Dittach CEO, Daniel Gelernter as saying (emphasis theirs):
"The thing I don't look for in a developer is a degree in computer science. University computer science departments are in miserable shape: 10 years behind in a field that changes every 10 minutes. Computer science departments prepare their students for academic or research careers and spurn jobs that actually pay money. They teach students how to design an operating system, but not how to work with a real, live development team.

There isn't a single course in iPhone or Android development in the computer science departments of Yale or Princeton. Harvard has one, but you can't make a good developer in one term. So if a college graduate has the coding skills that tech startups need, he most likely learned them on his own, in between problem sets. As one of my developers told me: "The people who were good at the school part of computer science – just weren't good developers." My experience in hiring shows exactly that.

[…] But my lead developer didn't graduate from college, and neither did my other full-stack developer. I do have one developer with a degree in electrical engineering: did he learn any of his development skills in college, I ask? No."
Harsh words? Perhaps. But also important to hear for anyone looking to potentially spend upwards of $100K on a degree that may not have the cache it once did. That's not to say that a master's in computer science cannot be a worthwhile investment, but it remains important to keep your expectations realistic and make sure it's a fit for your career goals.
Don't Be Afraid to Explore Alternatives
If you're determined to earn an advanced degree but still unsure if a master's in computer science is right for you, it may prove valuable to look at alternative options. The decision you reach will very much depend on your ultimate goal. For those looking to break into the startup sector, many are finding that emerging degree programs such as degrees in entrepreneurship are making them well-prepared to reach their career goals. If your goal is to gain experience and knowledge, work experience, mentorship programs, certificates and other non-matriculated education opportunities are also excellent ways to keep yourself sharp and marketable.
Taking the Plunge
In the ever-evolving and competitive tech sector, deciding whether or not to pursue an advanced degree can be complicated. For many talented individuals, a master's in computer science can be a great jumping off point or a natural next step on the path to career success. However, it's important to bear in mind that even the most prestigious degree from the best institution is not a replacement for talent, hard work, experience and innovation. Make sure your decision is an informed one. Visit paysa.com to determine the skills you need for success and maximize your earning. On average, our users make $39K more than their peers.