The cover letter has long been a staple of the tech job application process.
Born in the second half of the 20th century and intended as a means of offering personal context to the otherwise impersonal data displayed in a resume, the cover letter became a must-have component of any serious candidate application (much to the dismay of your average job seeker).
But recent data suggests that the cover letter may be headed for a plot in the ground right next to "newspaper classifieds" in the job application graveyard. As new technology develops and HR practices change, the cover letter barely hangs on by a small thread in some industries.
However, when it comes to cover letters for tech jobs at top companies, it's time to write the obituary: the tech cover letter is dead. It leaves behind a family of Microsoft Word templates and bad buzzwords.
And while some job seekers may be glad to see it go, cover letters served an important role in the pre-internet job application process. Cover letters gave tech job applicants the opportunity to pitch themselves as the ideal candidate. For the slightly under-qualified applicant who hoped to squeeze their way into an interview with an expertly crafted cover letter, those days are gone.
Why are Cover Letters Vanishing from Tech Job Applications?
Instead, advanced resume screening technology can quickly assess a candidate's relevancy to a particular tech job long before a recruiter ever looks at your application. Let's say you're applying for a software engineer job with Uber.
Well, considering Uber is the #1 company on Paysa's CompanyRank and software engineers make a pretty hefty salary (see below), it's safe to say they likely get a fair number of applications to any open jobs they post.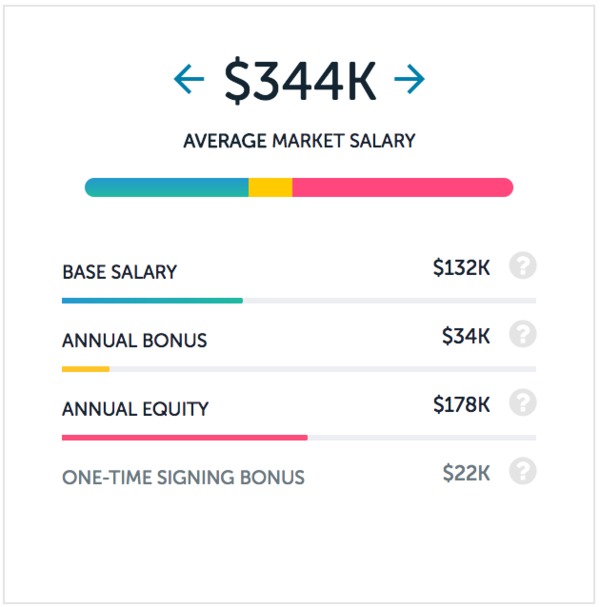 Average salary for a software engineer with Uber, per Paysa data
When your resume enters Uber's applicant tracking system, it's likely that some software screens the resume to identify keywords associated with the top skills required for the job. In the past, you may have explained your experience with those skills in a cover letter. Today, it's more important than ever that they are embedded directly into your resume.
Does That Mean I Should Exclude a Cover Letter From My Application?
Not necessarily.
While it may seem frivolous to spend time writing something 90 percent of HR contacts skip over completely, there's an old truism that sticks out here:
It's better to be safe than sorry.
Your cover letter may not get read, but would you want the absence of a cover letter to be the deciding factor between you and another candidate getting a first interview at Google or Facebook?
Definitely not. So here's what you need to do:
Create a Basic Cover Letter Template
Nothing complicated, just a brief, simple two-paragraph customizable template.
In the first paragraph, highlight some big achievements from your career (just be sure those achievements are also emphasized on your resume).
In the second paragraph, write a few lines about why you're interested in the particular opportunity you're applying for or the company itself. Here are some starter sentences to kick things off:
Your open software engineering job caught my eye because…
I've always had an interest in Apple because…
When I think of a career with Airbnb, I think of…
I believe I'd be a great Netflix employee because…
Include just enough to show that you're genuinely interested in their organization, but don't spend hours crafting a perfectly-worded cover letter (because, again, chances are it might go in the trash).
If you're reading this and feeling like it's harder than ever to get your application to stand out from the pack, you're not entirely wrong.
Luckily, in addition to reviewing the numerous blog posts from the Paysa team that detail resume strategies, here's what you need to do to improve your chances of landing an interview:
Keyword Optimize Your Resume  
If you know the skills required to be considered a qualified candidate, including those skills on your resume is an easy way to make it past the resume screeners and into the hands of an actual recruiter.
But how do you know what skills the company is seeking?
That's where Paysa comes in.
You can find detailed information for virtually any position—from interns to the CEO—of thousands of tech companies on Paysa.com. In addition to salary data, Paysa includes the most common skills for each job.
So, going back to the software engineering job with Uber from earlier, here are the core skills required for the position: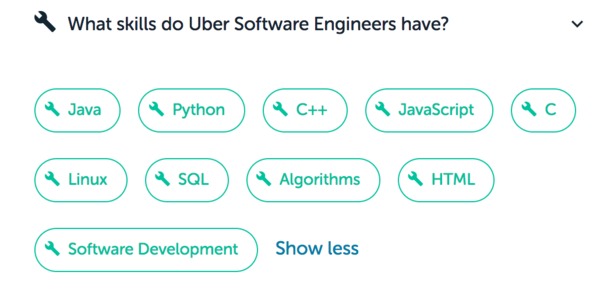 Skills for software engineers at Uber, per Paysa data
If you were applying for this job, it'd be a good idea to include those terms directly in your resume.
Conclusion
Find salary and skills data, along with thousands of open jobs for top tech companies, on Paysa.
Visit Paysa.com today to learn more.