It's hard to believe that it was less than 60 years ago when President John F. Kennedy made his bold proclamation that America would put a man on the moon in the next decade. For many people, the very concept seemed impossible, foreign – fodder for science fiction fanatics and UFO hunters.
And now here we are today, Kennedy's promise fulfilled, and a new race to outer space in full-effect.
But today's emphatic pursuit of space exploration (and colonization) isn't fueled by the same mindset or motives that drove Kennedy to nearly double NASA's federal budget in 1961. Nor is today's space race solely the work of government programs like NASA, the Russian Federal Space Agency (RFSA), or China National Space Administration (CNSA). Private sector companies are at the forefront of space exploration.
Major tech companies like Amazon, Google, and Virgin have all launched programs in recent years aimed at various reaches of space travel, including colonization of the moon and Mars, as well commercial space travel. That's right – in the not-too-distant-future, it's likely you'll be able to take your family on a vacation that's truly "out of this world."
And while every effort advances the human race a step further into the unknown, perhaps no company has had a greater influence on space exploration over the last fifteen years than Elon Musk's passion project aptly named, Space Exploration Technologies (or SpaceX for short).
Musk's mission with SpaceX is simple:
"SpaceX designs, manufactures, and launches advanced rockets and spacecraft. The company was founded in 2002 to revolutionize space technology, with the ultimate goal of enabling people to live on other planets."
But the work itself is anything but simple.
Of the 120 SpaceX jobs on Paysa at the time of publication, a significant number require advanced degrees and an engineering background.
But, with an average salary of $184,000 per year, it's clear Musk puts an emphasis on attracting and retaining the best talent for SpaceX.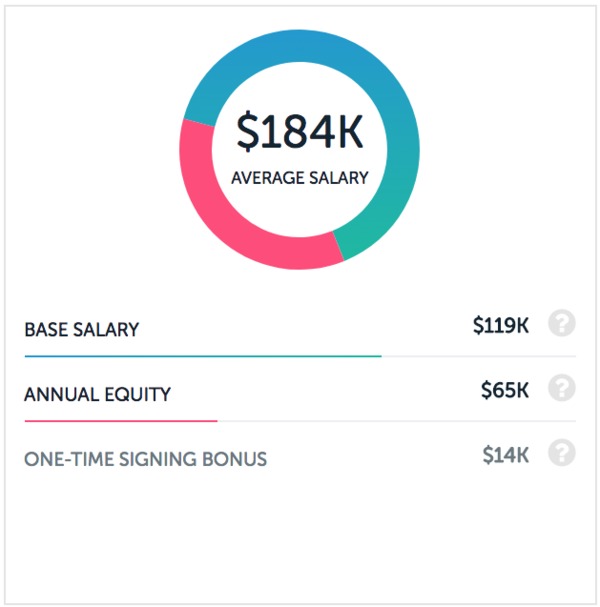 Average salary at SpaceX, per Paysa data.
But what does the future hold for Elon Musk and his SpaceX program? What can we expect from Musk's voracious pursuit of innovation in our final frontier?
This post explores exactly that. You'll learn what recent developments have pushed SpaceX to the forefront of the new space race and how Musk intends to capitalize on his company's position to lead humanity toward the colonization of Mars.
First, a Brief History of Space Exploration Technologies
Most people know Elon Musk as the innovative CEO of Tesla, the American automaker whose line of Model S cars mark the driveways of the Silicon Valley elite.
But SpaceX actually predates the launch of Tesla in 2003 (and Musk's subsequent involvement beginning in early 2004). Following the acquisition of Musk's first two companies (Zip2 in 1999 and X.com/PayPal in 2002), Musk sought a way to reignite America's excitement about space travel while also potentially getting a boost to NASA's budget, and conceived an idea of launching a rocket carrying a theoretical "greenhouse" to Mars. In pursuing the idea, Musk quickly realized space travel would forever stagnate until humankind found a way to create renewable rockets. And so, SpaceX was born to do just that.
SpaceX developed two aircraft – the Falcon 9 and Dragon – both of which have seen single vehicles successfully relaunched (the first Dragon relaunch happened just weeks ago in early June 2017).
But perhaps equally as exciting as SpaceX's innovative new orbital aircraft has been their ability to disrupt the monopoly on government contracts.
SpaceX Completes Successful Launch of U.S. Spy Satellite
While that headline might sound like a plot summary of a George Orwell novel, it's actually one of the most recent developments for SpaceX that has catapulted their reputation as a big player in the aircraft manufacturing world.
After 10 years of a monopoly on government contracts by United Launch Alliance (ULA), a partnership between Boeing and Lockheed-Martin, SpaceX launched its first mission for the Department of Defense on May 1, 2017. The company launched a Falcon 9 into orbit to boost a spy satellite into space for the National Reconnaissance Office (NRO).
The mission is far from SpaceX's first foray into government contracts, but its significance should not be understated. First, because of the breaking up of the DOD/ULA partnership. In 2014, Musk sued the U.S. Air Force for offering a "sole source" contract to ULA. Musk and the SpaceX team felt they had earned an opportunity to bid on government projects and that the ULA contract exhibited unfair practices. The lawsuit was dropped a year later, and shortly after that SpaceX was awarded two big government contracts, including one from the Air Force in April 2016 for $82.7 million – a 40 percent price savings over ULA's bid.
The second reason SpaceX's DOD launch should be noted is its symbolic impact. The launch is a definitively positive step for the future of private companies operating on a much bigger playing field in the aerospace industry than ever before.
Commercial space launch companies have been around since the 80's, first with Arianespace and then the subsequent emergence of Boeing and Lockheed-Martin and a handful of others. But it's only recently that government agencies like NASA and the DOD have begun relying completely on private companies like SpaceX to manage low-orbit launches like the one on May 1.
And the arrangement is mutually beneficial. With SpaceX operating as a vertically-integrated rocket manufacturer, their cost of production is incredibly low (Musk initially estimated that the actual cost of goods for rocket manufacturers as approximately 3 percent of the selling cost), which means they can significantly undercut the bids of ULA to land projects.
Doing so frees up additional budget that would have previously been spent on ULA, but that's not all: handing off low risk, low-orbit missions to private companies allows NASA the time and energy to focus on larger scale projects with wider implications for the future of space exploration.
At the same time, SpaceX has landed a profitable contract – it costs around $60 million to build a brand-new Falcon 9 (and less than half that to refurbish one that's been previously launched) and a couple hundred thousand dollars to fuel it, so an $82.7 million contract yields about $22.5 million in profit. But, with each launch, they gain something less tangible than money, too: they gain the trust of government regulators.
Space travel is, as you'd likely expect, heavily regulated by agencies like NASA and the DOD. With each successful launch, SpaceX paves the way for the future of private companies operating in the space travel industry to expand their reach beyond the basic errand running they've been responsible for to date.
And for companies like SpaceX and Blue Origin with aspirations of commercial space tourism and colonization of Mars and the moon respectively, that relationship with government regulators is invaluable.
What Does this Mean for the Future of SpaceX Jobs?
Big things.
Musk announced earlier in 2017 (right after the first successful relaunch of a Falcon 9 in March, in fact) that he was expanding the SpaceX workforce by upwards of 500 people, effective immediately.
That will bring the total number of SpaceX employees to over 5,000 full-time and contract workers spread across offices in Hawthorne, CA, Washington D.C., Houston, Cape Canaveral, FL and a handful of other facilities across the U.S.
Over half of the open positions were for various engineering roles, where the average salary is over $200,000 per year according to Paysa data.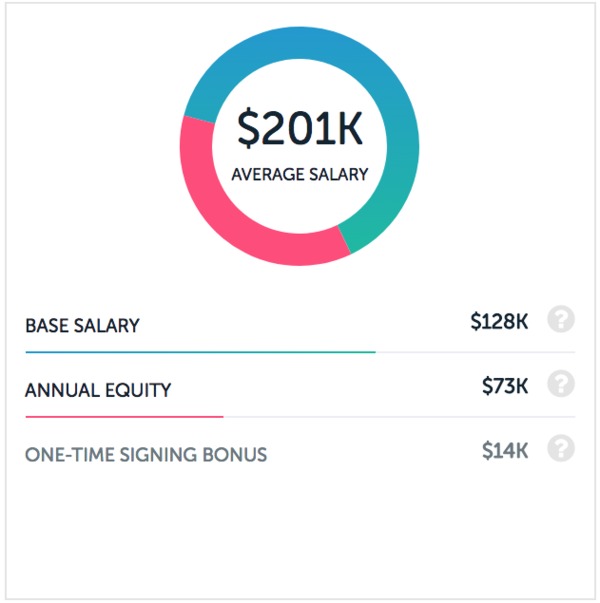 Average salary for an engineer at SpaceX, per Paysa data.
The rest of the positions were either technicians, machinists, specialists, or leadership roles.
As of today, 120 SpaceX jobs are live on Paysa and much like when Musk initially announced the hiring push in early 2017, the majority of the positions currently open are in engineering roles.
Of course, finding a job where you're a good fit is just the first step. Getting hired is something else completely. Much like many of the top tech companies, SpaceX has a rigorous interview process, with one notable question known to be asked in many interviews:
"You're standing on the surface of the Earth. You walk one mile south, one mile west, and one mile north. You end up exactly where you started. Where are you?"
The answer?
You're at the North Pole. Check out this thread if you want to learn why.
The Bottom Line
Space exploration has always been a career choice for people with the perfect mix of brains and bravery. From John Glenn to Neil Armstrong, Christa McAuliffe to Scott Kelly, it's been our nation's best minds who have "boldly gone where no man has gone before."
Whether you want to join their ranks or simply find a tech career that gives you time for stargazing, Paysa can help. Not only do we have an up-to-date view of all the open tech jobs on the market today, we also provide in-depth salary data and tools to help you evaluate new job offers and the cost of living in markets across the U.S.