Tech jobs are growing at a much faster pace than the average job. That is good news if you are in the market for a tech career.
The Bureau of Labor Statistics reports:
"Employment of computer and information technology occupations is projected to grow 12 percent from 2014 to 2024, faster than the average for all occupations. These occupations are expected to add about 488,500 new jobs, from about 3.9 million jobs to about 4.4 million jobs from 2014 to 2024, in part due to a greater emphasis on cloud computing, the collection and storage of big data, more everyday items becoming connected to the internet in what is commonly referred to as the "Internet of Things," and the continued demand for mobile computing."
This increased demand for top tech talent means that if you have the education and the skill set required, you can expect to receive multiple job offers. The question, however, is how to evaluate a job offer. How do you (a) ensure that you do not leave money on the table and (b) ensure that you choose the right job for your particular circumstances?
Step One: Dial Back the Emotional Response
Job hunting can be an emotional experience. For one thing, it is almost always flattering to get a job offer. It is best, however, to avoid the "Sally Field trap" when reviewing job offers. When receiving her 1984 Academy Award, Field famously exclaimed: "You like me. Right now, you like me!"
Rather than clutching your newly minted job offer close to your chest and exclaiming the same, it is better to try to view job offers somewhat dispassionately. Remember that evaluating a tech job involves weighing multiple important factors and should be undertaken with due deliberation.
Step Two: Create a Master List
Before you start considering job offers, it is a good idea to sit down and carefully consider what you are looking for in a job. Creating a master list of priorities will help you stay on track when the offers start rolling in. Your list should include the factors that are important to you personally and professionally. While this list can be considered a wish list, try not to make the list outrageously out of line with the types of offers you will likely receive. The best master lists are realistic as well as optimistic.
Step Three: Think Twice (or More) about the Salary
For most people, salary is one of the chief considerations when evaluating a job offer. When looking at the salary offered, it is good to consider these factors:
Will the salary offered enable you to meet your financial obligations as well as your personal finance goals?
Is there a clear path to salary increases based on merit or on time employed?
Is the salary offered competitive and in line with what is customary for your job title, education, skill set, and geographical location?
One of the worst things you can do is to accept a salary that is below what you are truly worth. The Paysa platform gathers information from tech companies across the country concerning salary, job skills, and educational requirements. Signing up with Paysa enables you to receive personalized information about your worth in the current job market.
Armed with this knowledge, you can negotiate a better salary. If you feel uncomfortable with negotiating, take courage from these words of wisdom from Liz Ryan in Forbes:
"An employer will never love you more than they do when they're trying to hire you."
Here is a quick example of the specificity that Paysa puts at your fingertips. Below is information about the base and market salary for a software engineer employed with Facebook in San Francisco, CA:


Paysa data for a Facebook Software Engineer in San Francisco, CA.
Step Four: Weigh the Benefits and Perks
Even if the salary is in line with your expectations, the benefits and perks may be deal breakers in some circumstances. Conversely, a lower salary may be doable if the benefits package is stellar. Here are some of the chief considerations when weighing benefits and perks:
Is the health insurance package offered acceptable for your particular situation? For instance, are your physicians included as "in-network" providers? Does the company offer family coverage if you have a significant other and children?
Does the employer offer a retirement plan? If so, does the employer match any portion of your retirement contribution?
Is the vacation time, sick leave, and personal leave policy in line with what you need or expect to receive?
Are there other benefits offered that are important to you, such as a flexible work schedule, on-site day care, a wellness program, or travel reimbursement?
Many of the most well-known tech companies offer unique benefits and perks that may tip the scales in their favor. For instance, Google offers such perks as:
On-site laundry services, haircuts, and medical visits
Subsidized massage therapy
Onsite fitness gym and swimming pools
Fine dining options onsite
20 percent time program in which Google employees may work on special pet projects unrelated to their work
It may be difficult to evaluate benefits and perks since they vary greatly from company to company. This is one area in which your master list from Step One will come in handy.
Step Five: Bonuses and Equity
Tech startups may not be able to offer as much in salary as more established companies, but may offer special signing bonuses and equity to help sway tech talent in their direction. Admittedly, it can be difficult to accurately gauge the value of such offers. Paysa provides several resources to help you learn about how equity compensation works and how to appropriately value equity.
Step Six: Check Out the Company Culture
It is all too easy to get caught up in compensation information and forget about one of the most important parts of evaluating a job offer, the cultural fit. Harvard Business Review gives this wise advice:
"One of biggest mistakes that people make is not finding out enough about their potential employer. Dig around for as much information as you can about the organization, the culture, and your future co-workers … Find company employees on LinkedIn and see what they say about their job on Twitter, Facebook, or other media. You also want to find out what you can about the organization's future prospects. When the economy is underperforming, you have to consider whether the company will still be around in a few years."
In addition to doing your due diligence regarding online research, if possible, spend some time in the office where you will be working. Meet, not just the hiring manager, but the one who will be your direct supervisor. After all, he or she is the one you will be dealing with everyday once the job is yours. Make sure there is a good fit before accepting an offer.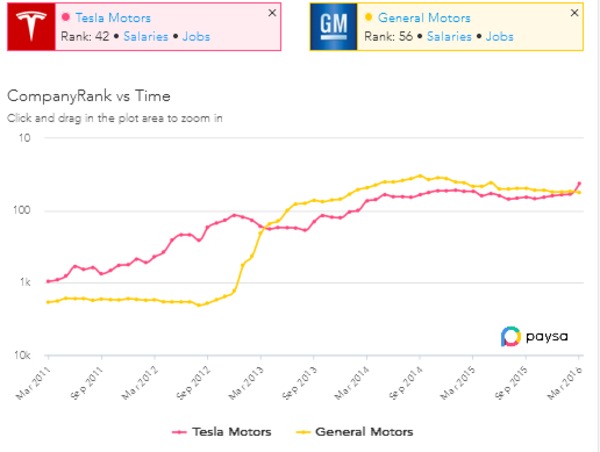 Example of Paysa CompanyRank over time.
Step Seven: Think about Possible Hidden Expenses
When evaluating a new position, it is also important to consider potential expenses that may be easy to overlook in the rush toward employment. Here are some potential expenses to consider:
Will you have to relocate? If so, will the company foot the bill for all or part of the relocation costs?
Will you have to commute? If so, how much will you need to budget to account for increased transportation costs?
Will a new wardrobe be required?
Will the company require you to purchase any special equipment?
If you have children, will there be extra daycare expense involved in order for you to work the hours required by your employer?
In addition to monetary expenses, you must also weigh the time factor. What are the expectations of the company regarding how many hours per day or week you will work? Does this requirement work with your own personal schedule?
Step Eight: Consider Where You Are Headed
Another important consideration when you evaluate a job offer is whether or not the position offered will help you further your career. Is the position an upward move or a lateral one? Are there abundant opportunities for career growth with the position offered?
In other words, will the offered job take you in the direction you really want to go? If not, it may be best to look elsewhere for an offer that more closely matches your projected career trajectory.
Step Nine: Remember That This Is about You
Naturally, you want to do a great job for whichever company whose offer you accept. You always want to provide real value to your employer.
However, when you are evaluating a job offer, it is good to remember that you are your best advocate. Negotiating a job offer is a give and take proposition, but in the end, you need to ensure that you are getting what you deserve for the value you will provide to your employer. So, in this instance, it makes sense to prioritize your needs.
Getting What You Deserve with Paysa
Are you fired up to start or complete your job search? The Paysa platform is designed to help you navigate the waters of job and salary negotiations. Sign up to personalize Paysa for you today and get armed with the right information to make the best employment decisions possible.