If you're seeking a career that offers competitive compensation, a dynamic work environment, and unlimited potential for development; robotics engineering may be the perfect field for you. With many companies seeking people with the skills and passion for robotics engineering roles, there seems to be no shortage of job opportunities for those who have the chops to cut it. But for tech professionals who want to reach the top, Tesla Motors is likely the holy grail company.
Before we dive into how you can join the coveted ranks of Tesla Motors' highly skilled robotics engineers, let's talk a little more about the landscapes of robotics engineering and what it takes to hack it in this competitive career.
What Exactly Does a Robotics Engineer Do?
In simplest terms, a robotics engineer is a tech professional who works behind the scenes creating robots and robotics systems that perform duties previously done by humans. Sometimes these systems and devices even perform tasks that humans simply can't do, such as certain types of space exploration or military missions too dangerous for a mere mortal. These robots help to make our lives easier and safer while improving efficacy and profitability across many industries.
Often, robotics engineers dedicate much of their working time to designing and planning out how their robots will function and perfecting the necessary protocols for them to run correctly. A lot of their competencies overlap with AI engineering,  but robotics engineering focuses more on creating mechanical systems that can measure and react to their environment.
According to ScienceBuddies.org, the day-to-day tasks of a Robotics Engineer are varied but may include:
Building, configuring, and testing robots
Designing software to control robotics systems
Automating assays on laboratory robotics
Debugging robotics programs
Seamlessly integrate robots with other mechanical devices
Investigate glitches and mechanical errors
Tool end-of-arm functionality
Plan mobile robot paths and "teach" paths to said robots
Research new and innovative ways to integrate robots into production
Writing codes and algorithms for robots to follow
Work Environment
Robotics engineers may work in offices, laboratories, universities, factories, or some combination thereof. While robotics engineering is an exciting field, some of the tasks may seem tedious to the average person. They are constantly calibrating and recalibrating; trying to make their creations more accurate and efficient to suit their industry's needs.
Robotics engineers may split their time between an office and a lab, and while some are fortunate enough to work a typical 40-hour work week, hours can increase drastically if there is an important project or pressing deadline. Some robotics engineers who work for large companies with international reach will be required to travel frequently. A select few who become subject matter experts may find themselves frequently traveling to speak at professional events or on industry panels.
Traits of Great Robotics Engineers
Just like any field, robotics engineering requires specific hard skills and soft skills to make someone ideally suited to the role. Whether you're just starting out in the robotics field or well-established in your career, you'll want to strike the balance of being both a specialist and a generalist. Here are some traits that separate the exceptional robotics engineers from the average ones.
1. Mathematical Thinking
It may sound obvious, but being comfortable with math is essential to be successful in this field. This means having a strong grasp of at least algebra, calculus, and geometry. Robotics is all about mastering abstract concepts, but these concepts will usually be represented as functions or equations. This includes a keen understanding of kinematics and technical drawing by hand and with the use of computer programs.
2. Good Judgement
Roboticists are continuously making engineering decisions. Which system should you program with? How many fingers should a robot have? There is almost never a "correct" solution, but there is usually a most suitable one. Skills in analytical thinking, the scientific method, and critical thinking will all be helpful as you travel each decision-making path.
3. Excellent Communication Skills
You will sometimes find yourself having to explain complicated concepts to people who may not necessarily have a robotics or tech background. Being able to speak and write clearly will be important as will being able to instruct others to carry out various tasks in a way that is easy to understand but not condescending.
4. Good Old Grit
It's been said that grit is more important than IQ when it comes to being successful. This may not be 100% accurate for tech professionals, but the importance of persistence cannot be overstated. Whether it's trying to find the solution to a frustrating problem or butting heads with a difficult coworker, robotics will force you time and time again to be persistent and show your dependability.
Degree Requirements (for Tesla)
While some robotics engineers do not have a degree, for the most part, robotics engineers looking to work with top companies like Tesla Motors should have at least a bachelor's degree. According to Paysa data based on 1K profiles, most robotics engineers have the following educational breakdown:
Undisclosed: 54%
Bachelor's: 42%
Master's: 22%
Ph.D.: 11%
Technical Skills
While the skills in most demand vary from company to company, dependent upon business needs, there are some core competencies that top companies such as Tesla Motors value in robotics engineers. According to recent job postings, most major tech companies expect their robotics engineers to be proficient with:
Robotics: 66%
MATLAB: 50%
C++: 46%
C: 37%
Python: 36%
Compensation and Earning Potential
Based on 1K profiles, the average base salary for robotics engineers is $83K per year, ranging from $87K to $153K. The average market salary is $119K per year. Average market salary includes the aforementioned $83K base salary, $13K annual bonus, $9K signing bonus, and $22K annual equity.
Top companies hiring talented robotics engineers are Kawasaki, with an average market salary of $97K; Amazon, with a mean market salary of $119K; and of course, Tesla Motors, with an average market salary of $161K.
Tesla robotics engineers' average annual compensation ranges between $150K and $172K with an average annual take-home of $161K. This includes a $116 base salary, a 14K annual bonus, a one-time signing bonus of $28K, and annual equity of $31K.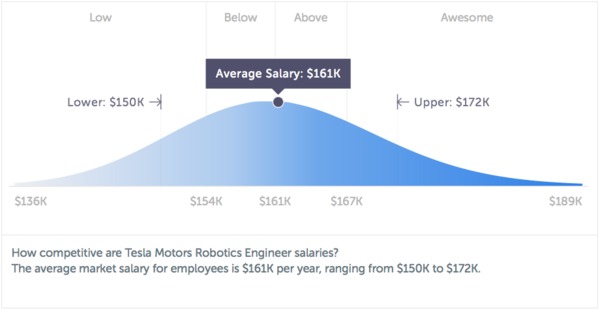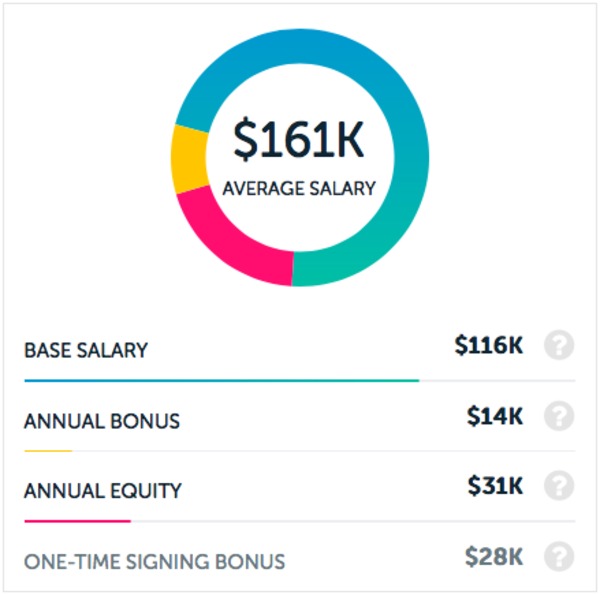 Average salary for Tesla Motors robotics engineers, per Paysa data.
Getting In With Tesla
According to those in the know, getting a job at Tesla is a little easier than in years past, thanks to their rapid expansion and a constant need for new talent. For new hires in the robotic engineering field, they look for 5-10 years of experience in a particular niche, even if it's not necessarily automobiles. A keen familiarity with automation and how to apply robotics to mass production is also helpful. For recent grads, a degree from an elite school can put you ahead of the competition, but it isn't a deal-killer if you don't have one. Multiple internships in the automotive industry will make you stand out, as will a genuine passion for cars.
Interviews at Tesla are certainly high pressure, and you'll want to prepare accordingly. Those who have been through the process emphasize that the interview questions often center on how passionate you are about the company and its mission and how well you deal with stress and problem-solving. Interviews often start with a phone screening, where a recruiter will grill you on how much you know about Tesla and why you want to work there.
The on-site interview is where they really turn up the heat. You may be expected to do a 30-minute presentation outlining your previous experience and speaking at length about projects you have completed successfully. After this, you will likely go through several 1:1 interviews with hiring managers to talk about your technical acumen and knowledge of fundamental robotics engineering topics.
The Bottom Line
As one of the companies spearheading the global expansion of high-end electric cars, solar power, and sustainable energy storage, Tesla is only looking to recruit promising robotics engineers at the top of the field. Based in California and currently employing upwards of 13,000 people, this rapidly-expanding company is quickly gaining traction as a top place to work. If you're looking to join Tesla's ranks you'll need to not just have the technical chops, but the personality traits as well. As an equal opportunity employer, Tesla will consider the totality of your educational background, employment history, and competency when making hiring decisions.
Want to pursue an exciting robotics engineering career at Tesla? Let paysa.com be your guide. Our personalized platform can help you map your career, make better decisions, and get paid what you worth. Get started today and see how you can earn more and have a more rewarding professional life.