Though tech jobs now offer enticing benefits as far-ranging as travel stipends to unlimited paid parental leave, there's no denying that salaries are still the number one factor when considering new opportunities.
And so, it's understandable that people default to salary when thinking about negotiating a new job offer or even improving their current job package. For some, it's possible to get a bump to your salary through a combination of comparison data and your achievements (here's a valuable guide to help you make it happen).
But often, salaries are non-negotiable. In smaller startups, that might be because they simply cannot allocate any more of their already limited funding to a particular role. For top tech companies, salary caps may prevent hiring managers from negotiating compensation above a certain pay grade. Either situation can leave candidates feeling frustrated or worse—undervalued.
However, a little creativity can go a long way in the negotiation process. While an employer may not be able to offer more in your base salary, there are plenty of other ways for a company to "sweeten the deal" with other incentives.
So, if you find yourself exploring new tech jobs and want to know what you should be negotiating besides a higher tech salary, here are six things to consider:
1. Equity
Negotiating equity compensation is such an important part of considering tech jobs that the Paysa team created an entire guide centered around that topic alone. When executed correctly, an equity negotiation can be mutually beneficial to you and the company.
For your potential employer, equity means less money in up-front base salary along with a higher likelihood of you sticking around and remaining committed to the company (at least until you can fully vest any stock).
For you, equity can be a bit of a gamble. But provided you believe in the company and think the business is sustainable, your payout from equity can be dramatically higher than what you ever would have received in salary.
It's important to note that while most equity negotiations typically center around the amount of equity you'll receive, there are other areas worth negotiating as well, such as:
Type of grant
Vesting schedule
Exercisability
Potential for more equity
In any case, equity is a great to get more money (potentially a whole lot more) without seeing a bump to your tech salary.
2. Sign-on Bonus
For larger tech companies where salary brackets restrict most hiring managers from extending offers outside a certain range, a sign-on bonus is a great alternative to more in your base.
Every company is different of course, but sign-on bonuses typically come at the discretion of a hiring manager as a means to offset the costs of leaving your current employer. Those costs may be material—such as relocation or missing out on an end-of-year commission payment—or they may be a means of compensating for gaps in salary or benefits.
Want a sneak peek of what you may be able to negotiate for a sign-on bonus? Use Paysa's salary tool.
In addition to listing the average base, bonus, and equity amounts for thousands of roles with top tech companies, Paysa shares the average sign-on bonus as well. Just look at this example for a software engineer at Apple: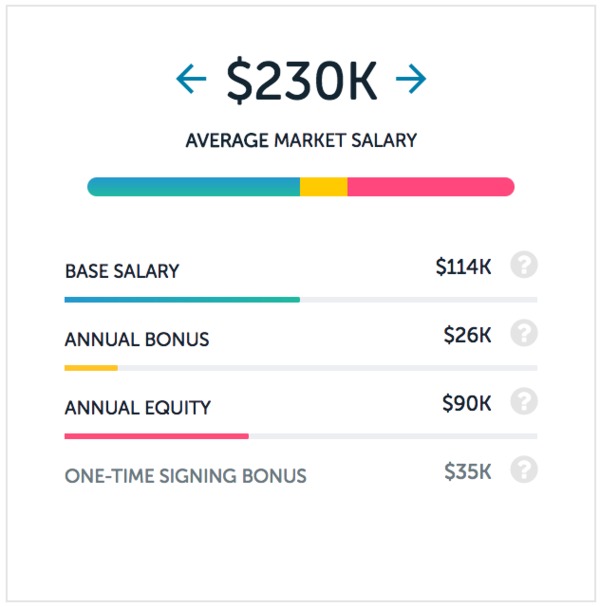 Average salary for a software engineer at Apple, per Paysa data
3. Performance-based Pay
Much like equity, performance-based pay—like commissions or bonuses—allow employers to attract top-tier talent without needing to front the cash necessary for exorbitantly high base salaries.
The real value in a performance-based pay plan is in the name itself: the better you perform, the more you can earn. Of course, it's really important you understand the ins and outs of any compensation agreement before signing on, but generally speaking, performance-based pay is a great way to confidently demonstrate your quality of work while making sure you earn proportionately to your contributions.
4. Flexible Work Arrangement
It's no secret that remote work arrangements are all the rage right now. Whether it's working on a beach in Costa Rica, at a cafe in Paris, or from your living room couch, people love the flexibility and freedom that comes from not having to go to the office each day. And while many tech companies have realized remote work benefits them too and already offer at least partial workplace flexibility, negotiating your way toward remote work can be a great way to save some money on expenses, especially if your job is supposed to be based in an expensive market like San Francisco or New York.
Let's say you're able to negotiate 100 percent remote work after one year of working at your company's office in Silicon Valley. If, after that year, you decide to relocate to Austin, Texas where the cost of living is half what you can expect in the Bay Area and you retain your same salary, you've just set yourself up for a nice pay bump.

The average cost of living in Austin, Texas per Paysa data
If remote work isn't an option, then there's still an alternative:
5. Expense Reimbursement
If you're finding yourself having a hard time getting more money to cover your expenses, a smart alternative is to identify opportunities to lower those expenses. Not necessarily by cutting corners or being more frugal, but by handing those expenses off to your new employer.
Here are a few ideas for monthly expenses your employer may be willing to cover:
Travel expenses (i.e. a MetroCard, gas reimbursement, bicycle maintenance, etc.)
Laundry and dry-cleaning
Exercise (gym memberships, class passes, etc.)
Meals (if they aren't already offered and you're working long hours)
Phone/tech stipend (covering your phone bill or expenses related to work technology)
And finally, sometimes taking a little less money can have a big, non-financial payoff:
6. Time-Off
Negotiating a better work-life balance through more vacation or fewer hours worked can free you up to enjoy more time with loved ones or freelance to cover the gaps in your salary.
Conclusion
No matter what you choose to negotiate, Paysa is here to help.
In addition to aiding your job search by giving you access to thousands of open jobs with top tech companies, Paysa users have access to our incredible database of tech salaries and other key company information.
Check out Paysa.com today to try it out.