The tech industry has erupted over the last 30 years into a full-fledged universe of its own, rife with new languages, distinct mating rituals, and a whole lot of money.
In addition to creating hundreds of thousands of tech jobs, Silicon Valley is responsible for innovative technology that has connected the globe, streamlined mundane tasks, and turned other industries on their heads.
But alongside that technology comes the men and women responsible for creating it. And that's another key component of the tech universe: the mythos of the innovator.
No matter the medium — whether it be movies, books, news articles or even a television series — people love hearing the stories of the tech elite and the world in which they live. We've all heard the stories of a shoeless Steve Jobs dropping in on calligraphy classes at Reed College or a hoodied Mark Zuckerberg coding an early version of Facebook as he fought insomnia.
But who are the most inspiring people working in technology right now?
What innovators will be the subject of Hollywood films or extensive biographies ten years from now?
This post shares the ten most inspiring people in tech today. You'll meet the men and women who are changing the world in which we live, either through innovation, philanthropy, or some combination of the two.
Ready? Let's dive in.
#1. Elon Musk
It's impossible to talk about innovation and not immediately bring up Elon Musk.
Between Tesla, SpaceX, Neuralink, and a handful of other pet projects (including building a hyperloop tunnel between San Francisco and Los Angeles), Musk's name has been synonymous with pushing the boundaries of what we believe to be possible. He's an inventor with an eye for solving big-picture problems: SpaceX aims to colonize Mars; Tesla to accelerate the world toward more sustainable energy sources.
Musk's vision for space exploration and clean energy extends into his philanthropic givings as well. He is a trustee at the X Prize Foundation, a competitive non-profit for innovations in clean energy.
#2. Gwynne Shotwell
Working alongside Musk is Gwynne Shotwell, President and Chief Operating Officer of SpaceX. She joined SpaceX as the Vice President of Business Development in 2002, the year Musk founded the company, and is an engineer largely credited with the launch of the Falcon rocket — SpaceX's first.
Today, she heads up the daily operations of SpaceX (and if you read this recent post on the Paysa blog, you'd see she's quite busy right now).
In addition to her duties as COO, Shotwell works on a number of STEM-related philanthropic activities. Her partnership with the Frank J. Redd student competition (a competition for small satellite creation) has raised over $350,000 in student scholarships.
#3. Jeff Bezos
If Elon Musk is the innovator of our time, Jeff Bezos is the master disruptor.
In addition to the recent acquisition of Whole Foods, which sets Amazon up to potentially complete it's full teardown of the traditional grocery industry, Bezos has either completely disassembled or sent ripples through industries as far ranging as publications, television, retail, and home assistants.
All of this has left Bezos a very wealthy man — he's currently the third richest person on the planet with a net worth valued at $72.8 billion.
With that wealth, Bezos is actively seeking suggestions on how he should rethink his philanthropic efforts. He wrote on Twitter:
"I'm thinking about a philanthropy strategy that is the opposite of how I mostly spend my time — working on the long term. For philanthropy, I find I'm drawn to the other end of the spectrum: the right now."
If you have any ideas, reply to his tweet.
#4. Satya Nadella
When talking about big names at Microsoft, there's usually one that always manages to stand above the rest.
But frankly, as incredible the story of Bill Gates is, it's been told many, many times before.
The Microsoft of today is being led by a man equally worthy of having his story shared with the world. And that is Satya Nadella.
Nadella, an Indian-born electrical engineer who came to the U.S. to pursue a master's degree in 1988, has been with Microsoft since 1992. He's a true success story of someone who has worked his way through the ranks, having held over six different positions within the company before becoming Chief Executive Officer on February 4, 2014.
Since becoming CEO, Nadella has seen Microsoft stock rise by over 60 percent, partially due to his successful negotiation of the largest acquisition in tech history. In June of 2016, Microsoft announced intentions to acquire LinkedIn, the professional social networking platform, for $26.2 billion. He's also been acclaimed for reviving the culture and spirit of Microsoft employees.
#5. Safra Catz
If you're looking for one of the toughest business people in tech, look no further than Safra Catz.
Safra is co-CEO of Oracle, and she has been in an executive role with the company since joining in 1999 and a member of the board since 2001. Catz is largely recognized as a primary catalyst behind Oracle's crucial acquisition of PeopleSoft in 2005. She's been ranked multiple times by Forbes and Fortune as one of the most power people in business, and in 2011 was also named the highest paid woman amongst Fortune 1000 companies.
#6. Del Harvey
Del Harvey might just have the most difficult job in Silicon Valley.
As the VP of Trust & Safety at Twitter, Harvey's job is to be "troll patrol" — she sifts through the worst of the worst on the social media channel to try and keep conversations civil. But beyond her interesting job, Del's story of growth within Twitter is a great one. She was employee #25 at Twitter back when she was hired in 2008 and has since built her department from just herself to a full-team. She's also a guest lecturer at Stanford.
#7. Susan Wojcicki
Not only does Susan Wojcicki get to tell everyone she's currently the CEO of a website visited by a third of all people on the internet, she also gets to brag about being the first marketing manager at Google and was part of the original team that created Google Doodles.
She was also responsible for the Google Video service, which, in 2005-06 was struggling to compete with the up-and-coming YouTube. So, Wojcicki proposed Google buy it, which they did later that year for $1.65 billion. She also helped negotiate another of Google's largest acquisitions: the purchase of DoubleClick in 2007.
She was named CEO of YouTube in 2014.
#8. Evan Spiegel
He's 27 years-old and worth $4 billion dollars. If that's not a story you want to hear, then we can't help you.
Evan Spiegel started Snapchat while attending Stanford and dropped out of college a few credits shy of graduation to focus on the business full-time. He infamously turned down an offer from Facebook CEO Mark Zuckerberg for $3 billion to acquire Snapchat. Instead, Spiegel took the company public. In March 2017, Snap Inc. had an initial public offering with an estimated value of $25-35 billion.
Snap Inc. recently rose to the #4 position on Paysa's CompanyRank, trailing only behind Uber, Google, and Airbnb.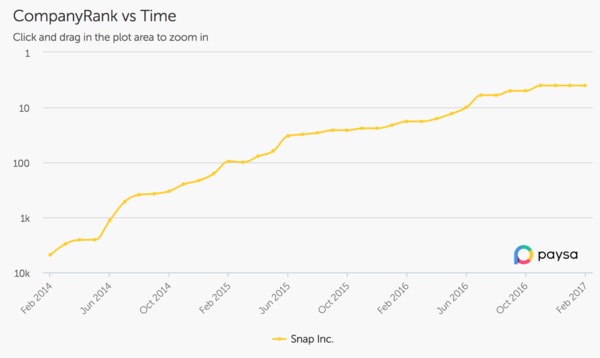 Snap Inc.'s position on Paysa's CompanyRank, per Paysa data.
#9. Stewart Butterfield
It's rare to find a member of the tech community fortunate enough to strike gold with an amazing idea once.
Finding someone who has done it twice? Next to impossible.
But that's exactly why you need to know Stewart Butterfield.
Back in 2002, Butterfield launched his second company, Ludicorp, with the original idea to create a gaming platform. In an often cited example of successful tech pivoting, Butterfield abandoned the gaming idea and chose instead to focus on a single feature of the gaming platform — the photo sharing service. Flickr was born in 2004 and then acquired by Yahoo! in 2005.
Butterfield left Yahoo! in 2006 to start another online gaming platform and — you guessed it — this one failed as well. And here's where lightning struck the same place twice: Butterfield again took a piece of the failed gaming platform and pivoted toward making that feature the focus of his business. For the second time in his career, Butterfield found success when he founded Slack in 2013.
Now, there are rumors of an Amazon acquisition of Slack for $9 billion.
Pretty incredible story, right?
#10. Ginni Rometty
Ginni Rometty joined IBM as a Systems Engineer in 1981 and has been the CEO of the company since 2012. Talk about a success story.
In addition to catapulting IBM into the future by putting a huge emphasis on their AI platform, Watson, Rometty has a civic duty as well; she's part of President Trump's business-advisory council.
Conclusion
There you have it — 10 of the most inspiring people in technology right now.
If you want to see your name on this list someday, you need to start somewhere. Paysa can help you get there. With access to thousands of jobs and salary data, rely on Paysa to find your next great career opportunity.
Visit Paysa.com today to learn more.