Like many top tech companies, Lyft jobs come with their fair share of perks. From unlimited vacation days to the free Lyft credits employees enjoy, there's no question that this company has a lot to offer top tech talent.
Which is good, because in the highly-competitive rideshare industry, Lyft needs all the help it can get to compete with top companies like Uber and Via. Innovation, seamless technology, and a best-in-class customer experience are going to help bring Lyft to the next level, and to get there, they need to attract (and retain) the best of the best.
Thus, Lyft salaries need to compete with what candidates would expect from other top tech companies in the San Francisco Bay area. Luckily, for these six jobs, that is absolutely the case. Here are the five top-paying tech jobs at Lyft:
Note: salaries may have changed from time of publication
| | Lyft | National Average |
| --- | --- | --- |
| Product Manager | $315K | $125K |
| Software Engineer | $263K | $109K |
| QA Test Engineer | $212K | $94K |
| Data Scientist | $209K | $100K |
| Product Designer | $167K | $111K |
#1. Product Manager—$315,000 per year
Hearing that any tech job pays $315,000 per year is likely to draw some attention, but when one of the top paying Lyft job goes to a product manager…now that's something you don't see every day.
And yet, it's entirely the case. According to Paysa, product managers at Lyft hold the top spot as far as salaries are concerned. With an average annual base salary of $174,000, bonus plan that pays $47,000 per year, and nearly $100,000 in annual equity, Lyft product manager salaries are some of the best in the business and are well above the national average salary for product managers.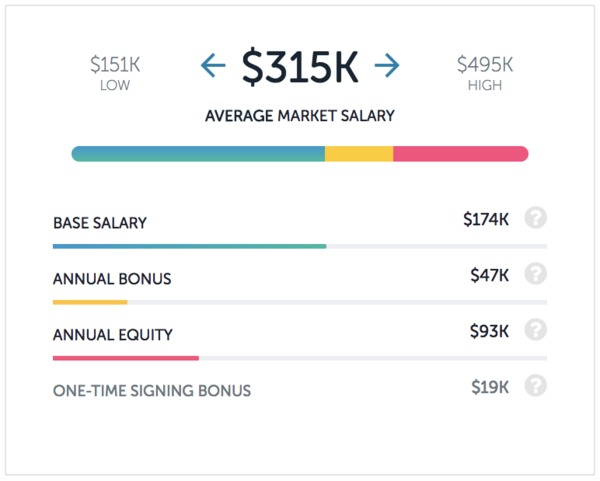 Average salary for a product manager at Lyft
#2. Software Engineer—$263,000 per year
Software engineers provide some of the most in-demand services in all of tech, which is why most top companies understand you need to make a pretty competitive offer to lure in top candidates.
Well, it looks like Lyft got that memo. The average Lyft salary for software engineers is $263,000 per year, including a $164,000 annual base salary, $14,000 bonus each year, and $84,000 in annual equity.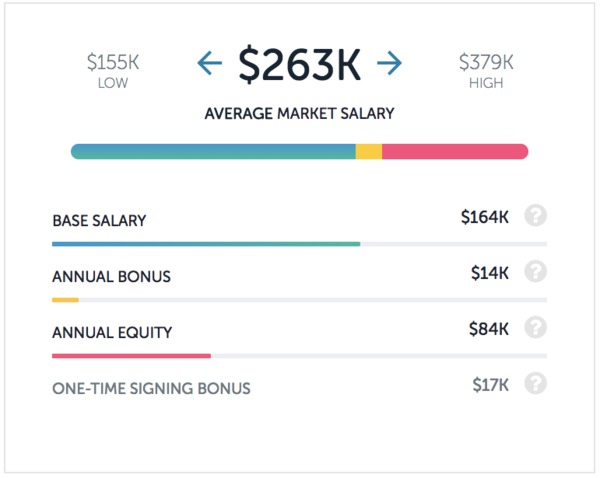 Average salary for a software engineer at Lyft
While the base salary itself is well above the national average salary for software engineers, it's likely that equity that might be the biggest draw for top engineers in San Francisco. Lyft has yet to make its debut on the stock exchange, making the company one of those rare "tech unicorns" that could potentially payout big when they go public. But, you better start looking at Lyft jobs soon—rumors are swirling that a 2018 IPO is imminent, so time is limited to land some of that pre-IPO equity.
#3. QA Test Engineer—$212,000 per year
The national average salary for QA test engineers is just $94,000 per year. That means this QA test engineer salary at Lyft of $212,000 is over double the national average. Not too shabby.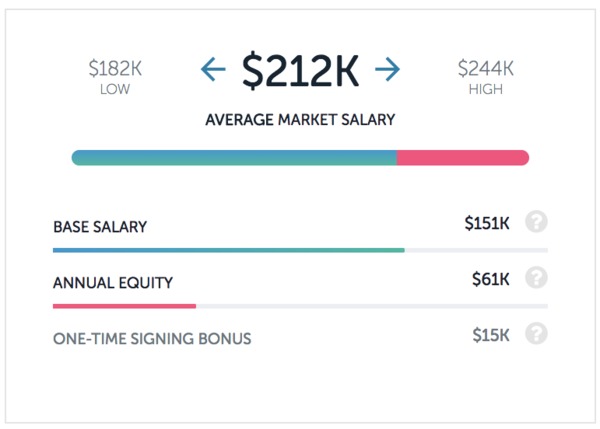 Average salary for a QA test engineer at Lyft
Notice that the breakdown of that salary varies slightly from the product manager and software engineer salaries at Lyft. Though QA engineers have a base salary of $151,000 per year and annual equity totaling $61,000, they do not have an annual bonus plan like some of the other positions.
#4. Data Scientist—$209,000 per year
If you're a regular follower of the Paysa blog, then you know we've extensively covered the rise of the data scientist position in the tech world—a job that the Harvard Business Review called "the sexiest job of the 21st century."
Data matters a lot to a company like Lyft where understanding their audience and being able to anticipate their needs can be a deciding factor between winning customers' business and seeing it go to a competitor. Hence, the data scientist job at Lyft is one of the best paying roles at the company.
Lyft salaries for data scientists average out to $209,000 per year, including a base salary of $147,000 and annual equity of $62,000.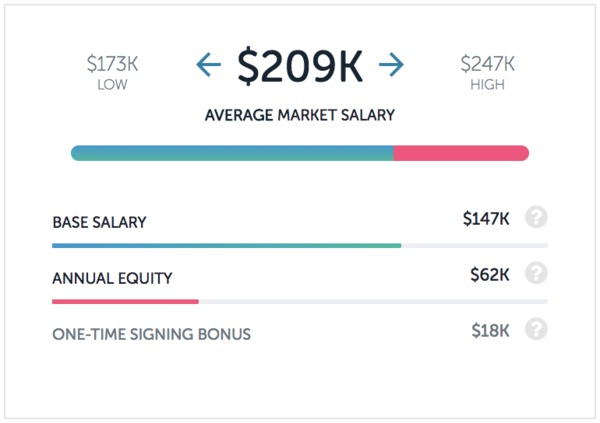 Average salary for a data scientist at Lyft
#5. Product Designer—$167,000 per year
Lyft is undoubtedly a company that values their product people. From the product managers at the top to product designers in the #5 spot, Lyft clearly understands that a good product team can elevate your brand above the competition.
Product designer salaries at Lyft average around $167,000. That includes $128,000 each year in base salary, $13,000 bonus, and $26,000 in annual equity.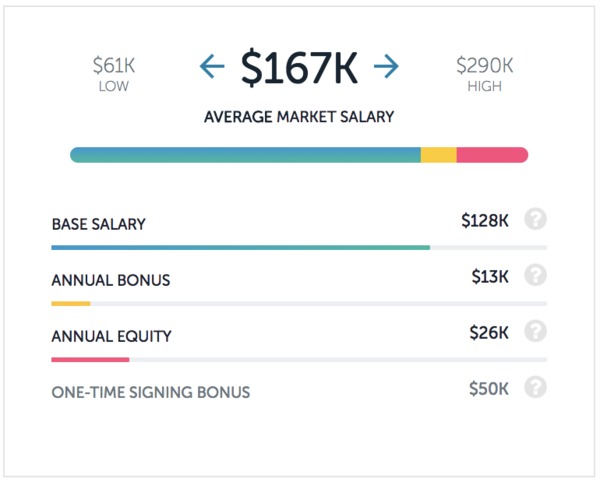 Average salary for a product designer at Lyft 
Conclusion
Want to see Lyft salaries for other jobs? Or maybe you're interested in exploring who pays more: Lyft or Uber?
Sign up to personalize Paysa for you today, and search our database of thousands of jobs at over 100,000 companies.