So you found what looks like your dream job posting and you've decided to go for it: that coveted software engineering position at a top tech company that you've wanted for ages. You have the skills. You have the experience. You have the education. The only thing holding you back? Worrying that your resume isn't quite up to snuff.
Despite the advent of virtual and sometimes quirky job applications, the old standby of the typed-up resume accompanied by a cover letter is still the key to success for most jobs in tech. Writing the perfect resume for a software engineering job is both an art and science. Follow these Paysa-approved tips below and find yourself in the interview chair faster and more often.
Put Contact Info at the Top
It may seem obvious, but you'll want to make sure it's easy for recruiters and hiring managers to find and contact you. Prominently display your full preferred name, your phone, and your email. Do you prefer to go by a nickname such as Bob instead of Robert or Jill instead of Jillian? Ensure the name is consistent across your resume and don't waver back and forth.
First impressions are essential. Make sure your email address is professional and not a throwback to an inside joke or a bet you lost in college. Firstname.lastname@domain.com is still the safest bet, but steer clear of old domains like Hotmail or Yahoo as they may be considered a little less professional than Gmail and Outlook by many in the tech sector.
In addition to your contact info, add links to your LinkedIn or other social media profiles you'd like to share at the top underneath your name, email, and phone number. Things you choose to share may include an online portfolio, blog, or Instagram account that's dedicated to showcasing your work.
Make It a One-Pager
Recruiters are pressed for time and may interview hundreds of candidates for a single position. Unless you have a decade or more of experience, keep your resume to one page and only highlight what's relevant to the job posted. A concise resume that's dense with information will turn more heads and land more interviews than one that goes on ad infinitum without adding value.  Keep your margins and font sizes within reasonable limits to avoid the urge of cramming things in. It will take a little more discipline, but by trimming the fat, you'll notice your phone ringing more often.
Proofread Like It's Your Job
Companies hiring software engineers are looking for exacting, detail-oriented candidates. Software and engineering jobs, in particular, tend to revolve around some unusual words and acronyms so be sure that these are correct and consistent alongside your regular spell checking and proofreading.
Use an Up-To-Date Format
Make sure your resume isn't too old-school and shows you're current on workplace trends. With the workplace evolving at a breakneck pace, you'll want your resume to do the same. Get rid of any jobs or assignments that are too far in the past or don't add value to your current application. For simple guidance on how to best layout and format your software engineering resume, check out this easy tutorial from The Interview Guys.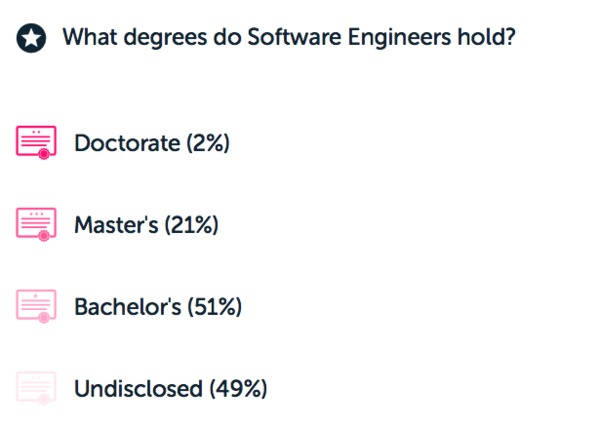 Average education of a software engineer, per Paysa data.
Don't Rest On Your Laurels
If you have a master's in software engineering from MIT or Stanford, I tip my hat to you. However, as the data above indicates, education is important — but it's not everything.  Unless you are applying for something highly specialized or just entering the workforce after graduation, only devote a small part of your resume to your education in favor of focusing on career experience, internships, or specific personal projects you've completed.
Include SEO Keywords
A less-obvious tactic that will set you apart from the competition: use the right keywords. After browsing several software engineer job postings, you'll likely notice that certain keywords show up often. Many companies use automated systems that scan for keywords. If you're looking for a software engineer position, be sure to include words such as .NET, C++, and Javascript. 
Showcase Your Value
While including keywords and skills is a great way to get past the resume-scanning bots, you'll want to make it stand out to humans as well. When writing up your resume, don't just include a laundry list of skills without any context, but rather weave them into language that provides specific examples of how you use these skills.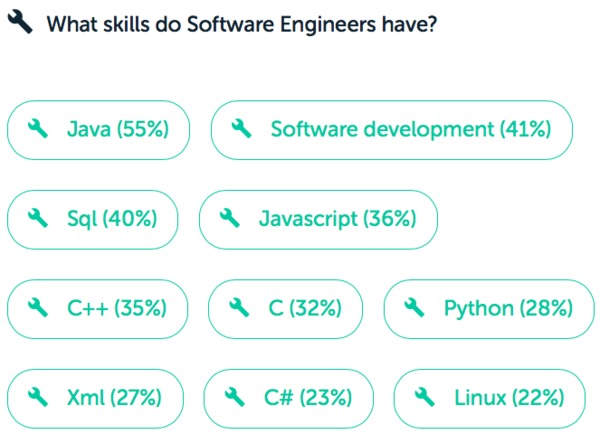 In-demand skills for software engineers, per Paysa data. 
As seen above, The top listed skills for software engineers on Paysa are Java, software development, JavaScript, SQL, and C++. While it may be tempting to simply include these in a bulleted list and call it a day, you're much more likely to catch the eye of a hiring manager if you show you how utilized these competencies and the results you achieved.
To use an example from The Balance, consider using engaging and informative statements such as:
"Coded web designed interfaces using Java, XML, XSL, AJAX, and JWS."
"Code and support provided through ASP.NET, T-SQL, Microsoft SQL Server, and Oracle 9i."
"Deployed and tested Remote Installation Services(RIS)-Server Installs on Windows XP."
Use Facts, Not Adjectives
Most screeners and hiring managers are rather objective in their idea of what they are looking for in a software engineer. With this in mind, let them judge for themselves how qualified you are by avoiding flowery language and relying on facts and data to describe your skills and accomplishments.  A bonus is that this allows you to hype your talents without sounding arrogant. For example: instead of saying "achieved astounding results rapidly" say instead, "Improved application performance by 30% within four weeks time." Or, instead of saying that you "often swooped in to rescue projects where colleagues failed" that you "Stepped in on five projects that were behind schedule and brought them up to speed."
Save Space for the Impressive Stuff
Within the constraints of a one-page format, you'll need to showcase only what's most impressive regarding the job for which you're applying. Remember, you're applying for a software engineering job, and not an administrative job. If your previous jobs or internships included admin work, omit that in favor of meatier skills or accomplishments. If any of your previous positions were solely admin-related, consider eliminating them entirely.
Don't Lie
It should seem obvious, but many still slip up when the temptation arises to exaggerate or falsify their credentials. These things have a way of coming home to roost — either when your hiring manager calls a reference to confirm your work experience, or further on down the road when it turns out that you aren't the SQL master you claimed to be. If you are afraid that you don't have the exact skills an employer is seeking but still think you're qualified for the job, try to make the case in the cover letter and interview based on the skills you do have.
The Bottom Line
Whether you're just entering the workforce or are well-established in your career, software engineering is an exciting field that will continue to grow in the coming years. The pay scale for software engineers is lucrative, and the opportunities for advancement are many. If you are considering a career in software engineering, let Paysa serve as a guide. Paysa can be personalized to give you job recommendations, skills recommendations, and compensation information that will help you negotiate a job offer or a raise. Take a moment now and sign up to personalize Paysa for you.