(Notice: salaries mentioned here may have been updated since time of publish. The links to the salaries will provide the most recent salary information.)
When it comes to high-earning, high-demand jobs, there's perhaps no hotter field in 2017 than tech or IT. While it's debatable whether or not there is a "talent shortage" in these areas, it is true that many organizations are currently struggling to fill roles such as database engineers, software architects, and programmers. In fact, it's not uncommon to see job listings for these titles sit unfilled for months while recruiters and HR professionals scramble to find a qualified candidate.
Want to occupy one of these in-demand, well-compensated roles? We'll break down what the most in-demand tech jobs will be in 2017, how to get one, and how much you can expect to earn.
DevOps Engineer: DevOps is the creation of technology that fosters an active relationship between the practices of development and IT operations. Its ultimate goal is to improve the relationship between the two practices and advocate for better communication and cooperation between the two business units.
DevOps engineers serve an important function of breaking down the barriers of business entities to create a culture of collaboration. They work to partner developers with operations staff to encourage better workflow with minimum downtime. This is a new approach to the traditional application lifecycle management (ALM) process previously favored by the tech world.
The market salary for a DevOps engineer is $139K per year. This is a career where skills and experience will often outrank education in the eyes of recruiters. In 54% of recent job postings analyzed by Paysa, applicants do not necessarily need a degree to be considered. However, Linux proficiency is requested 53% of the time, with Python, Java, SQL, MySQL, and Unix also frequently cited as valuable skillsets.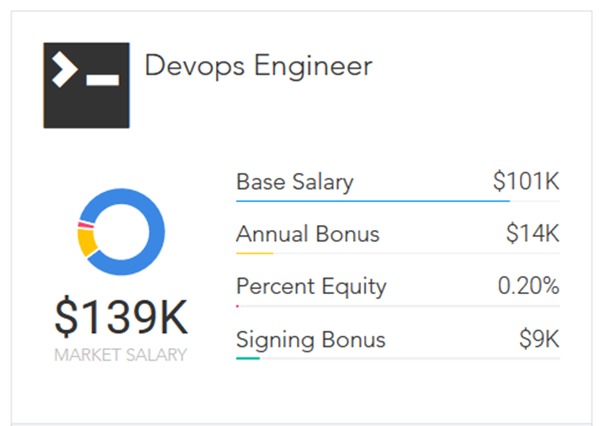 DevOps engineer salaries, per Paysa data.
Mobile Engineer: In today's app-crazed world, mobile engineers will continue to be a hot commodity. They work together with designers and other engineers to deliver mobile applications to the market via iOS and Android.
While "mobile engineer" is a broad term that can encompass a variety of roles, a mobile engineer can be any software developer who builds and works with apps for mobile devices. This can include web programmers who use distribution platforms to compile their code, which later becomes available on mobile phones or tablets. Some may choose to specialize as either Android or iOS developers, but many dabble in both platforms.
Skilled mobile engineers can command an annual salary of up to $149K. While more than half of the job postings examined by Paysa mentioned a bachelor's degree, 41% of them also required Java proficiency, followed by Objective-c at 35% and Javascript at 31%.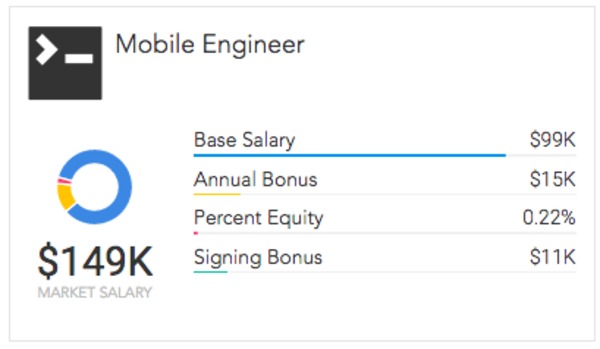 Mobile engineer salaries, per Paysa data.
Database Engineer: Database engineers are often employed by computer systems companies, healthcare companies, and financial firms to function as either applications or systems software developers. Their skills ensure that databases remain operational at all times and continuously provide valid and relevant data.
As a vital component of many industries, database engineers integrate new products and software varieties into existing systems, ensuring accuracy and functionality along the way. They are also often responsible for training other employees in the organization in accessing and using the data for their functions.
Database engineers follow a variety of paths to arrive at this career, but they all have an in-depth knowledge of computer programming and know how to manipulate data to best achieve their goals. According to Paysa data, the market salary for a database engineer is $131K. Unsurprisingly, the top-cited skillset from job postings is Databases at 62%, and then SQL at 59%. 50% ask for a bachelor's degree or higher, but far more often, it's proven skills and experience that will catch the attention of a recruiter.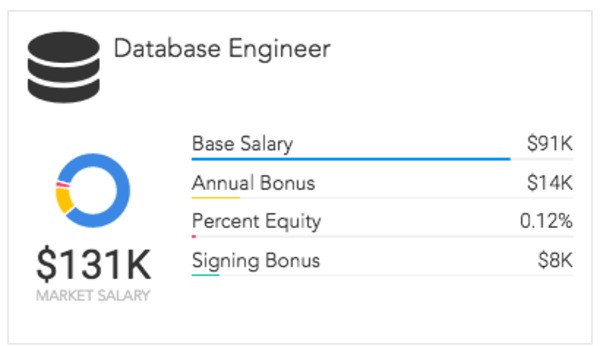 Database engineer salaries, per Paysa data.
Mobile Developer: Somewhat similar to a mobile engineer, mobile developers also specialize in building iOS and/or Android apps. Mobile developers develop, deploy and manage mobile apps while working with the various components and tools deliver them to end-users. While some specialize in either iOS or Android, many are familiar and proficient with both platforms.
Mobile development differs from general software development in the sense that it entails working with a much smaller and more restrictive medium. Mobile devices lack the memory, compute cycles, storage and bandwidth of traditional computers and therefore, require specialized skills to master development on them.
According to 2016 Paysa data, an iOS mobile developer can make up to $145K a year on average. 55% of the time, they are required to have a bachelor's degree or higher, Objective-c was requested 61% of the time, followed by iOS Development at 51%, followed by Java at 42%.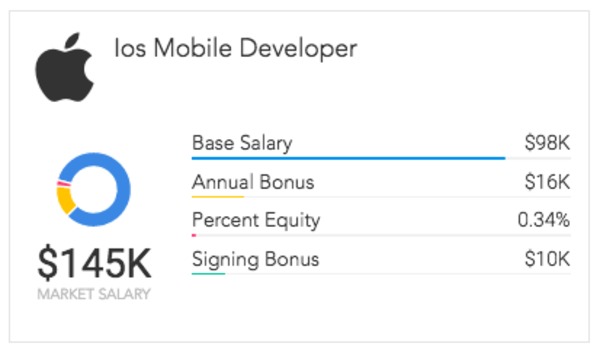 iOS mobile developer salaries, per Paysa data.
Software Developer: A software developer is responsible for all stages of software development including research, design, programming, and testing. They are often programmers at heart and usually work for tech development companies, though many enjoy the freedom of freelancing or self-employment.
As the creative minds behind many of our favorite computer games and programs, software developers are also responsible for the developments of applications that allow people to complete specific tasks on an electronic device. Others also work on the underlying systems that function on devices or within networks.
53% of web developer jobs request an undergraduate degree or higher. However, with a market salary of $101K annually, the earning potential is high above the national average. The most commonly requested skills in job postings are Javascript, CSS, and HTML.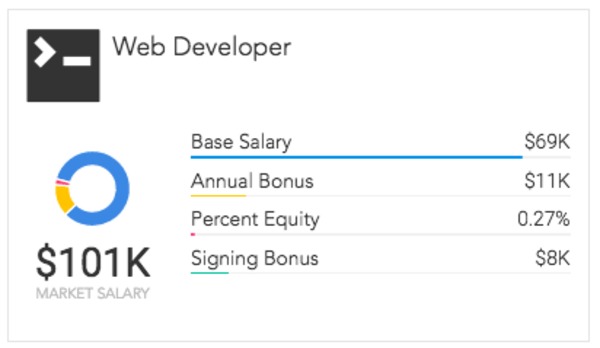 Web developer salaries, per Paysa data.
Software Engineer: Software engineers are responsible for designing and developing software. They often provide technological leadership to engineering teams while contributing product developments.
As highly skilled tech professionals, software engineers are in demand due to their proficiency in investigating current application, liaising with users, producing specifications, writing software and operating manuals, training users, and handling support and feedback.
The average base salary of a software engineer is $91.7K but they can command up to $139K a year. They are amongst the most well-educated tech professionals, with 61% of applications requiring a bachelor's degree or higher. The most in-demand tech skill for software engineers is Java proficiency, followed by JavaScript and SQL.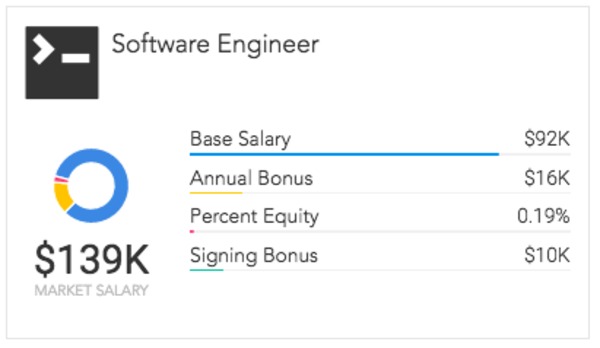 Software engineer salaries, per Paysa data.
Software Architect: A software architect is a software expert who specializes in high-level design choices and dictates technical standards to their team. This includes software coding standards, tools, and platforms.
The role of a software architect is usually responsible for defining, documenting and communicating design choices and ensuring its proper use. They are natural problem-solvers and communicators who can negotiate well to maintain scalability and performance of a given software.
Software architects can earn up to $139K per year with the majority making around $107K. 60% hold a bachelor's degree or higher and 55% are required to know Java, with Software Development, Agile Methodologies, and JavaScript also coming up frequently as desired skills.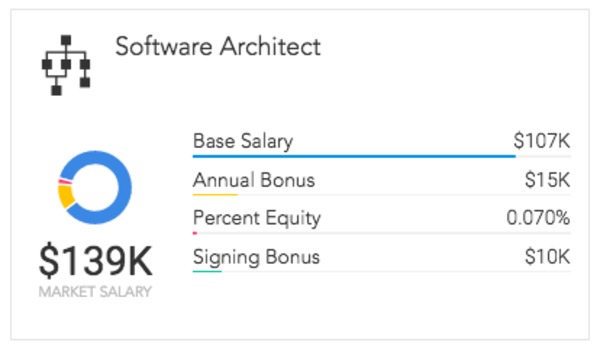 Software architect salaries, per Paysa data.
UI/UX Designer: Designers in the UI/UX field design visual and interactive interfaces to create the best user experience for a product. They often lead the testing of new user interface ideas while implementing consistent visual language and creating style guides.
UI/UX designers combine graphic design with tech skills to create the visual experience of using software or a device. Considering that most users prefer to use a more aesthetically-pleasing product, their job is an important one for many organizations.
With an average base salary of $89K, UI/UX designers earn far above the national average and it is not unheard of for them to earn up to $139K annually. 70% of applicants need to know User Experience. Other top required skills are Web Design, Interaction Design, Photoshop, and Graphic Design. 61% hold a bachelor's degree or higher.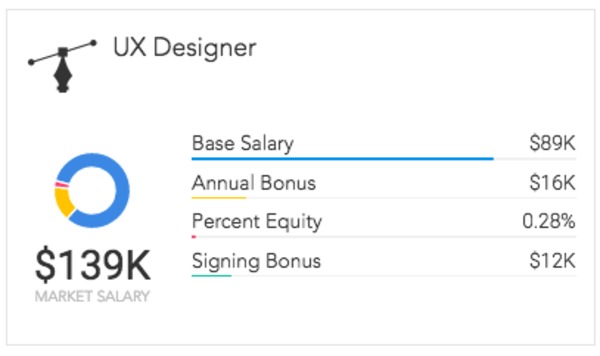 UX designer salaries, per Paysa data.
Front-End Developer: Front-end developers design and implement user-facing tech products. They work closely with back-end developers and architects to blend form and function for software and electronic devices.
Because any website is a sum of layers that includes structure, data, design, and functionality, front-end developers play a number of important roles in creating a user-friendly interface for end-users. People who work as front-end developers are both creative and analytical, working to bridge the divide between a designer and a back-end programmer.
While the average salary of a front-end developer is just $68.3K a year, highly skilled professionals can command a salary of $99K. They are also highly in demand and will continue to be so in the foreseeable future. 75% of them know CSS and an additional 69% know JavaScript, with HTML, Jquery, and Web Development being other highly requested skills among recruiters.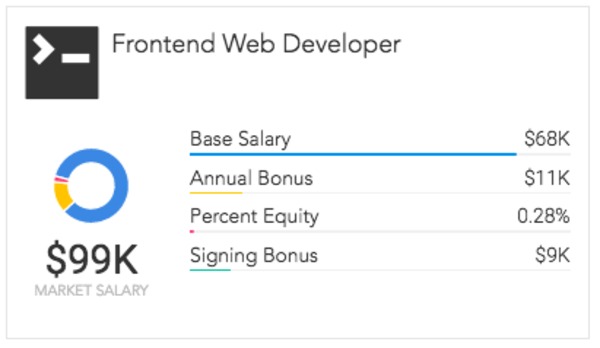 Front-end developer salaries, per Paysa data.
Are you looking to land that big job or take the next step up in your career? Paysa is here to help you make better choices and advocate for yourself. We empower professionals with the data they need to make informed decisions and get paid what they're worth. Use the information provided above to and our proven, data-driven platform to make 2017 your best year yet. Visit paysa.com to get started.