It's obvious that in the past few years, tech jobs have become some of the hottest commodities in the career market. Besides being stable and well-compensated, all you have to do is look at some of the nation's top tech companies to see why the tech industry is reeling in some of the best talent with their better than average employee perks.
While today's workforce is increasingly expecting employers to provide essential benefits such as healthcare, paid time off, parental leave, and a retirement fund, some companies go above and beyond to make their work culture a great one. Paysahas rounded up some of the most impressive benefits, bonuses, and other cool stuff offered to employees at eight Silicon Valley giants.
Google: What doesn't Google offer? Delicious free beer and sushi are only the beginning. On-site employees can choose from more than 30 cafes, offering everything from South Asian cuisine to healthy smoothies and juices. After lunch or a snack, employees are welcome to take a snooze in one of Google's famous "nap pods." Keep in mind, Google employees are expected to work notoriously long hours, but with perks like these, doing so is much more bearable.
In addition to decadent food options and ample opportunities to relax between brainstorming sessions, employee well-being is prioritized by offering treadmill desks to keep the mind and body active. Google wants their employees to live longer. According to one company representative, "It's funny. I think our oldest Googler is 83 years old and we want people at Google for a lifetime."
Based on Paysa data, it's easy to see why some of the world's best talent are flocking to Google. Google employees can command an average of $202K annually with a generous average signing bonus of $23K.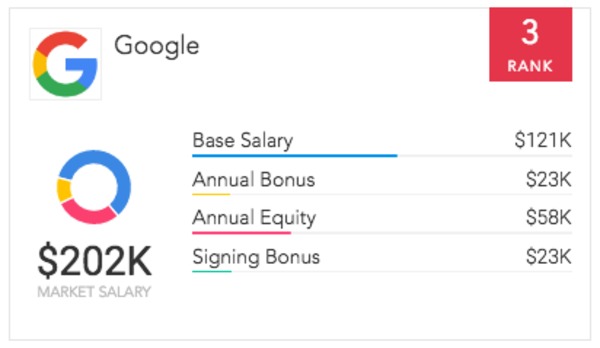 Google Salary Card, per Paysa data.
Facebook: The social media powerhouse goes above and beyond to take care of its employees. Perks like on-site healthcare, an automatic $4K in "baby cash" for new parents, subsidized daycare, and internal professional development, holistically nurture the well-being of both their talent and their families. Also, with many young professionals delaying starting a family in favor of pursuing a high-achieving career, a 2014 report states that Facebook will even pay up to $20K of financial assistance for employees who want to freeze their eggs.
Besides the family-friendly perks listed above, many FB employees also cite $250 of monthly ad credits, free dry cleaning, "Work from home Wednesdays," and unlimited sick days as their favorite additional workplace benefits.
In addition to their generous perks and benefits, the average Facebook employee earns an annual salary of $146K and can command an average of $239K market salary.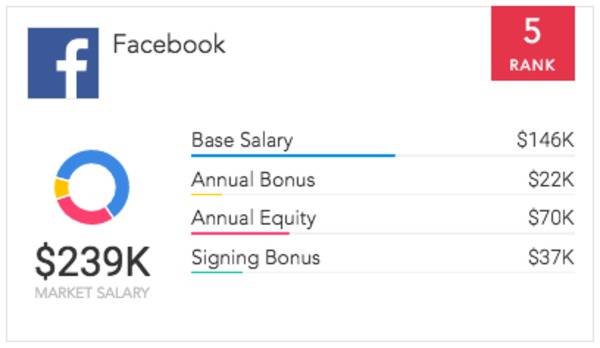 Facebook Salary Card, per Paysa data
Airbnb: This global home sharing leader isn't just poised to take over the hospitality business, it's also leading the charge in changing how tech professionals work and live. Commodious meeting spaces, a $2,000 USD travel credit for Airbnb listings, three free meals a day, and plenty of company outings are just a few reasons people love working for this tech-driven hospitality service. In addition to the excellent bonuses above, Airbnb employees are also encouraged to bring their pets to work and attend weekly yoga classes if they wish.
With an average annual base salary of $143K a year and a potential average salary of $248K per year, Airbnb is an environment where a driven individual can truly thrive.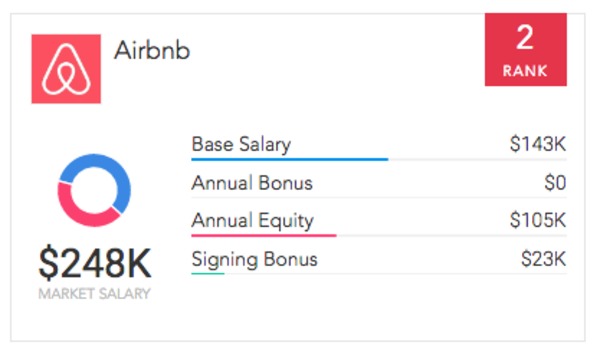 Airbnb Salary Card, per Paysa data
Amazon: Besides free lunches and foosball, Amazon delivers unique employee perks such as a jungle-like terrarium in their Seattle headquarters intended to provide workers a peaceful space for inspiration and innovation. While Amazon is no "country club" compared to some other tech companies and is known for being an intense and competitive workplace, they do offer a fair number of benefits and perks. Recently, they have expanded their employee offerings. Birth mothers now get 20 weeks of parental leave, and fathers get up to six weeks. Additional perks include employee discounts on Amazon.com, mobile phone discounts, educational assistance and abundant social events.
With an average base salary of $136K and an average market salary of $204K, Amazon is an ideal workplace for the driven tech professional looking for a stable company with decent perks.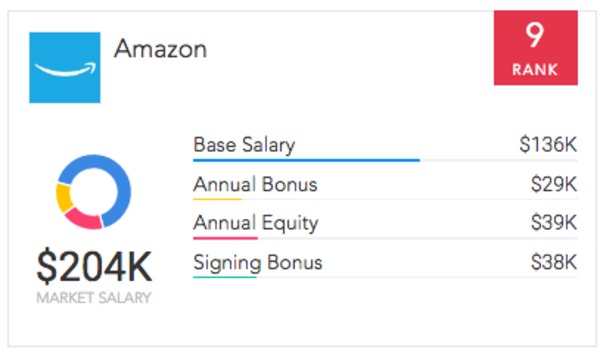 Amazon Salary Card, per Paysa data
Uber: In addition to standard employee benefits like health, PTO, and retirement funds, Uber employees receive up to 15 free Uber rides a month. However, these rides are only worth up to the city average. That means that if you're in Seattle, and the average cost for an Uber ride is $20 there, you get up to 15 $20 rides per month. Vacation is "take it as you need it," provided you are productive. Also, keep in mind that these perks and benefits only apply to Uber corporate employees. Uber drivers are independent contractors and are, therefore, not eligible for these benefits.
With an average base salary of $146K and the potential for skilled tech pros to earn up to $280K a year, Uber is ranking #1 on Paysa's CompanyRank score based on a number of factors.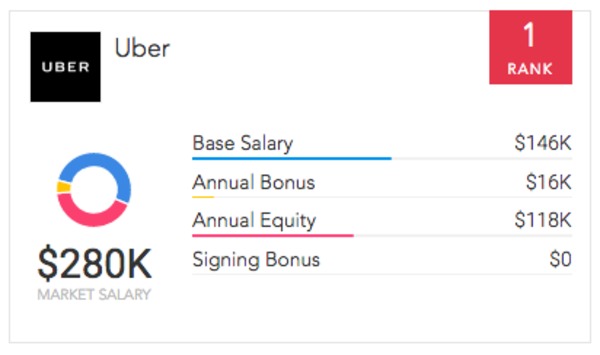 Uber Salary Card, per Paysa data
Asana: Want free life-coaching, twice-a-day organic meals, monthly Uber perks, a customized workstation, a pet-friendly environment, and onsite yoga classes? Asana has it all! Ranking in the 98th percentile of employee satisfaction, this high-tech task management company competes for the best talent by offering unique perks and benefits designed to improve long-term retention and foster a healthy environment.
Free gym memberships, healthy foods, mentorship opportunities, and a sense of autonomy, create a work culture where talent is cultivated, and people are valued. Asana is a great example of an organization which invests in talent to drive the bottom line – to everyone's benefit.
On average, Asana employees earn an annual base salary of $146K per year and can command up to $280K a year. Annual bonuses can range up to $16K.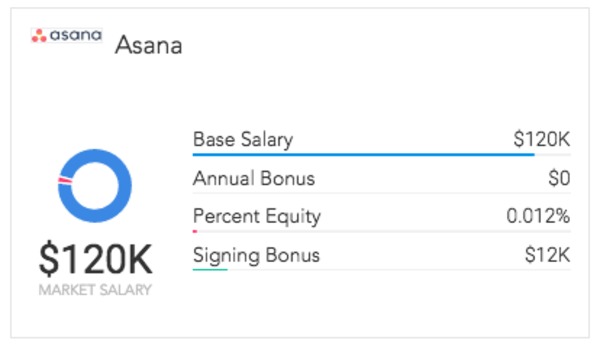 Asana Salary Card, per Paysa data
Microsoft: Bill and Melinda Gates are world-renowned for their generosity, and Microsoft employees are no exception. The tech monolith provides tuition reimbursement, abundant training and development opportunities, a well-stocked library, and even dollar-for-dollar matching for employee donations to many charities. Additionally, paid gym memberships, an on-site salon and spa, restaurants, sports complexes, and seemingly endless amenities provide many opportunities for self-care and recreation between long working hours and brainstorming sessions.
As one of the world's top tech companies, Microsoft employees on average earn a generous $161K a year, with an average earning potential of $250K. Many are fortunate to receive a sign-on bonus of up to $21K.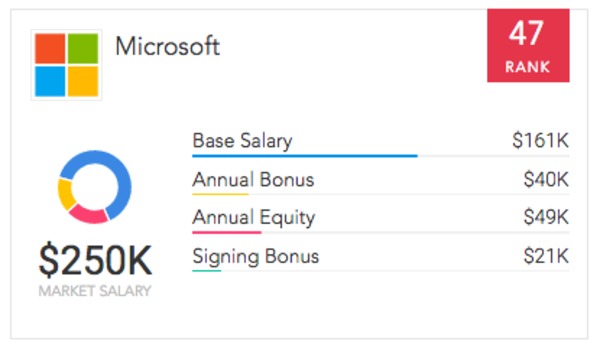 Microsoft Salary Card, per Paysa data
Apple: While most Apple users' face-to-face contact is limited to their friendly and helpful Mac "Geniuses," Apple employees with titles like Software Engineer and Project Manager earn the highest salaries and reap the most generous perks. The "world's most valuable company" is indeed a challenging place to work, but it can also be quite rewarding for those who are up to it.
Every few weeks, Apple holds a "Beer Bash" with free beer and appetizers for employees. And it's not unheard of for these events to feature live entertainment from artists like One Republic either. For employees in the San Francisco Bay area, the tech leader also provides a free shuttle service to its Cupertino Campus, making getting to work easier than ever. Combine this with a generous benefits package that's also often extended to part-time employees, and it's no wonder that the world's top talent is clamoring to work at Apple.
The average base salary for an Apple employee is $132K annually with a market potential of $181K. Sign-on bonuses of up to $26K are not necessarily unusual.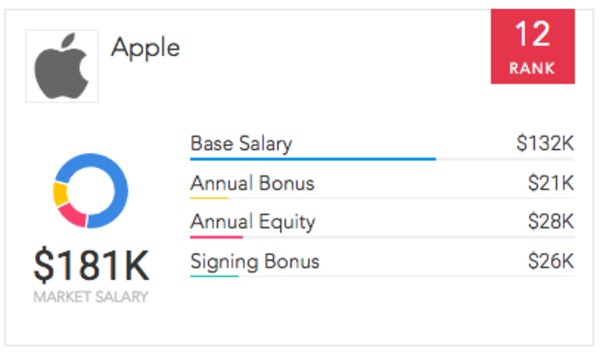 Apple Salary Card, per Paysa data
Want to try your hand at landing a choice job at one of these top tech companies? Paysa is here to help you make more informed decisions to positively impact your career. Our rich data will tell you exactly the skills you need to plan your next move and maximize your success. Use paysa.com to make 2017 your best year yet.