It's no secret that competition is fierce for open tech positions at top companies like Uber, Airbnb, Google and Pinterest. Whether you're a recent computer science graduate or a tech veteran, standing out often requires more than a solid resume.
The pressure to catch a recruiter's eye leads to job applications spanning from creative to downright weird. There's no doubt that recruiters filling tech jobs appreciate creative applications. But if you're thinking of highlighting your mob ties or your ability to speak "Antartican," resist the urge. Instead, focus on being creative and tailoring your application to the company of interest.
Here are some of the weirdest job applications for tech jobs we could find. Most took a lot of thought and creativity, proving to a potential employer right off-the-bat that the applicant was willing to go the extra mile to have their work stand out. Many of these led to an actual job offer, so while you won't want to copy anything exactly as it is, borrow and adapt these ideas to improve your own chances of scoring an interview for a tech job at a top-ranked company.
The Job Application that Talks to You
Creative designers may feel the most pressure to be creative in their applications. After all, being creative is their job. Victor Petit faced a lot of competition for creative designer jobs coming out of college and knew he needed a way to stand out.
"I realized during my previous job search that getting an interview at a communication agency is the hardest part of the process," Petit said.
According to Paysa data, the market salary for creative designers is $108,000, so it's no wonder the competition is tough.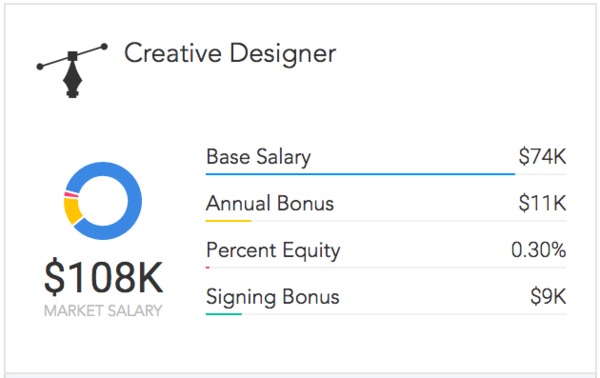 Creative designer salaries, per Paysa data.
Victor crafted a resume containing a QR code. When scanned, the code launched a video of his mouth that a prospective employer could place onto Victor's portrait, printed on the back of his resume. All of a sudden, Victor comes to life.
This unique application solves a problem applicants face across all tech jobs: sometimes a resume doesn't tell your whole story.
"I tried to create a CV that would enable me to express myself vocally as soon as they read the paper version," Petit explains.
Your work history only accounts for on-the-job experience; it doesn't reveal anything about you as an individual. Victor's distinctive approach gives an interviewer everything they need to judge his experience along with an opportunity to learn a bit about Victor's personality and creativity.
This is one weird application that certainly "speaks" to potential employers!
The Job Application You Can't Throw Away
Melissa Washin graduated college in 2008 during the height of the economic crisis. Tech jobs were scarce and Melissa needed a way to make her resume attractive despite her lack of work experience. As a talented sewist, Melissa created a resume which stood out from her peers' resumes by demonstrating her design aesthetic and attention to detail.
Graphic designer jobs average around $91,000 in annual pay according to Paysa data. With thousands of applicants vying for so few well-paying jobs, Washin's handcrafted resume gave her an edge because it was tough to just throw away. Her resume became a piece of art itself. If the same experience and education history had just been printed on paper, it's unlikely Melissa would have stood out as much to potential employers.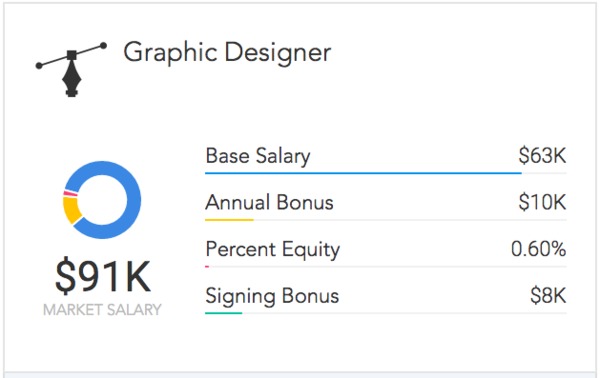 Graphic designer salaries, per Paysa data.
Washin's weird application helped her escape the "no" pile at top companies like Etsy, where she landed a job as a graphic designer before starting her own business, Gravity Design Co.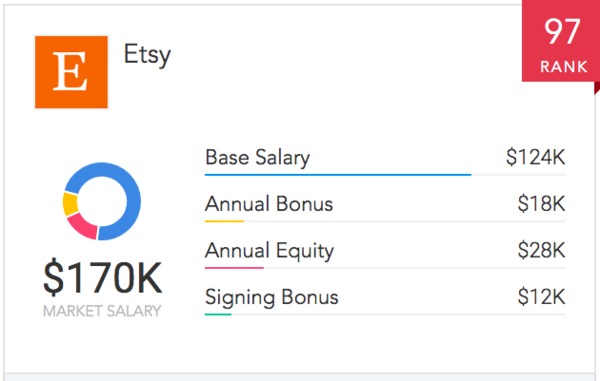 Average Etsy salaries, per Paysa data.
HootSuite has also seen its fair share of weird job applications like Washin's that double as mementos. If you are on the fence about whether a creative application is a good idea or not, Ambrosia Vertesi, HootSuite's former Vice President of Talent, might be able to help.
"Not tailoring your application is the biggest mistake we come across," she told Maclean's, adding, "when someone has just changed the title of the position and company, we can tell."
One such application came through for a community director position. The applicant heard Vertesi profess "not all skills fit on a resume" during a conference presentation and included a HootSuite cake along with her job application.
While slightly less permanent than Melissa Washin's embroidery, it seems the cake left a lasting impression on Vertesi. A good thing, considering community managers are pulling in an average salary of $160,000, according to Paysa data.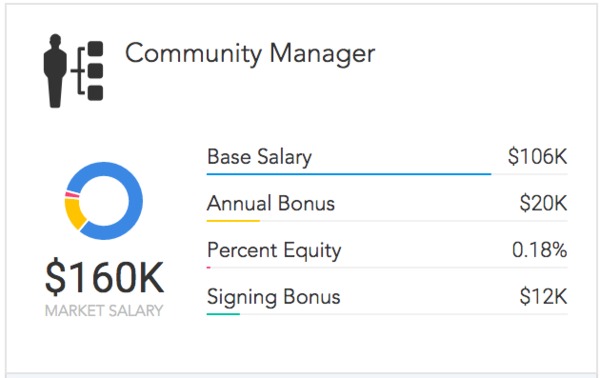 Community manager salaries, per Paysa data.
The Job Application that Leverages the Product
It's not just tech recruiters and HR departments that receive weird applications. Philip Newman, Senior Manager of Talent Strategy for The Home Depot's marketing division, had a post go viral on LinkedIn in late 2016. The post, which has over 30,000 "likes" and 1,300+ comments at the date of this publication, highlighted a remarkable application Newman received for The Home Depot's summer internship program.
"Last year we received over 20,000 intern applications. This year we are expecting even more, but I have never seen anything as cool as this," Newman writes in his post. "There is sending in an application and there is SENDING IN an application."
The application Newman shared came from a college student named Cole Warner, and it is one of the weirdest, most creative job applications we've ever seen.
Warner took some of The Home Depot's most well-known products and created a job application for the record books. With witty puns galore, Warner's tool box job application contained caulk proclaiming he "can fill lots of gaps" and a light bulb stating, "is brighter than he appears." Rolled in a piece of PVC pipe labeled "Personal Vitae Container" was Warner's printed resume.
With average market salaries of $114,000 at The Home Depot, per Paysa salary data, Warner must have been undoubtedly pleased at the end of Newman's post: "Check your caller ID for The Home Depot, because you, my friend, are getting a call from me today."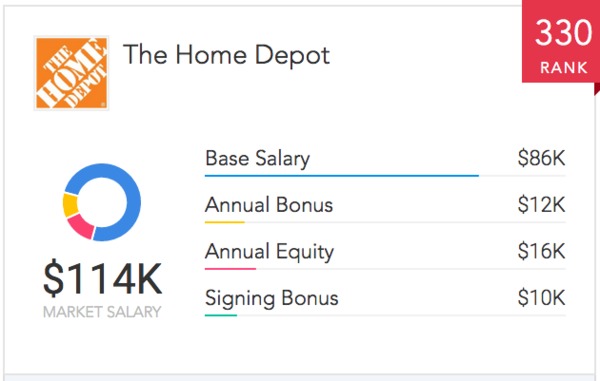 The Home Depot salaries, per Paysa data.
Another great example of a creative application leveraging the potential employer's product came from Jeanne Hwang. After receiving an MBA from Harvard Business School in 2012, Jeanne wanted to start her career at one of Paysa.com's top ranked companies: Pinterest.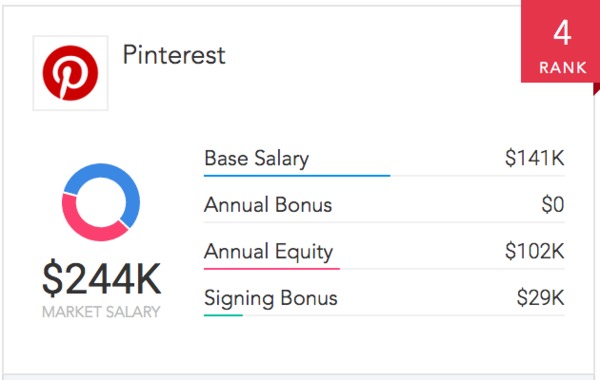 Average Pinterest salaries, per Paysa data.
Though Jeanne's education and work history were certainly impressive (she spent three years with Yahoo! before heading to Harvard), she knew she needed her application to stand out. So she leveraged the Pinterest platform itself to highlight why she would be a good fit for the company's marketing team.
The result is a Pinterest board all about Jeanne. Her work experience, skills, interests and – most importantly – love for Pinterest are on prominent display. And while this weird application didn't land Jeanne the job she desired, it did open up lots of other doors for her with other start-ups. Today, Jeanne is the Head of Audience at Wattpad, where Paysa.com data shows an average salary of $123,000.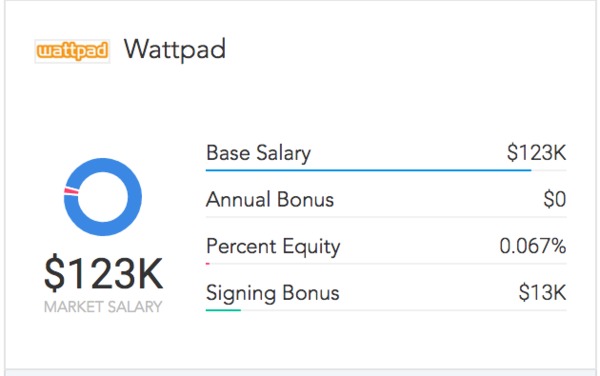 Average Wattpad salaries, per Paysa data.
The Job Application that Stalks You
This one is weird, a bit creepy but also kind of brilliant.
Alec Brownstein was a young writer in New York with aspirations of working at a top creative advertising agency. Like the tech jobs we've highlighted in this article, advertising jobs are competitive, particularly at the best agencies. Alec needed a way to catch the eye of top executives at a shortlist of companies where he was interested in working.
In researching those executives on Google, Brownstein had an idea that ended up getting him numerous interviews and two offers from top ad agencies in New York.
As he told Mashable in 2010: "Everybody Googles themselves. Even if they don't admit it. I wanted to invade that secret, egotistical moment when [the creative directors I admired] were most vulnerable."
And so, for 15 cents a click, Brownstein purchased top ad space for each of the executive's names. When they inevitably Googled themselves, they'd see an ad linking back to Brownstein's website.
All but one of the executives called him. At the end, he took a position with Young & Rubicam and has since gone on to write for The Huffington Post and Dollar Shave Club.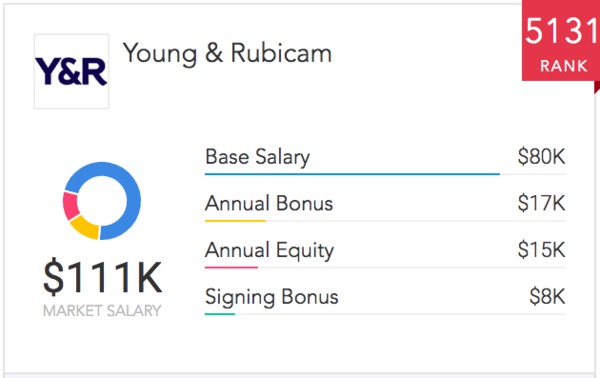 Average Young & Rubicam salaries, per Paysa data.
Conclusion
In the increasingly competitive job market, it's getting harder and harder to make your application stand out for top tech jobs. A creative application can help you get your foot in the door (provided it's not too weird), but it doesn't necessarily guarantee you the job.
Paysa.com is your resource for nailing the interview and negotiating the offer process. Start by evaluating the companies you're interested in through our CompanyRank tool and then find open positions at those companies. Look up average salaries for the role you're interested in, and check out our blog to get interview tips and learn about offer negotiation.