There is change in the wind at Dropbox. The nine-year-old file storage company is making headlines as speculation builds about a potential IPO as soon as 2017. At the same time, Dropbox is beefing up its business features to appeal to a larger segment of enterprise customers.
In light of this flurry of interest and activity for the company, it seems a good time to take an analytical look at current employment and salary trends at Dropbox, with an eye to what an IPO and a heavy focus on new features could potentially mean for current and prospective Dropbox employees.
Dropbox by the Numbers
According to the Dropbox website, 500 million people around the world use Dropbox, and 200,000 businesses utilize Dropbox Business. Despite a valuation of $10 billion in a 2014 funding round, the company has recently seen write-downs of its value with investors.
According to Business Insider, mutual fund T. Rowe Price marked down its holdings in Dropbox by 51 percent in the fourth quarter of 2015, following less dramatic mark-downs by Fidelity and Blackrock. The reason for the mark-down was unclear, though a T. Rowe representative mentioned "new rounds of financing, the company's financial and operational performance, strategic events impacting the company" as potential reasons for the decision.
Meanwhile, the news coming from Dropbox itself is upbeat. At the Bloomberg Technology Conference in San Francisco in June of this year, Drew Houston, co-founder and CEO of Dropbox, revealed that, while Dropbox is not yet profitable, it is free-cash-flow-positive. (Free cash flow is a measure of a company's financial performance, calculated as operating cash flow minus capital expenditures. FCF represents the cash that a company is able to generate after spending the money required to maintain or expand its asset base. FCF is important because it allows a company to pursue opportunities that enhance shareholder value.)
Dropbox has been focusing its attention on cutting costs and generating more revenue. Houston noted: "We're managing our way to profitability." In an announcement of the imminent departure of CFO Vanessa Wittman due to health issues, Houston credited Wittman for her contributions to the company's free-cash-flow position, stating: "Under her leadership, we changed how our finance team partners with and drives our business. We became a company that's better prepared for scale, more efficient, and – notably – free cash flow positive. She strengthened our global financial infrastructure, and we're now building best-in-class revenue and accounting systems."
IPO or No? Dropbox Has No Comment
Houston's talk in June of focusing on revenue growth and monetization led some industry watchers to predict that an IPO was not in the cards anytime soon. The Motley Fool speculated in June: "The key is that reaching positive cash flow enabled Dropbox to fund its own operations, which removes the need to receive ongoing capital from investors."
The article postulated that ambiguity about the valuation of Dropbox could make the company less focused on going public, observing: "This too could be part of the working idea behind Dropbox's emphasis on remaining private for the foreseeable future. Doing so will give the company time to grow into, and perhaps even beyond, its lofty valuation. Either way, despite passing a significant milestone of late, tech investors and unicorn stalkers alike shouldn't hold their breath for a Dropbox IPO any time soon."
Techcrunch reported in that same month: "Don't expect an IPO anytime soon, according to CEO Drew Houston. "Nothing right now," said Houston, when asked if the company was working on a plan to go public."
However, that was in June. In August, Bloomberg reported that, according to people familiar with the matter, Dropbox initiated a round of exploratory meetings to discuss the possibility of an IPO as soon as 2017. The focus of the meetings was to talk about the feasibility of a listing and get a sense of the valuation the company could fetch from public market investors. When asked about the possibility of an IPO in 2017, a Dropbox official spokesperson declined to comment.
Other Factors at Play for Dropbox
The news of IPO talks came on the heels of a prediction by Gartner that "by 2018, 70 percent of Enterprise File Synchronization and Sharing destination vendors will cease to exist, having been acquired or put out of business, and the remaining 30 percent will evolve to support the digital workplace or modernize corporate data infrastructures."
This is good news for Dropbox, who is dominant in the field and can only benefit if 70 percent of its competition disappears in the next two years. Gartner notes: "Clients value Dropbox's ease of deployment, scalability, regular upgrades, user experience, and presales and postsales support. Dropbox is a best-in-class benchmark for ease of use … Dropbox Business is an attractive offering for organizations seeking broad user acceptance of EFSS deployments, under IT control, and easy collaboration across multiple organizations. More generally, it is a viable option for organizations focusing on the digital workplace that are prioritizing on the user experience and flexibility."
Tagging Dropbox as a leader in the field, Gartner continues: "Dropbox offers a well-designed user experience across all major device platforms. There is support for personal productivity and collaborative content creation, including co-authoring in Microsoft Office 365, mobile activity feeds, team sharing and collaboration (Team Folders), and integration with other Dropbox features (such as Paper and Badge)."
Additionally, Dropbox is acquiring more paying business customers such as the recently added Adidas Group, and holds its position as leader of the pack with a 25 percent share of the worldwide file-sharing market.
Positive cash flows and revenue growth are likely due in part to Dropbox's renewed interest in adding value for their enterprise clients. In late July, Dropbox debuted AdminX, a new dashboard aimed at IT admins to better tailor and control their companies' files and users on Dropbox Business accounts. And soon it plans to launch mobile device management as part of the AdminX console so that admins can use Dropbox to control not just Dropbox-based files but actual devices, according to Techcrunch.
Gartner notes: "To support large-scale deployments, Dropbox continues to extend security and administration features that offer administrators the visibility and control that an IT organization needs to manage a collaboration solution companywide." As Dropbox beefs up its enterprise offerings, it stands to profit considerably and maintain and strengthen its lead in the marketplace.
A Snapshot of Current Dropbox Employment and Pay Trends
So, what does all this mean for Dropbox employees and prospective employees? First, it makes sense to see how Dropbox ranks now as an employer. Paysa gives tech companies a company rank based on an algorithm that is "a distant cousin to Google's Page Rank algorithm". The Paysa CompanyRank is an Expectation-Maximization algorithm applied over space and time to quantify the network-wide flux of tech workers to/from/retained at each technical company at each month in time.
Dropbox CompanyRank Score
So, how does Dropbox rank, according to Paysa data-crunching? Dropbox comes in at number 5 on the short list of top tech companies, surpassed only by Uber, Airbnb, Pinterest, and Google. Here is a look at Dropbox's ranking over the last three years: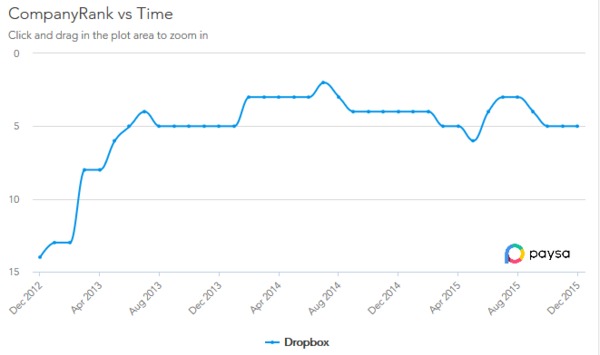 As the chart shows, the highest rank Dropbox has enjoyed was the number 2 spot back in July of 2014, when the company was valued at $10 billion. Since then, it has remained mostly consistent with limited variation around the number 5 spot, a more than respectable ranking given its stiff competition.
Dropbox Salaries and Demographics
The average market salary for Dropbox employees is $319K per year, ranging from $196K to $454K. Average market salary includes $136K base salary, $38.2K annual bonus, $22.1K signing bonus and $159K annual equity. Regarding the signing bonus, a quarter of signing bonuses for Dropbox are less than $15,780. Half of signing bonuses are less than $20,518. The top quarter of signing bonuses for Dropbox are more than $26,678. The top tenth of signing bonuses are more than $33,790.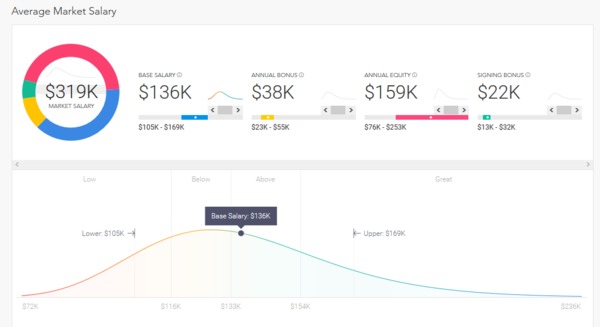 This compares quite favorably with salaries among the four other top-ranked companies on Paysa's list. For instance, take a look at number-one ranked Uber's salaries. The average market salary for Uber employees is $306K per year, ranging from $175K to $452K. Average market salary includes $136K base salary and $170K annual equity.
Employee Preparation for a Possible IPO
The emphasis that Dropbox is currently putting on bolstering its portfolio of business offerings is likely to result in revenue increases over time. If that turns out to be true, the company's valuation will improve, making the prospect of going public a more profitable decision for the company and its employees.
At the same time, however, a possible IPO will have an impact on employees, both current and prospective. Current employees will need to figure out whether it is to their benefit to exercise stock options prior to the IPO or come up with a post-IPO plan.
Wealthfront makes this observation regarding the need for appropriate planning: "The Valley is littered with stories of employees who never sold a share of their stock post-IPO and ultimately ended up with nothing. That is because they either felt it would be disloyal or believed so strongly in the outlook for their company that they couldn't bring themselves to sell.
It is almost impossible to sell your stock at the absolute highest price, but you should still invest the time to develop a strategy that will harvest most of the possible gains and allow you to achieve your long-term financial goals. In our experience, clients who think this through prior to the IPO generally are more likely to actually follow through and sell some stock than those who don't have a preconceived and thoughtful plan."
Common Employee Trends Post-IPO
In many cases, the top tech talent in a company that goes public will slowly move to other opportunities. From a corporate prospective, this news is not so great. It is likely that if Dropbox does go public in 2017, emphasis will need to be put on keeping that top talent in place, either through salary incentives, the promise of working on exciting innovations, or some other type of motivator.
Conversely, this phenomenon of talent migration post-IPO can be great news for up-and-coming tech talent. As top spots are vacated, new and hungry tech innovators can move into place. While the potential for innovation is great with new talent on board, the reality is that losing talent at the top generally slows down innovation for a company, at least initially. If this happens in the case of Dropbox, the company will have to find other ways of staying afloat until any new talent comes up to speed.
After a company goes public, employees typically see a change for the better in compensation packages, likely including more perks and benefits than are typical of lean start-up benefits packages. Having been on the ground floor with Dropbox, employees who stay with the company post-IPO should see some benefits both in terms of current employee compensation and capital gains from stock sales, if Dropbox can make a strong showing in the first few quarters of trading.
The Future for Dropbox Jobs
Dropbox looks to be heading in the right direction for continued growth. And with a Paysa CompanyRank of 5, Dropbox jobs will likely be in demand for the foreseeable future. Current employees do well to consider how an eventual IPO will impact their own long-term financial goals, while future employees might find it prudent to see how the IPO plays out in terms of company valuation and changes to employee compensation packages in the future.
Paysa provides intelligence that enables you to navigate your tech job search by employing a data-driven approach that provides you with understanding of your value in today's job market. Leveraging the data and technology Paysa provides, you can negotiate a raise or an offer with confidence that you have the skills to merit it. By personalizing Paysa for you, you can get job and skills recommendations tailored individually to you. Armed with the insight Paysa provides, you can negotiate your market salary more successfully.
Why wait to take advantage of the opportunities afforded by a more intelligent approach to job search and salary negotiation? Take a moment to sign up to personalize Paysa for you today.