Data scientists are renowned in the tech industry for their uncanny ability to wrangle huge amounts of messy data into business solutions. On a given day, a data scientist's job may range from conducting research on industry problems and how to solve them, extracting data from internal and external sources, running complex analytics programs for use in predictive and prescriptive modeling, and creating data-driven solutions to an organization's most pressing problems.
Every company requires different things from their data scientists. Some treat them more like data analysts or lump them in with data engineers; others demand more specialized skills in machine learning and data visualization. As data scientists move through the lifecycle of their careers, their expertise and responsibilities will likely change. The skills and experience of data scientists may vary by the type of company they work for. However, there are certain skills and education requirements anyone who wants to enter this field should be prepared to take on.
Data Scientist Salaries and Demographics
Positions with the title, "data scientist" are among the most sought-after jobs in the IT field. It's not surprising that they often have the starting salaries to match the hype. Usually, data scientists will make at least $80K a year but can earn upwards of $245K as they learn more skills and move up the ranks in seniority and leadership.
Data Scientist
On average, data scientists' salaries range between $80K and $195K with the mean salary standing at $167K a year. This figure includes an average base salary of $106K, an average annual bonus of $20K, an average annual equity share of $41K, and an average sign-on bonus of $12K.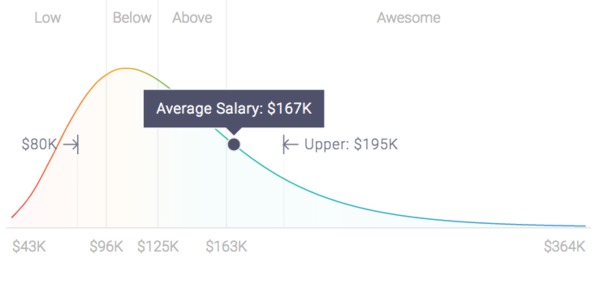 Average market salary for data scientists, per Paysa data
Men outnumber women 3:1 in data science positions and the ethnic breakdown is as follows:
White: 42%
Asian: 30%
Undisclosed: 26%
Hispanic: 4%
Black: 1%
This data is collected and analyzed by Paysa and is based on 8K profiles.
Senior Data Scientists
At the senior level, data scientists' income can increase substantially. On average, senior data scientists' salaries range between $101K and $245K with the mean salary standing at $197K a year. This figure includes an average base salary of $131K, an average annual bonus of $21K, an average annual equity share of $45K, and an average sign-on bonus of $14K.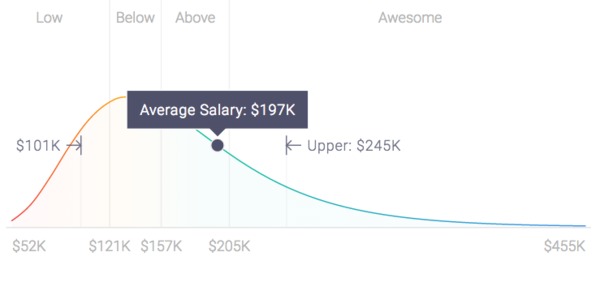 Average market salary for senior data scientists, per Paysa data
Men outnumber women 4:1 in senior data scientist roles and the ethnic breakdown is as follows:
White: 41%
Asian: 30%
Undisclosed: 27%
Hispanic: 3%
Black: 1%
This data is collected and analyzed by Paysa and is based on 2K profiles.
Degrees and Education
There are a few different learning paths that can lead an IT professional to a career in data science. Many data scientist jobs require a bachelor's degree or higher with the most qualified talent choosing to pursue further learning through advanced degrees, MOOCs, and additional certifications.
Data science is a highly skilled field, so expect at least 73% of your competition will have a bachelor's degree or higher. 56% will have a master's or higher and up to 28% may have a doctorate. Apparently, 28% may have no degree. While there are always some self-taught masters in any field, don't count on being one of them. Even the few prodigies who work in data science sans degree have extensive education and hands-on experience in the field to get to where they are.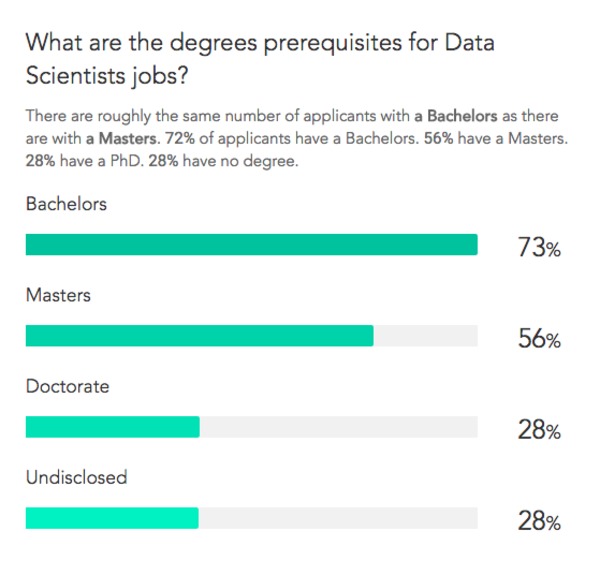 Typical degree prerequisites for data scientists, per Paysa data
Many employers will accept applicants who have educational backgrounds in topics like database management, predictive analytics, business intelligence, big data analysis, and data mining. Targeted training programs in data science are also a recommended way for current IT professionals to break into the data science field.
According to the experts at Master's in Data Science, there are many schools in the U.S that offer a Master's Program in Data Analytics. Here are their 23 top picks:
Southern Methodist University: Dallas, TX
University of California: Berkley, CA
Arizona State University: Tempe, AZ
Carnegie Mellon University: Pittsburgh, PA
Columbia University: New York, NY
Cornell University: Ithaca, NY
Georgia Tech: Atlanta, GA
Illinois Institute of Technology: Chicago IL
Indiana University: Bloomington, IN
New York University: New York, NY
North Carolina State University: Raleigh, NC
Northwestern University: Evanston, IL
Rutgers University: New Brunswick, NJ
Stanford University: Stanford, CA
Texas A&M University: Houston, TX
University of California: San Diego, CA
University of Illinois at Urbana-Champaign: Online
University of Minnesota-Twin Cities: Minneapolis, MN
University of San Francisco: San Francisco, NY
University of Southern California: Los Angeles, CA
University of Virginia: Charlottesville, VA
University of Washington: Seattle, WA
University of Wisconsin: Madison, WI
Skill Requirements
It's true that data scientists are well-paid. However, they work hard for their money. Data scientists are expected to produce error-free work, under pressure, while impatient stakeholders look on with a critical eye. They should know how to identify the key features of a given situation, consider how to frame a question around it that will yield the desired answer, and consult the right co-workers for support along the way. This is in addition to knowing the correct data science methodologies to apply at the proper time.
Programming & Software
Data scientists are like the polyglots of the IT world. They are expected to know several programming languages. According to Paysa data taken from 8K profiles, 58% of applicants must know Python, 52%, also must know Data Analysis. Other top required skills include R, Machine Learning, and SQL.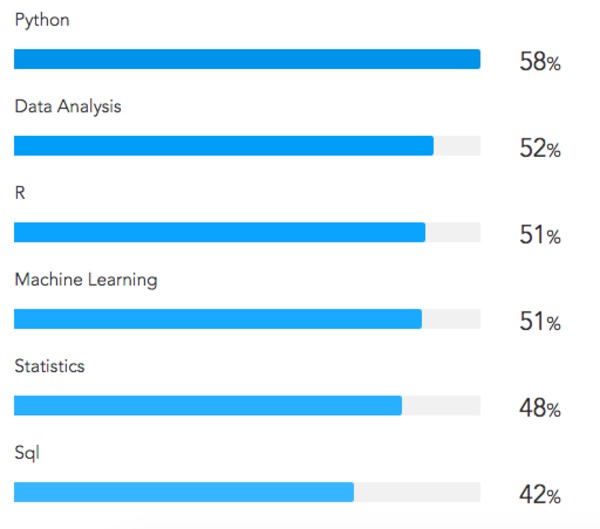 Top skills for data scientists, per Paysa data
Python: This is a database-oriented coding language that is considered by many to be fast, friendly, open, and easy to learn.
Data Analysis: This skill pertains to the collection, processing, and statistical analysis of data. Data analysis involves creating algorithms to answer questions and solve problems.
R: Once relegated to academia, R is a programming language that is increasingly being used by social networking platforms, media outlets, and financial companies for data visualization and predictive modeling.
Machine Learning: Machine Learning is a type of AI that allows computers to "learn" without specifically being programmed. Computers that have been programmed to machine learn can change when exposed to new data.
Statistics: A strong grasp of stats is one of the cornerstones to a successful career in data science. According to some experts, anyone seeking a career in this field is wise to expose themselves to statistics with a heavy focus on coding in programs like the aforementioned R and Python.
SQL: Structured Query Language's purpose is to manage data from relational database management systems. While some of its functions can be carried out with R and Python, it is the best way to get playful with data. Code produced with SQL is considered to be closer to the data and more efficient than data ripped from R and Python.
Personality Traits of Data Scientists
It's not just programming skills that separate the great data scientists from their peers; the best in the field possess some soft skills that also contribute to their career success. Those who make the best students and the best hires for companies usually have at least some of the following traits:
Statistical thinking: The ability to make statistically-informed predictions based on data sets.
Technical skills: This may seem like a no-brainer, but it cannot be emphasized enough. Those who want to enter data science should be comfortable using technology and consistently be learning more about it.
Inquisitive: Great data scientists are naturally curious and are always asking "why?". They can find pleasure in uncertainty and will keep working until they find the answer.
Self-driven: The best data scientists can work independently with minimal hand-holding. It's the independent spirit and pursuit of knowledge that drives their success.
Conclusion
As we've reviewed in this post, data science is a highly-paid but competitive field best suited to those with a love of data and analytics. For those with the tech acumen and the "right stuff" personality-wise, this is a field that is only getting better. If you're looking to enter the exciting field of data science, the best way to get started is to get your hands dirty and work with real data. Do that internship, take that class, and reach out to your network of mentors for career support.
Looking to make your next career move and want to be paid what you're worth? Don't leave money on the table. Let paysa.com be your guide at any stage of your career. Our data-backed information is based on thousands of individual and company profiles to help you make informed decisions and advocate for yourself.