Whether you're an engineer, designer, product manager, or operations expert, there's no denying that Uber jobs are some of the most desirable in all of tech.
Despite recent HR issues that eventually led to co-founder, Travis Kalanick, resigning from his role as chief executive (and subsequent appointment of Expedia's CEO, Dara Khosrowshahi, to the top-spot) Uber has lost little (if any) of their ability to attract and retain top-tier tech talent. BTW, be sure to checkout our Uber CEO personality analysis.
In fact, Uber continues to hold the #1 position in Paysa's CompanyRank – an algorithm that measures the quality of technical talent at top companies.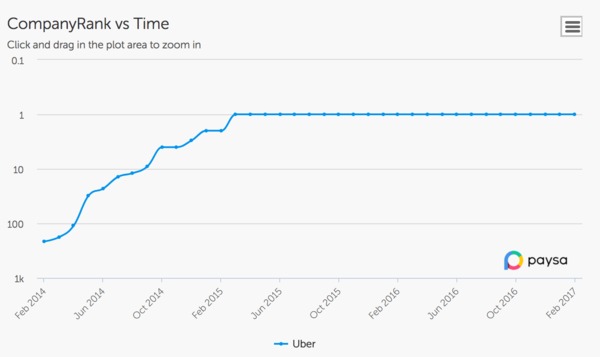 Uber CompanyRank data, per Paysa.com
Of course, maintaining a staff of elite talent is an absolute "must" in the ultra-competitive rideshare marketplace. And with self-driving technology on the cusp of revolutionizing the way people use transportation, there's no question that the talent needed to fill top Uber jobs will be nothing but the best-of-the-best.
Uber receives over one million job applications a year, so naturally, you might be wondering:
How Does Uber Structure Their Interview Process to Ensure They Only Extend Offers to the Best People?
Simply put, Uber prides themselves on an interview process built on speed and efficiency (not unlike the cars at the core of their business.)
They understand that in a candidate-driven job market, a slow, disjointed candidate experience means your business misses out on quality talent to fast-moving competitors. As a result, Uber's process is fully transparent and structured to minimize any inconveniences for their candidates.
But make no mistake: speed does not compromise the rigor of the process. If you're not a fantastic engineer, chances are slim you'll have what it takes to land an Uber job.
Even the truly talented, however, need a little extra help. One of the most popular questions among engineering candidates is:
What Can I Do to Get Noticed by Uber's Recruitment Team?
In a Q&A with a recruiter on Uber's Engineering Blog, this question shines through as a critical first step for any candidate serious about landing a gig with Uber.
That's because long before you get a chance to show off your coding skills in front of fellow engineers, you need your resume to catch the eye of a recruiter. From a pool of thousands of potential candidates, even the most talented engineers can blend in with the pack.
With that in mind, here are a few tips to help you stand out from the competition:
Review this post from the Paysa blog on how to setup your software engineer resume.
And also check out this one on four resume mistakes that can cost you your dream Uber job.
Be specific. Recruiters are looking for particular keywords and examples of projects or teams where you've had big success. Make that stuff obvious and easy to find on your resume.
Show pride and enthusiasm for your accomplishments. It's not enough to say what you've managed to do in your career; Uber recruiters want to see you love what you do and will be able to bring that passion to their team.
Leverage your network. A number of those who shared their interview experiences on Quora cited a friend or former colleague helping them score their first phone interview. No relationship is capable of getting you hired, but leveraging a friend to help get your foot in the door is a great way to stand out.
Of course, those are just tips to help you get recognized. If you're truly interested in Uber jobs, I'm sure you're wondering:
What Does the Rest of the Process Look Like?
Once your resume gets the attention of a recruiter, the next step includes a series of phone conversations to evaluate whether bringing you on-site to Uber's corporate offices makes sense.
First, you'll speak with the recruiter responsible for filling open roles on the engineering team. That initial conversation will likely center around your interests and career aspirations. Should it go well (we're rooting for you), the recruiter will pass you along for one or two technical phone interviews with members of your potential future team.
While you should certainly expect to get questions about your experience and long-term career goals during these interviews, the real focus will be on your coding ability.
Your interviewer wants to assess your baseline knowledge of simple code structures (string manipulation was cited in one Quora post)—you're not going to be doing any hardcore coding during the phone screens. But, suffice it to say, if you can't adequately complete these simple tests within the 45-minute time limit, the on-site interviews might be more than you can handle.
How Should I Prepare for the Technical Phone Screens?
By brushing up on your resume and a broad range of simple coding structures, including:
Linked lists
Trees
Stacks
Arrays and strings
Additionally, review larger conceptual ideas and go through some practice coding interviews on a site like LeetCode.
Of course, you'll also want to thoroughly review your own resume and be prepared to talk about your previous projects and work experience. (This will come in handy during the on-site as well).
What About Preparing for On-Site Interviews for Uber Jobs?
If you pass the phone screens, you'll quickly be invited to come on-site for a series of face-to-face interviews. Those interviews will combine both the technical coding questions you might find at fellow top tech companies like Airbnb and Facebook, with questions about you and your interest in working for Uber.
If you want to succeed at this stage (and hopefully receive an offer from Uber) start by reviewing these 33 common software engineering questions, courtesy of Paysa. Make sure you have answers prepared for each and every one of them.
Then, get ready for the coding portion. Expect to code on a whiteboard during the interview (something you should absolutely practice ahead of time—it's more difficult than you might think), and be prepared for some potential system design questions as well.
And if All Goes Well…
Make sure you leverage the power of Paysa to maximize your Uber job offer.
According to Paysa data, the salary range for engineers is between $140k to $500k+ with the average at $344,000 per year.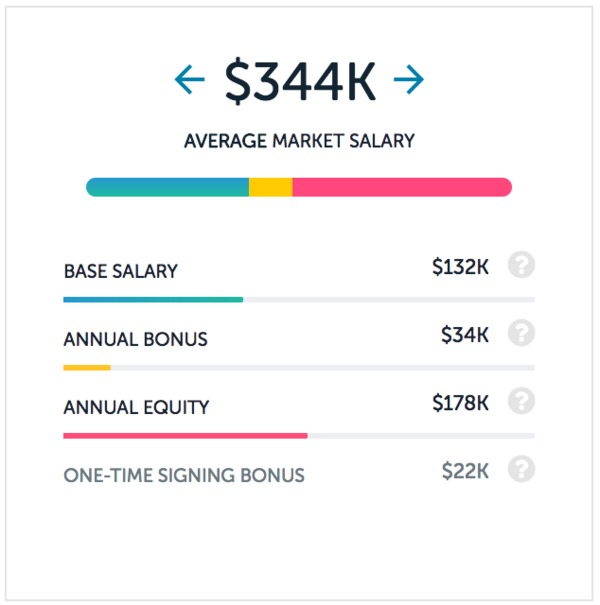 Average salary for a software engineer at Uber, per Paysa data. 
If your offer comes in lower than that, use Paysa to evaluate your offer, and learn how to negotiate for more money (or better perks).
Check out Paysa.com today to learn more.
Related: