For recent graduates interested in pursuing software engineering jobs, it can often feel like the world is your oyster.
Not only are there tons of currently open positions for entry-level software engineers on Paysa, but the Bureau of Labor and Statistics estimates the field will grow by 17% through 2024. Things aren't slowing down. New startups are launching every hour around the world, and they're all going to need someone to help bring their vision to light. That's where you come in.
According to Paysa data, the average market salary for software engineer jobs is $133,000 per year. Not too shabby for a first job out of college. That kind of money will surely put a dent in your student loans and afford you something besides cups of ramen for dinner.
Average market salary for software engineers, per Paysa data.
But if you think just holding a computer science degree will grant you access to software engineering jobs at the top tech companies in the world, you're sorely mistaken.
Here's a harsh truth: anyone can learn to code. Schools are teaching coding skills to second graders. That's not to put down the four years of hard work and intensive study you've just completed – it is definitely valuable. But that alone likely won't get you your dream job. Hiring managers care about a lot more than your degree and the school from which you graduated. They want to see you can survive outside the classroom. That you have the skills needed to succeed in the fast-paced, ever-changing world of tech.
This post aims to help recent engineering grads navigate the complex, often confusing process of landing your first software engineering job. You'll learn what skills hiring managers really look for in candidates — stuff that's both on your resume and not. Then, you'll get some practical advice on what to do if you're a little short on any one of the skills and need to catch up quickly.
Ready to get started? Let's dive in.
What Skills Do Hiring Managers Want to See in Recent Engineering Grads?
As a recent graduate, it can be difficult to know what companies are looking for from potential candidates. The chances are that you haven't been through many interviews, so it's tough to know what to expect.
Hiring managers look for three primary skillsets: technical, problem solving, and teamwork/communication skills. Each will be covered in-depth below to ensure you know exactly what you need to be successful in your interview and land a great job after college.
Before getting into it, one quick note here on honesty: it will be tempting as a new graduate to potentially stretch the truth a bit regarding your experience and expertise. You might think no one will notice or you'll be able to learn the skill on the fly once hired.
Make it a rule not to lie to yourself or a hiring manager about what you're capable of doing. 99.9% of the time it will come back to haunt you. For more on this and other resume mistakes that could cost you your dream job, take a look at this recent blog post.
Technical Skills
When applying for software engineer jobs, you'll find many of the technical skill requirements to be about the same. This section is the least "mysterious" of the three. Technical skills are fairly cut and dry — either you have them, or you don't — and if you're unsure of what's required for a particular role, it's usually listed in the job description.
Paysa provides an in-depth skills analysis for thousands of tech jobs with almost any company you can imagine. There's also an aggregate view of the technical skills required for the majority of people in software engineering jobs. Here's what those skills look like: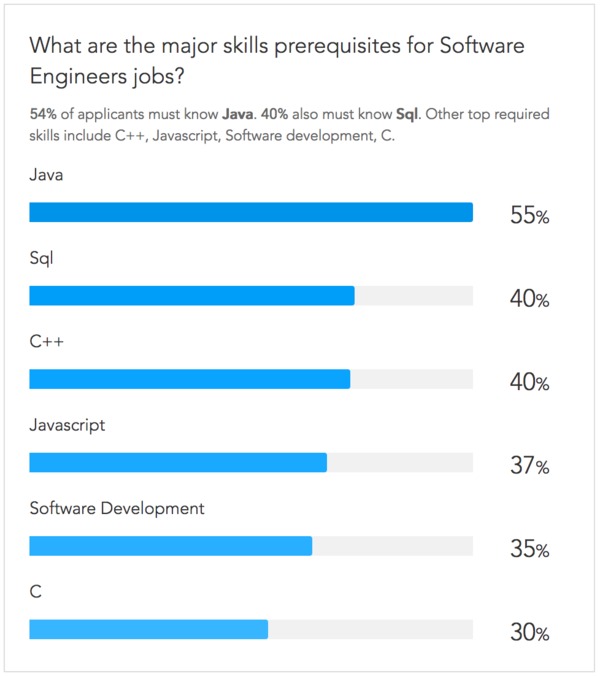 Software engineer skills analysis, per Paysa data.
No big surprises there. Java, SQL, and C++ are the most frequently required skills across software engineering jobs on Paysa. That's likely good news for you, considering those are often the skills you're bringing with you from the university. You've likely spent the last four years becoming pretty fluent in those languages and feel confident in your skills there (don't worry if not, that's discussed later on in the article).
If technical skills were all a hiring manager was after, there's no doubt recent engineering grads would have no issue landing positions with top tech companies. Unfortunately, that's not the case. Hiring managers want to see great problem solving and teamwork/communication skills as well.
Problem Solving Skills
Though it's understandable to think four years of coding experience in the classroom qualifies you as a candidate for software engineer jobs, the truth is, hiring managers are more interested in what — if any — work you've done outside the classroom.
Assignments for college courses are controlled environments. Professors put the limitations on what's expected, and students naturally respond to that with precision to ensure they receive a good grade. There's little wiggle room in the classroom and almost no creativity.
As a result, recent graduates (this applies to everyone, not just engineering grads) often lack the problem-solving skills needed to solve real-world problems in real time.
In a startup environment, things change constantly. Businesses pivot, products change, bugs surface, features need immediate fixing, and on a small team, it's up to you to take the lead and make something happen immediately, not on a due date a week before the semester ends.
Often, these skills are most apparent to a hiring manager when you've involved yourself in some "extracurricular" coding. Maybe you've contributed some code to an open source project or helped a friend develop an early prototype of an app idea. Recent grads might feel bashful about including this stuff on their resume, but in truth, this is exactly what hiring managers are looking for. It shows you're passionate about what you're doing outside of the classroom and that you've already applied yourself to a real-world environment where problem-solving skills inevitably surfaced.
Teamwork and Communication Skills
The other piece of the skills puzzle involves teamwork and communication. Hiring managers need to know you can play nice with others. Specifically, that you can communicate when there's a problem or you don't understand something and that you're receptive to learning.
That last part may be the most important skill you can have in your first job. Hiring managers expect you to be junior. They don't expect you to walk in and be able to perform at the same level as more senior or tenured team members. But, they do expect that you'll be a sponge, ready to absorb as much information as possible from colleagues until you're the best coder on the team.
Plenty of people prefer to work independently, and generally, that's okay in most aspects of your life, but not for your first software engineer job. Don't pretend to be something you're not (remember: honesty). Be enthusiastic about how excited you are to learn from the team. That attitude will carry you much further in the interview process.
One last note on interview preparation: before you head into your interview, be sure to review the recent Paysa blog post, "5 Essential Interview Tips for Computer Science Graduates". You'll learn some critical do's and don'ts of the interview process for entry-level jobs that will undoubtedly help you once your nerves kick in.
Now, let's look at what you can do if you don't have all these skills at the moment but want to ramp up before beginning the application process.
What to Do if Your Missing Skills 
If specific technical skills are a requirement for the position of interest and you don't already have those skills from school, you'll need to weigh the likelihood that you'll be able to learn the new skill (to an adequate degree) before interviewing. According to one Quora poster, it can take upward of 500 hours to get fluent in a new coding language, so at 4 hours a day of practice, you might be ready in about four months.
Chances are you're not scheduling interviews four months in advance, so you'll need to do the next best thing: study hard, prepare yourself to crush it in every area but that particular skill and then when the question comes up about your experience with that skill, be transparent. Let the hiring manager know it's your weak link at the moment, but you're so dedicated to this job that you're currently spending 4 hours a day on CodeAcademy learning the skill. If that doesn't win them over, then it wasn't meant to be.
If problem-solving is your issue, get involved immediately with some open source content. Spend some serious time before the interview making some valuable contributions to an open source project, and then add that piece to your resume before the interview.
Finally, for communication or teamwork issues, make it a goal to be ultra-conscious of this should you get hired. While there may be little to do to improve this skill before getting a job offer, committing to making this a priority in your interview and then following through on that promise will undoubtedly yield immediate results.
Which Companies are Hiring Recent Graduates into Software Engineering Jobs?
Now that you know the skills hiring managers at top tech companies are seeking it's time to begin your job hunt. Lucky for you, Paysa has everything you need to find your dream software engineering job.
Want to run a quick search to figure out how many companies are looking for software engineering talent like you straight out of school? Here's how you do it on Paysa.
First, click the "Jobs" link in the top menu of Paysa.com.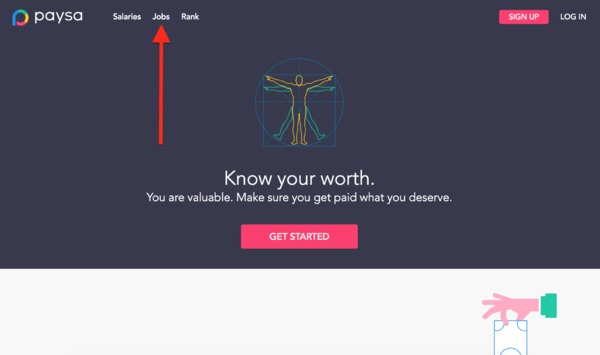 Then, enter "software engineer" in the Job Title field and change the Years of Experience to "1".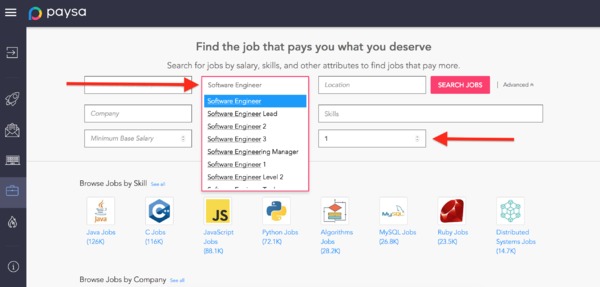 At the time of publication, there were 1,407 matches for the search, including top positions with Microsoft and Gartner.
Average market salary for a software engineer at Microsoft, per Paysa data.
Not seeing anything of interest at the moment? You can also complete your profile and have open jobs matched to you based on your skills and experience.
The Takeaway
Engineering grads have so much opportunity in front of them, but ensuring they have all the skills they need to capitalize on that opportunity can be tough. Hopefully, after reading this article, you feel better equipped for any interviews for software engineer jobs, and if you don't already have the skills needed to get hired, you feel confident you know what you need to do to improve.
Paysa is here to help you navigate your career along the way. From your first entry-level engineering job to negotiating raises and evaluating your worth on the job market, Paysa works directly with tech talent to ensure they know their worth.
Check out Paysa today and complete a profile to have jobs matched to you based on your skills.