If you've been keeping up with the blog, the Paysa team has recently shared a few different posts on how to successfully navigate the interview processes for tech jobs at top companies like Airbnb, Google, Dropbox, and Apple.
One thing we learned in putting together those posts is that no matter where you decide to interview, the process will likely be pretty tough. But, the reward at the end is the opportunity to work for a company on a path to change the world.
Top tech companies like Google, Facebook, and Netflix offer a lot more than money for the qualified talent they need to fill their most important tech jobs (though, to be fair, the salaries are pretty incredible — Paysa data shows Netflix offers software engineers an average market salary of $264k.)
Average salary for a software engineer at Netflix, per Paysa data.
In addition, they offer a best-in-class cultural experience that begins the moment you walk in the door for your first day on the job.
Why Tech Companies Need Structured Onboarding Programs
Believe it or not, though the tech industry generally gets a lot of credit for the quality of their employee experience, fast-growing startups have historically struggled with onboarding.
In the past, the need for talent to fill top tech jobs has far surpassed the company's ability to dedicate time to getting new hires up-and-running correctly.
You can give new employees all the free snacks and nap pods you want, but if they don't feel enabled to do their job successfully, they're never going to feel truly comfortable.
A study from The Wynhurst Group showed that new employees who went through a structured onboarding program were 58 percent more likely to be with the same company after three years.
That's why tech companies are doubling-down on their new hire programs in an attempt to retain talent for the long-term.
The result?
A first-class experience designed to help you feel welcome, appreciated, and armed with everything you need to be successful in your new role.
Let's take a look at how some of the best tech companies onboard new employees into their new tech jobs.
Google
For six years running, Google has owned the top spot on Fortune's 100 Best Companies to Work For. On Paysa's CompanyRank, they haven't dropped below the #3 position in ten years.
Google CompanyRank standing over 10 years, per Paysa data.
It's no secret that most engineers aspire to someday work for the search giant. And if you're talented (and lucky) enough to survive their grueling interview process, the experience of being a Googler will likely exceed your expectations.
That experience starts with Google's onboarding program for new hires, fondly referred to as "Nooglers."
Over the course of two weeks, Nooglers take a deep dive into the culture, practices, resources and workflow of Google's engineering team. Here's some of what you can expect during those magical first weeks:
Guest lectures and lots of introductions. Google invests a ton of time up front making sure you know all the important people within your org and getting comfortable with the company culture. During onboarding, Nooglers sit through lectures and fireside chats with senior engineers and also go through a class called "Life of an Engineer" where they learn company values and best practices for a fruitful career at Google.
Meeting your mentor. A common thread across many top tech companies is the assignment of a mentor or onboarding buddy in the first few days of your new tech job. At Google, you'll meet your mentor on the very first day. And you're not just dealing with some over-worked engineer who has been "volun-told" to show you around; each mentor goes through training to be sure they're prepared to help you acclimate to your new role.
Learning to code "the Google way." New engineering Nooglers come aboard with some pretty impressive resumes already, so it may seem a bit redundant to have them all sit through coding classes. Except, it's not. Though Google hires the best in the business, all their development is done through proprietary tools that new engineers need to get acquainted with before they can actually get to work. Some of these classes – called "Codelabs" – actually exist on the web. Check them out here.
Your first project. Once you know the right people and know how to use the tools, it's time to get to work! Afterall, they aren't paying you the big bucks to just sit around. New engineers immediately begin getting acquainted with their newly-learned coding tools on a low-risk, fairly simple project.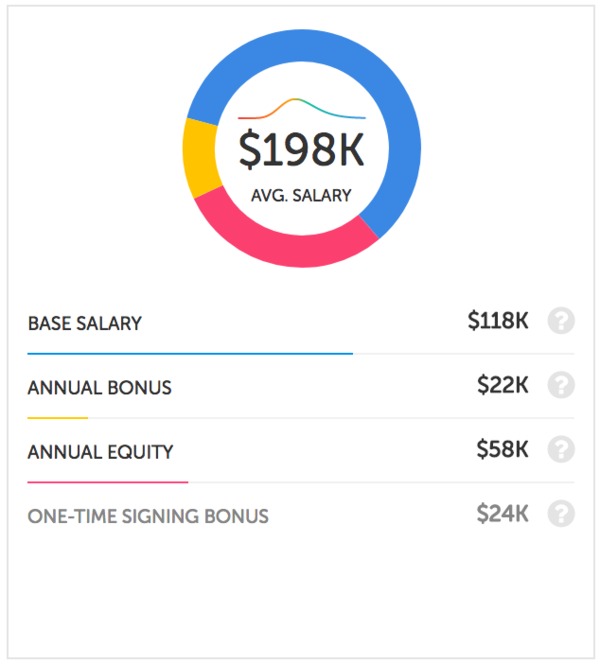 Average salary for a software engineer at Google, per Paysa data.
Check out a full list of open jobs at Google here on Paysa. 
Facebook
With over 10,000 employees and counting, Facebook has long been a top destination for highly-qualified engineering talent on the hunt for new tech jobs.
Much of the reason why has to do with their truly unique company culture. Facebook founder and CEO, Mark Zuckerberg, famously called the culture the "Hacker Way" in his letter sent with the company's IPO in 2012.
What exactly does the "Hacker Way" mean?
"The Hacker Way is an approach to building that involves continuous improvement and iteration. Hackers believe that something can always be better and that nothing is ever complete. They just have to go fix it — often in the face of people who say it's impossible or are content with the status quo."
If you're wondering how that sort of approach to company culture translates to your new hire onboarding, look no further than Facebook's Bootcamp for new engineers.
No matter your previous experience, location, or rank, all new engineers spend the first six weeks of their new job in Facebook's Menlo Park office going through an intensive coding boot camp.
As described on Facebook's Engineering page:
"At Facebook, engineers don't waste time before getting their hands dirty. Every new engineer spends his or her first six weeks in Bootcamp, the intensive onboarding program designed to immerse new engineers into our code base, learn the ins-and-outs of company culture and give them greater flexibility in choosing a project. Between onboarding classes, coding tasks, and mentoring sessions, everyone from software engineers right out of college to engineering directors with PhDs start the program right after orientation to begin building their foundation at Facebook."
So whether you're an entry-level engineer or a director of engineering making $454,000 a year, you'll go through the same boot camp to ensure everyone starts on the same foot.
facebook–director-of-engineering
Average salary for a director of engineering at Facebook, per Paysa data.
Check out a full list of open jobs at Facebook here on Paysa.
Netflix
Want to be a part of the team that helps bring both Kimmy Schmidt and Frank Underwood (maybe the two most opposite characters ever) to the homes of millions of subscribers?
Well so do thousands of engineers every year. Aside from the incredible comp package mentioned earlier, Netflix has long been revered for their top-notch culture of employee freedom.
That culture alone makes life at Netflix pretty great. But to add to it, new hires to the internet TV masters can expect a no-frills, easy experience intended to give them everything they need to start feeling successful immediately.
In a recent Quora post, former Netflix engineering manager, Poorna Udupi, detailed his experience of joining the company. Some of the highlights included:
Technology set-up before his first day. Netflix called Poorna before he got started to ask his ideal work configuration and didn't hesitate to give him the best of the best when he asked for it. In Poorna's words, there was a "No BS approval process!"
A quality mentoring program. Much like Google, Netflix assigns each new hire a mentor on their first day to help them get acquainted with the basics (where's the printer? How do I get lunch?) as well as more complex questions about the job.
Making an immediate impact. Poorna says new engineering hires start pushing code live on the site as early as day 1. Netflix wastes no time getting you producing, which can have a huge positive impact on your excitement about your new tech job. As Poorna put it: "New hires are given significant responsibility and can have a solid impact from the get-go. My first product was Netflix on AppleTV. Four months after joining, I saw my work being used by tons of Netflix customers."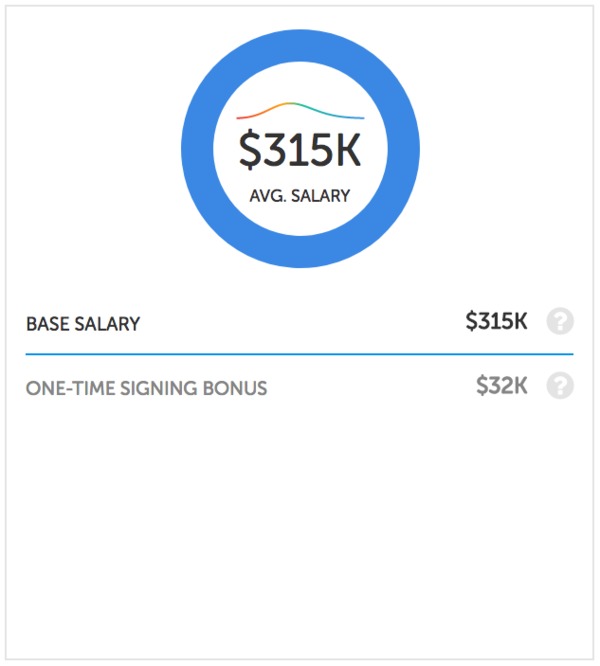 Average salary for an engineering manager at Netflix, per Paysa data.
Check out a full list of open jobs at Netflix here on Paysa.
Conclusion
Top tech companies are doing more and more to try and make their new hire onboarding a truly unique and empowering experience for all new employees.
Want to know the best way to learn more about tech company onboarding?
Use Paysa to get hired there yourself. In addition to incredible salary data, Paysa can help you find your dream job with a top tech company so you can soon be experiencing new hire onboarding first hand.
Check out Paysa.com today to create a free profile and begin exploring new opportunities.