Since the early days when the company resided in a small garage in Albuquerque, New Mexico, Microsoft jobs have been some of the most in-demand in all of tech.
If you were lucky enough to be one of these first 11 employees, you would have seen the company grow from its humble beginnings to nearly 121,000 employees around the globe. In Seattle alone, Microsoft houses up to 40,000 workers in a sprawling, 500-acre campus.
And with the #42 spot on Paysa's CompanyRank, it's clear Microsoft jobs remain some of the most desired positions for top talent.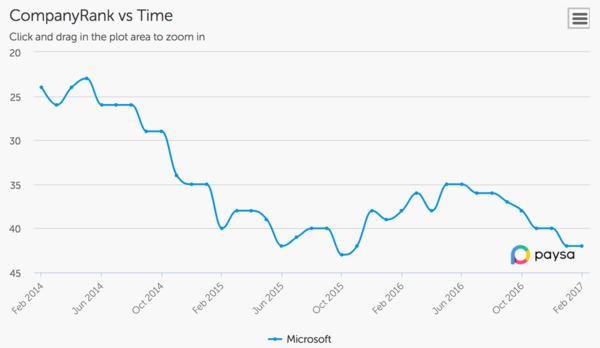 Microsoft CompanyRank, per Paysa data.
But it's also no secret that actually landing a job at Microsoft is no easy task.
In fact, as with other major tech companies whose interview processes we've highlighted in the past (including Google, Dropbox, Airbnb, Amazon, and Apple), getting hired at Microsoft requires some serious preparation — even for talented engineers.
 And so, that's what we'll help you with here today.
This post shares everything you need to do to ace an interview with Microsoft. You'll learn:
What skills and attributes Microsoft seeks in top-tier candidates
How to market yourself for an interview
What to expect from the interview process
But first, let's start with a look at what makes Microsoft such a desirable place to work.
Why Top Talent Wants to Work for Microsoft (and You Should, Too)
While the legacy and storied history of the company is often enough for Microsoft to attract some of the best talent in tech, there's a lot more the company offers that makes Microsoft jobs so desirable. Here are a few key factors worth your consideration:
1. Unbeatable career growth potential.
It's not just Microsoft's culture of internal growth that makes the company one of the best for long-term career progression (though that certainly is a perk):
It's also just the sheer diversity of products and solutions one can get involved with at the company.
Think about it: Microsoft has grown into a multi-faceted brand, with their hands in hardware, software, video games, phones, and with the recent acquisition of LinkedIn, even social networking.
That means there's endless paths for your career to evolve across business lines and tremendous opportunity for you to develop a broad range of skills that you could only acquire otherwise through job hopping from company to company.
2. Great compensation and benefits.
Look, the data doesn't lie: Microsoft pays their people well.
Really well, in fact.
According to Paysa data, the average software engineer at Microsoft earns around $231,000 per year — nearly $100,000 more than the overall average salary for engineers across all of tech.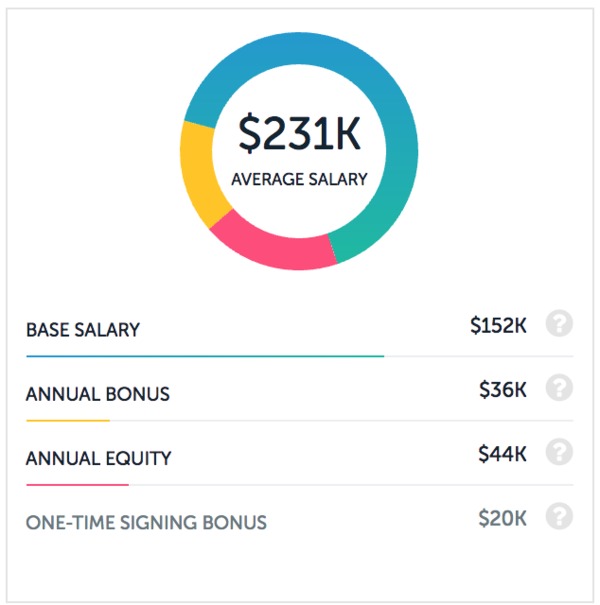 Average salary for a software engineer at Microsoft, per Paysa data.
And when you compare that with the cost of living in Seattle, that compensation actually goes even further. According to Expatistan, Seattle is 20% cheaper than the renowned tech hub of San Francisco. And the Paysa data shows a $231k salary would go quite far:

Average cost of living in Seattle, per Paysa data.
3. Strong leadership.
Finally, it all comes down to a great leadership team. Since taking the helm in mid-2014, Microsoft CEO Satya Nadella has completely transformed the company to embrace innovation and collaboration, while working tirelessly to restore a slightly broken culture.
His successes have been heralded by Microsoft employees, the press and Bill Gates himself. And his leadership is attracting levels of talent that Microsoft hasn't seen in years.
But what exactly does Microsoft look for in a quality candidate? 
What skills and attributes do you need to potentially score an interview with the tech giant?
Let's take a look:
Here's What Microsoft Looks for in Tech Talent
Considering the company has been hiring engineers for nearly half a century, it should come as no surprise that they've managed to hone in on exactly what defines a good candidate.
Needless to say, they expect the best.
Here's a look at the skills of a software engineer at Microsoft: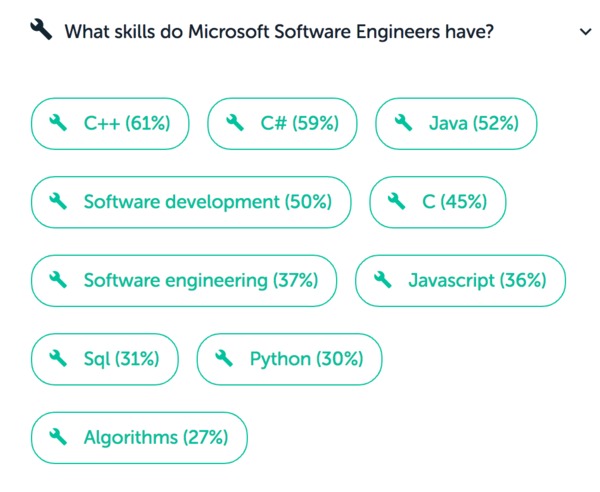 Skills of a software engineer with Microsoft, per Paysa data.
As you can see, the ability to code in multiple languages will likely be a prerequisite for getting hired. But Microsoft also looks for a number of soft skills as well in top candidates, including:
Communication skills. No one wants to hire a lone wolf. Microsoft wants to see you know how to communicate in a team setting. You'll likely be asked about group successes and — as you'll see when we discuss the interview process — Microsoft expects you to ask questions and work collaboratively while doing the coding tests.
Problem-solving ability. How do you work through a problem and uncover a solution? It's a core skill for any engineer and Microsoft will undoubtedly put you to the test here. But don't worry: you're not going to see any of those ridiculous, "why is a manhole round?"-type questions. As one recruiter told a candidate, "If anyone asks you that question feel free to get up and walk out and come to my office. But they won't."
Analysis skills. Similar to problem-solving skills, but with a twist: it's not just about evaluating a problem and uncovering a solution. Analysis skills take things a step further by also evaluating your solution and looking for ways to iterate or improve upon it.
Culture fit. And, of course, Microsoft will want to make sure you're a fit for the team and company culture. Unfortunately, there's really no way to prep for this one — either you have it or you don't. The best advice is just to be yourself. If they rule you out based on culture fit, it's probably for your own best interest anyway.
If you have these skills and are interested in exploring opportunities at Microsoft, the next step is to actually score an interview.
How to Land an Interview with Microsoft
Microsoft employs an entire recruiting team of their own that actively seeks candidates through campus recruiting events, social networking tools, and Microsoft job postings.
One of the best ways to search for open positions at Microsoft (and across thousands of other tech companies) is here on Paysa. As of publication, there are over 700 active Microsoft jobs live on our site, all paired with unique salary data and key information about the skills you'll need to get hired.
And if you're wondering how to format your resume to appeal to Microsoft recruiters, you don't need to speculate: Microsoft tells you directly on their Careers site.
A few important details to make note of:
Keep information relevant to the specific position for which you're applying
Highlight accomplishments, not just job responsibilities
Include links to a portfolio or specific projects you've completed
Be honest; any exaggerations of your skills or capabilities will come out in an interview anyway
Put all of that together and if you have what it takes, you'll be invited to start the interview process. And while it looks a little different for everyone, here's a general idea of what you can expect:
What to Expect from the Microsoft Interview Process
If you're based in the U.S., it's likely the majority of your interview process will take place at corporate headquarters in Seattle. However, before you get there, you'll likely have a couple different phone conversations to ensure it's worth your time (and their money) to fly you out for an on-site interview.
First Up: Phone Interviews
After a recruiter contacts you, you'll likely have at least two different phone interviews to go through before being invited for the actual "interview day."
The first will be with the recruiter themself. As we've discussed in previous posts for the interview processes of other large tech companies, never underestimate the importance of this first phone call. Recruiters are the gatekeepers to the entire interview process and if things go well, they can be a tremendous ally in helping you succeed at each step along the way.
With that in mind, treat this first step just as seriously as you would a final interview with your would-be boss. Strive to make a good impression, ask good questions, and provide succinct answers.
The same goes for the second phone screen, which will likely be with either your potential boss or a senior-ranking colleague. While this interview won't be nearly as technically comprehensive as an on-site will be, expect either interviewer to drill deep into your resume, skills, and experience to ensure you have enough potential as a candidate to move forward with the next step.
If all goes well with those first two calls, you'll be invited to visit the campus in Seattle for a full day's worth of interviews. Here's what those can look like:
Here's How Microsoft Runs Their Full-Day Interviews
There's no doubt that 6 to 8 hours of interviews can feel pretty intimidating. But just keep reminding yourself that you've earned the opportunity to make it this far, and that the worst case scenario is you gain some valuable insight and experience for future interviews.
The best case scenario is that the beautiful, 80-building campus will soon be your home away from home.
So how does Microsoft run their full-day interviews?
You'll likely debrief with a recruiter after each stage. In addition to being greeted by a recruiter once you arrive on-site, you'll likely have a chance to talk with a recruiter after each stage in the process to ask questions, get feedback, and if you've built a good relationship, get some strategic tips for the next round.
Each round will last about an hour and will be a mix of Q&A with coding. You'll likely start each round answering some questions about you and your experience before diving into some coding exercises. Remember what we told you earlier: Microsoft expects you to collaborate with your interviewers while walking through the coding exercises. Don't just grab a pen and start scribbling for 20 minutes straight — ask questions, get their input, and don't be afraid to ask for suggestions. The way you reach a solution is just as important (if not more important) than the solution itself.
You'll likely be interviewed during lunch, too. It sounds intense, but doing so gives the business a unique insight into how you interact in a less formal setting.
And that's it…
If all goes well there, you'll hear back from your recruiter within days on whether or not they plan to extend an offer.
Sounds pretty amazing, right?
If so, check out Paysa today to learn more about Microsoft. With our robust database of salary information and hundreds of Microsoft jobs listed, Paysa is a great place to start you on the path to a career with Microsoft.