For college students, recent grads, or young tech geeks looking to launch their careers, the opportunity to spend a few months working with one of the globe's top tech companies can be a dream come true. Amazon is world-renowned for its celebrated University Tech Internship, and the program is known for offering diverse, intensive work experiences in an innovative, fast-paced environment. Only the most promising candidates with the most impressive credentials will be considered, so admittance is no cakewalk. But if you're amongst the chosen few, Amazon's University Tech Internship can be a gateway to previously unimaginable opportunities.
For those who want to pursue this coveted program, Paysa is here to offer sage advice from industry pros to give you a lay of the land on how to get there and what to expect once your foot is in the door.
What Amazon Looks For
Amazon uses precise criteria to select the most qualified interns to join their team. According to their careers site, here's what they seek:
"We put careful thought into our intern selection—we look for people who think differently, question assumptions, think analytically and have a desire to build new things and constantly improve to create easier, faster, simpler, more satisfying experiences for our customers. We move quickly at Amazon and people who want to invent on behalf of customers and directly impact the customer experience will do well in their internships. Our internship program is an important source of leadership talent and some of our most senior leaders started at Amazon as interns."
As far as scoring an interview, it's clear that Amazon looks for many of the same traits that most big tech companies seek: motivated students and grads that are well-versed in the fundamentals of computer science and can think strategically to put together well-thought-out solutions to specific problems. A 2015 Quora question on the subject is probably still a goldmine for relevant info, although a few things might have changed.  Be sure you know your algorithms, CS101, and data structures like the back of your hand.
Of course, on a more general level, Amazon will use basic criteria such as your alma mater, your major, your GPA, and your previous internship experience to determine if you are qualified. They don't make their exact specifications public, and they are likely to shift a bit over the years—but it's helpful to have something to set yourself apart from the competition; such as successfully competing in a hackathon, chairing an on-campus coding club, published research, or other areas of distinction.
For more insights into what Amazon seeks in its interns, you can also check out what they are known to look for in job applicants, as the criteria will be fairly similar. Besides technical chops and intellect, Amazon also values leadership skills and an attitude of innovation and problem-solving. For more information, you can read this recent Paysa blog, How to Ace Your Amazon Tech Job Interview.
What to Expect On the Job
Amazon is known for its unique, strong corporate culture that emphasizes creativity and autonomy. Projects you work on will be intense, purposeful, and drive the bottom line of the company. No busy work here like filing papers or fetching coffee. Amazon interns are expected to add value to the organization and all-nighters are not unheard of during peak project times.
The type of project you're assigned will depend on what group you're working with.  Interns can get excited that whatever project they are assigned will potentially impact millions of Amazon users and create lasting results for the company—certainly not bad for a young professional's resume! Expect frequent brainstorming sessions with your mentor, managers, and teammates and be prepared to be called upon to speak knowledgeably about what you're working on at any time.
At Amazon, both employees and interns are expected to be highly self-directed with a "get sh*t done attitude." Your managers will want you to be decisive and confident with the ability to manage your workflow independently with nearly zero hand-holding. Unlike many internships, Amazon interns are not expected to adhere to a strict work schedule. Nobody is going to be looking for you at your desk at 9:00 am, which allows you to concentrate more on your job than your commute. However, don't allow that to make you complacent. Amazon has high expectations for job performance, and you will likely find yourself working more than you may anticipate.
On a positive note, interning at Amazon offers a hard-to-match opportunity to surround yourself with some of the most brilliant minds in tech. Employees are eager to answer interns questions and are usually regarded as helpful and friendly.
Compensation, Benefits, and Other Perks
Unpaid internships are unheard of at Amazon, and interns are well-compensated for their work.  Amazon internships last an average of 4-6 months and the compensation comes out to an average of $151K a year with all the benefits and other bells and whistles. However, a more accurate breakdown is that Amazon interns in Seattle can expect to earn about 6K a month in base salary plus a generous $2.5K in housing stipends. San Francisco interns have it even better, earning about $7.5K and an additional $3.5K per month toward expensive Silicon Valley rent.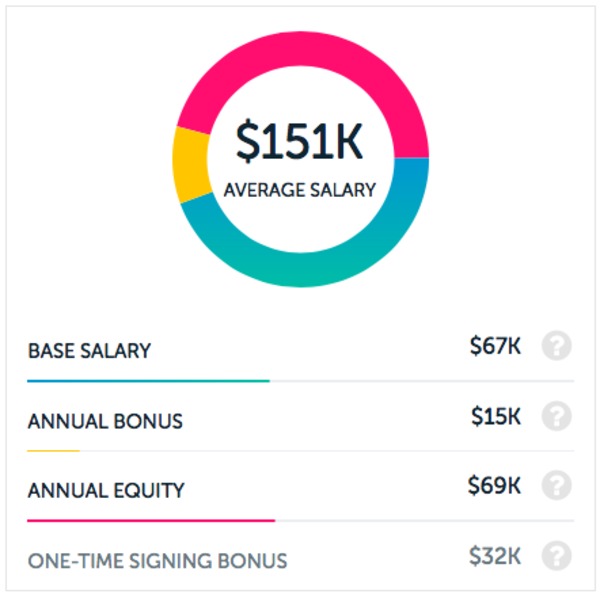 Most Amazon internships are 4-6 months, but this is what the annual salary would look, per Paysa data
It's not just the pay and career growth opportunities that have recent grads flocking toward Amazon. The perks can also be pretty sweet. Animal-loving geeks even have something to celebrate. Every day is "bring your dog to work day" at Amazon, and this privilege is also extended to interns. And there's a good reason for this: Giving employees the same perks and benefits as regular Amazon employees allows them to get a feel for the company culture and make an informed decision as to whether it's a company they want to work for long-term. Remember that when Amazon recruits interns, they're not just looking for folks to stay for 4-6 months, but for future employees to help grow their thriving corporation.
Besides being Fido-friendly and even supplying company dog parks, Amazon perks extend to the chance to get up close and personal with their products well before they hit the market. It's not unheard of for interns to be developing products that will eventually be passed along to the end-user. Interns are immediately thrown into the mix and get the chance to work on projects that could later define their careers and the tech landscapes. Additionally, Amazon is known to extend other terrific perks and benefits such as an on-site art studio, free meals and beverages, world-class parties and outings, private concerts with top performers such as Ellie Goulding, and plenty of other unforgettable experiences.
The Bottom Line
The chance to spend a few months working onsite with one of the world's most prestigious tech giants is an exciting opportunity for anyone looking to skyrocket their career. If you're looking to leverage your interests and maximize your talents for better career options, having Amazon on your resume is a sure-fire way to make it and succeed—that is, if you don't decide you'd rather just stay on with this fantastic company.
As an intern, the impact of the world you'll do will be immense, with the power to potentially impact the lives of thousands or even millions of end-users. With Amazon's world-famous culture of innovation driving its core values, interns here can be just about guaranteed an unforgettable career-launching experience.
Paysa can guide you at every stage of your career. Visit paysa.com to get started with personalizing Paysa for you.