Data scientists are really on a roll right now. For a role that barely existed five years ago, the demand for qualified data scientists has reached a fever pitch in the tech world. As a result, data scientist salaries can be quite lucrative if you end up with the right company or in a top location.
To help data science candidates make the right decisions about their career, the Paysa team has pulled together some information on where data scientists earn the most—including top companies and cities—along with additional hiring trends and more.
Salary & Compensation
Data scientist salaries average out to $99,558, ranging from $79,423 at the 25th percentile to $115,530 at the 75th percentile, with top earners (the top 10%) earning more than $136,752.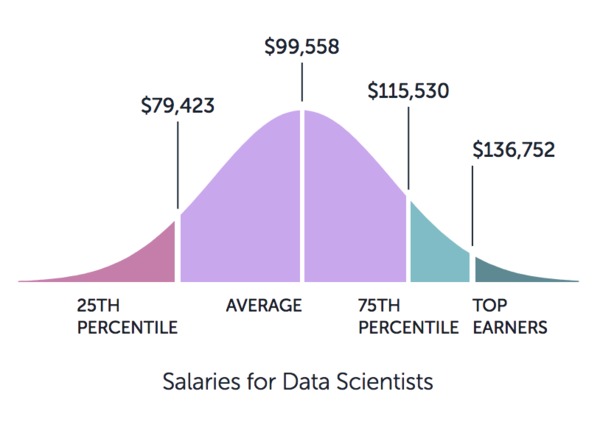 Click here for the most up-to-date salary information.
Best Paying Companies
Here are the five best-paying companies for data scientists. (Click on the company for more info.)
Best Paying Locations
These are the five best-paying cities for data scientists.

Education
Here are the top schools where data scientists attend.
University of California, Berkeley
Stanford University
Columbia University
MIT
University of California, Los Angeles
And the top degrees for data scientists, too.
Bachelor's degree (43%)
Ph.D. (20%)
Master's (14%)
Skills
These are top technical skills data scientists should know.
Python
R language
Machine learning
Statistics
SQL
Jobs
There are plenty of open opportunities out there for data scientists. Visit Paysa to learn more about Job Sense—our new tool for helping match you with the best data scientist opportunities.
Career Advice, Tips & Tricks
How to Become a Data Scientist
Top 5 Best-Paying Companies for Data Scientists
20 Common Data Scientist Interview Questions