As a UX designer, your job is to create a best-in-class experience for the people using a company's app or product. Considering the company's success hinges on customers using their product, UX designers play an essential role in every organization. This post explores the ins-and-outs of being a UX designer, including salary information, highest paying cities, educational background, hiring trends, and more.
Salary & Compensation
According to Paysa data, the average user experience designer salary is $103,964. Low-end salaries average out to $77,299, and the top 10% earn more than $153,006.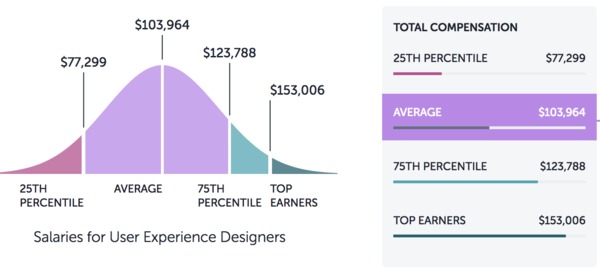 Click here for latest salary figures
Best Paying Companies
These are the five best-paying companies for user experience designers. (Click on the company for more info.)
Best Paying Locations
Where should you live and work? These are the five best paying cities for user experience designers.
Click here to see more locations
Education
These are the top schools attended by user experience designers.
University of Washington
Carnegie Mellon University
University of Michigan
NYU
Cal Berkeley
And the top degrees for user experience designers.
68% have a Bachelor's degree
5% have a Master's Degree
1% have their Ph.D
Skills
These are the top skills user experience designers should know.
User interface design
Information architecture
Web design
Wireframes
Usability testing
Check out the rest of the skills for a UX designer here
Jobs
Paysa is constantly adding new jobs for user experience designers. Check out Job Sense as a way to find great UX designer jobs matched to you and your background.
Career Advice, Tips, & Tricks
How to Get Promoted as a UX Designer
How to transform from UX Designer to UX Unicorn
Want to Find More Salary Information?
At Paysa, our users continuously keep us up-to-date on current salaries for every imaginable role at over 100,000 different companies in the U.S. And we make that salary information available to you so that you know where you can go to earn more.
Visit Paysa to learn more about UX designer jobs, and check out our salaries page for the latest salary data for top tech jobs around the country.