It's no secret that a career as a web developer can be one of the most fulfilling in all of tech. Web developers not only have the satisfaction of contributing to exciting new products and services—the money is pretty great, too. Web developer salaries are some of the highest in all of tech, and in this post, the Paysa team highlights the top companies and locations where web developers can earn the most.
Salary & Compensation 
Web developer salaries average out to $91,587 per year according to Paysa data. People in the 25th percentile earn an average of $77,544, while those in the 75th percentile take home an average of $103,370. The top ten percent earn over $117,646 per year.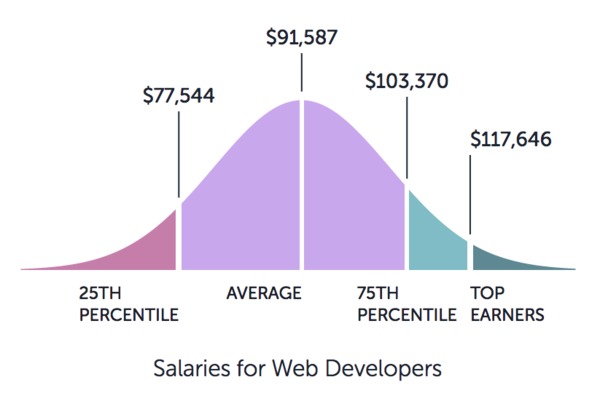 Click here for the most up-to-date web developer salary data
Best Paying Companies
Here are the five tech companies where web developer salaries are highest:
| | | |
| --- | --- | --- |
| Company | Base Salary | Total Compensation |
| Facebook | $177,500 | $252,000 |
| SoFi | $157,000 | $203,000 |
| Sapient | $106,500 | $190,000 |
| Trulia | $129,000 | $188,000 |
| LinkedIn | $140,000 | $185,000 |
Best Paying Locations
These are the five cities where web developers earn the most:
Check out more web developer salaries by location here. 
Education
These are the top schools attended by web developers in the tech industry:
DeVry University
UT Austin
Boston University
University of Washington
Cal Berkeley
Here are the top degrees for web developers:
Bachelor's degree (68%)
Master's degree (2%)
Ph.D. (less than 1%)
Skills
According to Paysa data, these are the top skills web developers need to know in order to earn the highest salaries:
CSS
Javascript
HTML
jQuery
PHP
MySQL
XML
See more skills on Paysa here.
Hiring
Here are the companies that hire the most web developers:
Jobs
Companies are always on the hunt for great web developers to join their ranks. Check out Paysa's job search page to see what's currently available for someone with your skillset.
Career Advice, Tips, and Tricks
Is Web Development the Right Career for You?
5 Good Reasons to Learn JavaScript Now
How to Get Promoted as a Web Developer
Visit Paysa today to learn more about a career as a web developer and to assess your own worth in the tech market.