Product manager salaries are consistently some of the highest across most top tech companies. And when you think about it, it makes sense why:
Product managers are the lifeblood of any company. 
A good product manager understands your customers' needs and how your company can meet them. They are visionaries with an eye for creative, innovative problem-solving, but also have their feet planted in real-world, scalable solutions. Engineers, developers, data scientists, and salespeople all play key roles in developing your company's products and bringing them to market. But, it's the product manager that maintains your company's vision and ensures you remain competitive in the tech industry.
Here are some stats on the cities and companies where product managers salaries are highest, along with some hiring trends and additional information for people interested in exploring this field.
Salary & Compensation
According to Paysa data, product manager salaries average out to $125,210, ranging from $102,678 at the 25th percentile to $143,550 at the 75th percentile, with top earners (the top 10%) earning more than $166,914.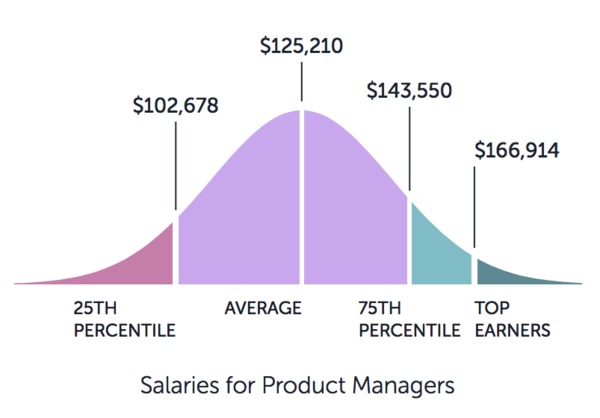 Click here for the latest up-to-date salary information
Best Paying Companies
These are the five best-paying companies for product managers. (Click on the company for more info.)
Best Paying Locations
These are the five best-paying cities for product managers.

Education
These are the top schools attended by product managers.
University of California, Berkeley
University of Michigan
Stanford University
University of Minnesota — Twin Cities
The University of Texas at Austin
And the top degrees for product managers.
Bachelor's degree (64%)
Master's of Business Administration (8%)
Master's degree (4%)
Skills
These are the top technical skills product managers should know.
Project management
Strategic planning
Competitive analysis
Sales
Marketing
Jobs
Plenty of companies are on the hunt for top product management candidates. Check out Paysa's new job search tool to find some of the top companies hiring product managers today.
Career Advice, Tips & Tricks
How to Become a Technical Product Manager
Is Product Management a More Lucrative Career Than Software Engineering?
Where Do Product Managers Make the Most Money?