Most people dream of the opportunity to land a tech job at one of Silicon Valley's top companies.
Not only do you get the chance to work on world-shaping products at the forefront of our cultural discourse (not to mention the undeniable influence on events as far ranging as ALS awareness to presidential elections), there's also this:
Working for a top tech company is like a golden ticket for a great career.
Receiving an offer from Google, Facebook, Snap Inc., or Airbnb often means you've set yourself up for an excellent long-term opportunity in the industry. After all, recruiters working on software engineering jobs often drool over talent from major tech companies because you come already-vetted by an industry-leading organization.
But what happens when you're one of the true elite who receive multiple tech job offers from several top companies?
How do you choose the right opportunity?
How can you leverage multiple offers to make more at your desired company?
How do you appropriately turn down an opportunity but leave the door open to work together in the future?
That's exactly what this post covers for you. If you're in the market for a new job and have the skills needed to make it big in tech, we'll show you 5 reasons it pays (literally and figuratively) to receive multiple tech job offers.
First, How Do You Evaluate a Tech Job Offer? 
In a recent post here on the Paysa blog, we shared an in-depth review of how to evaluate a job offer using our platform.
(If you haven't had a chance to read the post yet, you can find it here.)
But in short, deciding on the right job comes down to a lot more than just the salary offered (though, of course, you should absolutely compare compensation offers before accepting or declining).
You'll also want to take a look at the benefits, perks, company culture and growth potential before officially moving forward with an opportunity.
That's because when deciding between multiple offers from top tech companies, you're in a position to maximize your value and receive the best possible offer that not only sets you up financially but also makes sure you're ready for a long-term successful career.
And that's the basis for the first reason multiple offers can positively impact your job search:
#1. It Puts You In the Driver's Seat
No matter what, receiving a tech job offer is an achievement worth celebrating.
That's because it's not easy to land a position in tech — the competition is high and interview processes are strenuous (to say the least).
But, you'll likely agree: there's a big difference between the candidate who feels fortunate to receive one job offer and the superstar who has earned multiple job offers from several top-tier companies.
In the first position, you're likely going to take whatever they offer you. It's not uncommon to see people take pay cuts to get their foot in the door with a good company and even more likely that candidates accept offers based on brand recognition alone, not because they're actually passionate about the work.
In the second position, you're in control for one simple reason: you don't need any one opportunity to pay your bills.
When you have multiple job offers, you can rest easy knowing if one opportunity doesn't pan out, you have others you can safely fall back on. That flexibility puts you in a great position when it comes to negotiating offers. Which leads to the next benefit…
#2. You're Likely to Max Out Your Pay Grade
Let's say you've received offers for software engineer jobs at Airbnb and LinkedIn.
Nice work!
Here's the average salary for the position at Airbnb: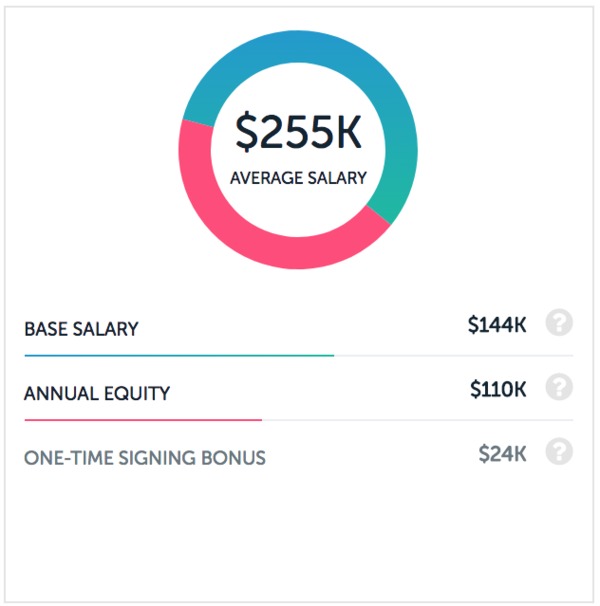 Average salary for a software engineer at Airbnb, per Paysa data.
And here's what you could expect to see from LinkedIn: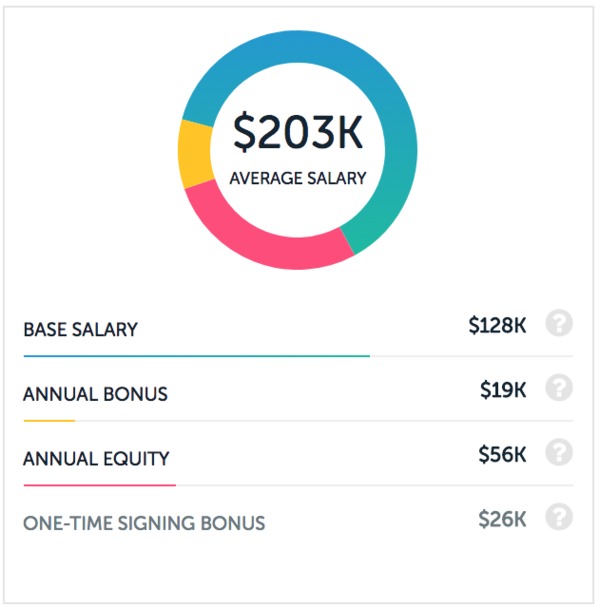 Average salary for a software engineer at LinkedIn, per Paysa data.
A pretty serious difference, right?
Now, if you were making a decision based on salary alone, Airbnb would be the obvious choice. But maybe you're interested in some of what LinkedIn has to offer, like their benefits package or the fact that they were recently acquired by Microsoft.
That makes things a bit more complicated.
And it beckons the question:
How can you leverage the larger offer from Airbnb to max out your potential with LinkedIn?
Here's how:
First, Demonstrate Your Value. 
Let LinkedIn know you're excited about the potential to work with them and share a 30-60-90 day plan to show how you intend to make an immediate impact.
Let them know you have an enticing offer from Airbnb and that while you're more excited about the potential of joining LinkedIn, you're having a hard time with the salary gap. Ask them if there's anything they can do to match the offer from Airbnb.
Finally, Have a Plan if They Say "No." 
Ultimately, LinkedIn may say "no." Either because the offer they initially extended is already at the high end of their pay scale for software engineer jobs, or because they have other candidates in the pipeline.
If that happens, you need to make a decision:
Are there other perks beyond pay that make accepting the smaller offer "worth it"?
And that's the third reason having multiple tech job offers really benefits your job search:
#3. You Can Focus on Other Perks Outside Compensation
Having multiple offers on the table should give you the peace of mind that your skills and experience hold value in the very competitive tech marketplace.
And that knowledge alone frees you to begin thinking about the bigger picture questions in your career, like:
Which company provides the most opportunity for long-term career growth?
Which company mission most aligns with my personal values?
Where will I learn more?
Which company will provide me with better work-life balance?
Where will I be most excited to come into work every day?
If the answers to all of those questions lead you toward the lower paying job — that's okay. You've proven your worth in the marketplace and — as you'll see with the next point — you don't need to say "no" forever.
#4. You Can Leave the Door Open for the Future
Turning down an opportunity now does not mean you need to shut the door on ever revisiting an opportunity with a different tech company.
In fact, sometimes the most responsible thing to do is to walk away from the bigger opportunity — if you're not quite ready for it.
Here's an example:
Let's say you get offered a software engineer job with Slack making the average salary of $174,000 per year.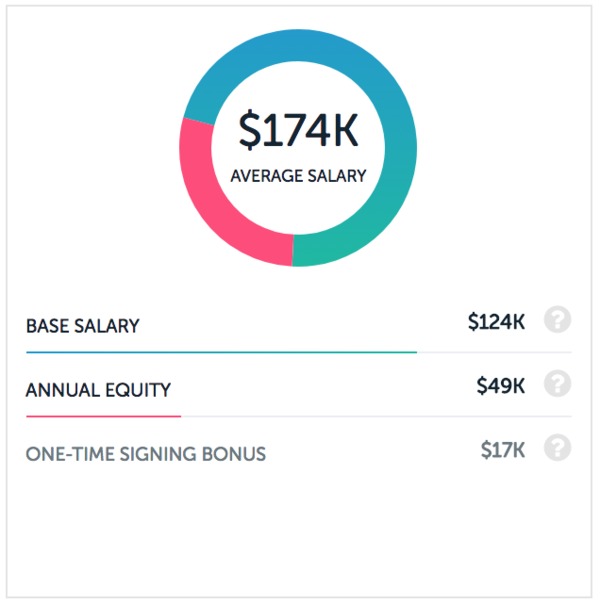 Average software engineer salary at Slack, per Paysa data.
Though Slack has come quite a long way from the gritty startup experiencing meteoric growth that they were even a year ago, working there is still a fundamentally different experience than say, a software engineer job with Cisco.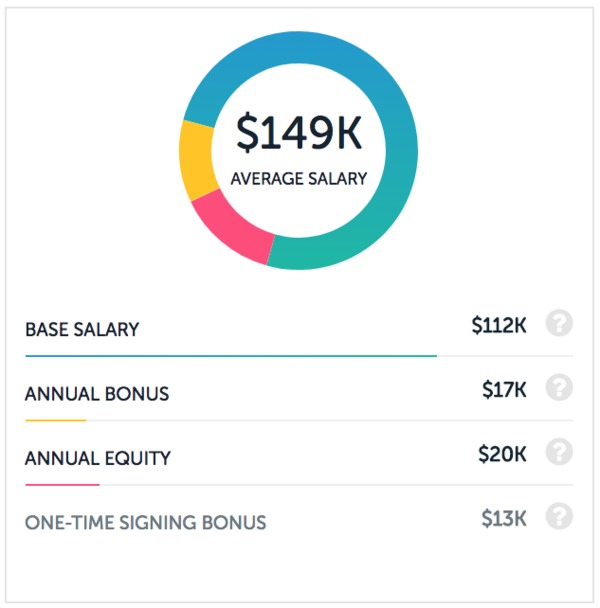 Average salary for a software engineer at Cisco, per Paysa data.
The latter pays about $25,000 less per year, but is with a company that has a 32-year history in tech and a wealth of knowledge to share with an up-and-coming software engineer.
So how do you politely turn down the opportunity with Slack but leave the door open for a future partnership?
It's all about transparency.
Tell Slack you're thrilled about the direction their heading and that when push comes to shove, you know you want to be a part of their business. But, you also recognize you still have a lot of learning to do, and that perhaps it's better you do that learning elsewhere and then potentially bring those skills to Slack in the future.
See what we did there?
A little flattery, a whole lot of honesty, and a dash of modesty is the recipe for a successful turn-down of a seemingly perfect opportunity.
To be clear: if the ultimate goal is to work at Slack in this scenario, it's not wrong to take the job at Slack. But someone with multiple job offers on the table needs to be thinking about how their decision impacts the future of their career.
Because even though there are multiple offers today, it doesn't mean there will be the same demand when you're on the market again in two years.
You need to be making strategic moves that position you for advancement and continue to up your value in the job market.
And often, that means considering other locations.
#5. You Can Live Anywhere You Want (Well, Almost)
It wasn't too long ago that working in tech meant you lived in the Bay Area or New York City.
Now, new tech hubs in low-cost markets are popping up all across the country.
From Boston to Austin, Denver to Dallas, and Phoenix to Pittsburgh, companies are expanding into new markets and looking for top talent to come along with them.
This is the final perk of receiving multiple tech job offers: you can start to consider whether there are opportunities in markets where the cost of living is lower.
If we go back to the Airbnb/LinkedIn example from earlier, consider that though Airbnb only has offices on the west coast in the States, LinkedIn has offices in Chicago and Omaha — two fairly low-cost markets where your salary can go much further.

Average cost of living in Chicago, per Paysa data.
So while the initial compensation plan may be lower, when adjusted for cost of living in a more affordable market like Chicago, you may actually come out on top.
But your motivation doesn't need to just be financial — maybe you've always wanted to live in Denver or Boston, and one of the offers you've received will give you the opportunity to make it happen.
The point is, whether it's location or benefits or career advancement: not every career decision you make needs to be purely driven by salary. Of course, money is important and is the fundamental reason behind why we work.
But when you're in a position where multiple companies want you to join their team, take advantage of being in a strategic position to make the right moves for your career — and your life.
Ready to Actually Start Receiving Offers?
Then head on over to Paysa to get started on your job search today.
Paysa not only points you in the direction of new jobs that match your skillset, but we also help you by evaluating incoming offers and sharing valuable data for your consideration like salaries and cost of living for markets all across the U.S.
Visit Paysa.com today to learn more.