In the highly competitive tech industry, many of the companies we know and love today could very well be irrelevant tomorrow. Remember Myspace? Pets.com? Geocities? All huge companies that either don't exist anymore or have been completely re-tooled after fading into obscurity.
But, among the Google, Facebook, Apple, and other top tech companies of today, there are a few "founding fathers" of Silicon Valley that continue to command a seat that the table. And perhaps the most prominent among them is Cisco Systems.
Even 30+ years after Len Bosack and Sandy Lerner started running network cables between two buildings on Stanford's campus and launched a company named after their beloved hometown of San Francisco, Cisco jobs remain some of the most coveted, in-demand positions in tech.
This post explores what top talent interested in Cisco jobs can expect from the interview process, as well as a glimpse into the culture and career path for those lucky enough to be working for such a historic company.
First, a Brief Look at the History of Cisco
In December of 1984, Leonard Bosack and his wife, Sandy Lerner, both worked at Stanford University as computer operations staff. The two dreamed of creating a network interconnectivity platform — a router — which would be fundamental in the early development of the internet as we know it today.
But the business actually started with a bit of controversy. You see, while Bosack and Lerner certainly had the vision and understood the wider implications of computer networking, the "multi-protocol router" — what would become Cisco's first product — was actually an idea developed at Stanford. And not just by Bosack and Lerner — by a whole team of staff members and graduate students who took some donated ethernet boards and managed to connect the entire university on one network.
When Bosack saw the commercial potential of such a platform, he approached Stanford for permission to sell it commercially. They turned him down. But Bosack and Lerner persisted, building prototypes in their living room and eventually bringing their first platform to market in 1985. That resulted in Stanford staff and leadership considering potentially crippling legal action against Cisco, before eventually licensing the multi-protocol network technology to Cisco.
The next few years were a juggernaut of growth. Cisco went public in 1990 and shortly after, Sandy Lerner was ousted from the company, leading to Bosack leaving in solidarity. The two sold their two-thirds share in the company for $170 million. Today, it would be worth $90 billion.
In 1993, Cisco made their first acquisition (today, they have acquired over 200 companies). By 1994, Cisco had over 2,000 employees and was doing $1.3 billion in sales revenue. Today, the company has over 70,000 employees and is worth $165 billion.
Why Work at Cisco?
If the storied history isn't enough motivation for you, there are plenty of reasons you should be interested in a career with Cisco.
First of all, Cisco ranks in the top 100 of over 10,000 tech companies to work for according to Paysa's CompanyRank tool.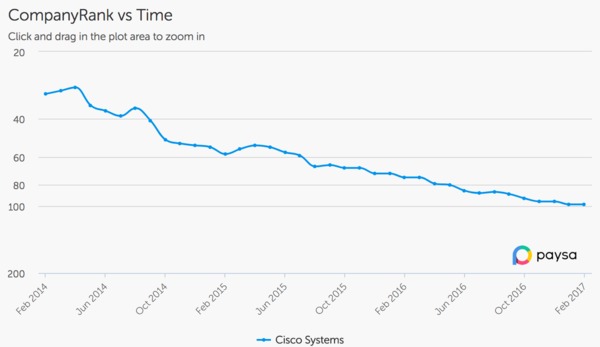 Cisco's CompanyRank over time, per Paysa data.
Let's break it down into three key categories:
Innovation
This is the bread and butter of Cisco's business, and ultimately, the primary factor that has helped them not only survive but actually thrive over the course of 32 years in business.
Cisco is always innovating. As new technologies push companies to evolve and iterate continuously, Cisco doesn't resist – they embrace the change and actively seek ways to improve their processes to innovate better.
Stephen Monterde, Cisco's Director of Disruptive Innovation, writes on HBR.org (note: the emphasis is ours):
"The question confronting Cisco and other companies is how to [keep up with new technologies] – how to speed the process of innovation, especially as technological change threatens to upend our current business models. At Cisco, we are learning to answer these questions through three initiatives designed to broaden our knowledge base by bringing multiple perspectives together: embracing diversity within our walls; reaching out across industries; and building partnerships with former (and current) competitors."
Now, you might be thinking:
Okay, that sounds good. But how do they execute against those goals?
When it comes to embracing people from different backgrounds with innovative ideas, look no further than the Cisco Innovation Grand Challenge. Each year, Cisco invites people from all walks of life and all around the world to come together and help solve big problems and exciting challenges facing the world today. Winners of the contest receive cash prizes along with mentorship opportunities to help bring their idea to market.
Pretty amazing, right?
If you're wondering how Cisco builds relationships across industries and with former and current competitors, take a look at this HuffPost article about Cisco's Hyper-Innovation Living Labs (CHILL for short). Think of it like a Situation Room for Cisco's best and brightest to partner with leaders from other Fortune 500 companies to innovate on new ideas or concepts that could help propel major breakthroughs in technology.
In fact, innovation is more than just a necessity to stay relevant in an ever-changing tech landscape; it's an integral part of Cisco's culture overall. And that culture is the second big reason it's worth exploring Cisco jobs.
Culture
When a company has over 70,000 employees, it can be tough to maintain the same culture and values on which the company was founded. But, if Cisco's proven anything in their 32-year history, it's that they are fully capable of defying expectations, and that's exactly what they've done with their company culture.
In addition to remaining innovative, Cisco prides itself on a culture that's universal across its 372 locations worldwide, but still recognizes and celebrates the individual cultures of the 92 countries where they operate. Company executives continuously broadcast across social channels with the #WeAreCisco tag, making that a centerpiece for highlighting the company's culture and values across the world.
And that's not all: in addition to some of the most competitive salaries in the business (we'll get to that in a moment), Cisco's benefits and perks packages are definitely best-in-class.
You'll find the same great health benefits you'd expect from any top tech company, but one of their most interesting perks is a "time swap" program that allows employees to spend up to 20 percent of their workweek doing someone else's job. That means Cisco invests in your ability to diversify your career and explore learning and growth opportunities in other areas of the company.
Compensation
Of course, any company with the rate of growth Cisco has experienced knows how to attract and retain top-tier talent. And a lucrative compensation package is central to that. According to Paysa, the average Cisco employee makes $158,000 per year.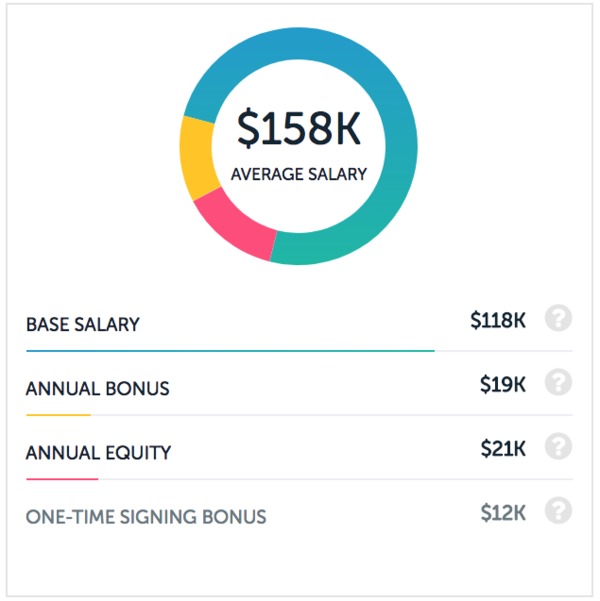 Average salary of a Cisco employee, per Paysa data.
But let's take a look at how engineers specifically compare to others:
Software Engineer – Annual Compensation: $149,000
Engineering talent is the core of any tech business and it's no secret that more people are interested in expanding their careers into this field.
For those with the talent and experience, Cisco jobs can be some of the most lucrative for engineers in all of Silicon Valley. According to Paysa, the average software engineer at Cisco earns around $149,000 per year.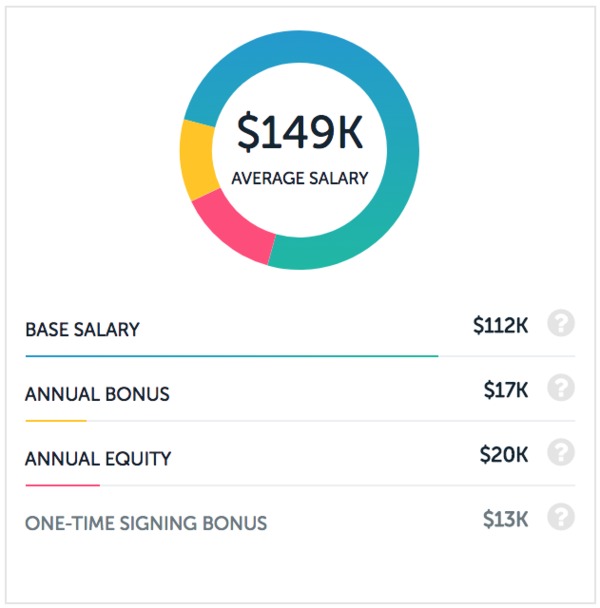 Average salary for a software engineer at Cisco, per Paysa data.
Now, let's compare that to the salary for an engineer at another founding father of the tech industry, Hewlett-Packard. Here's what Paysa data for over 4,000 profiles shows: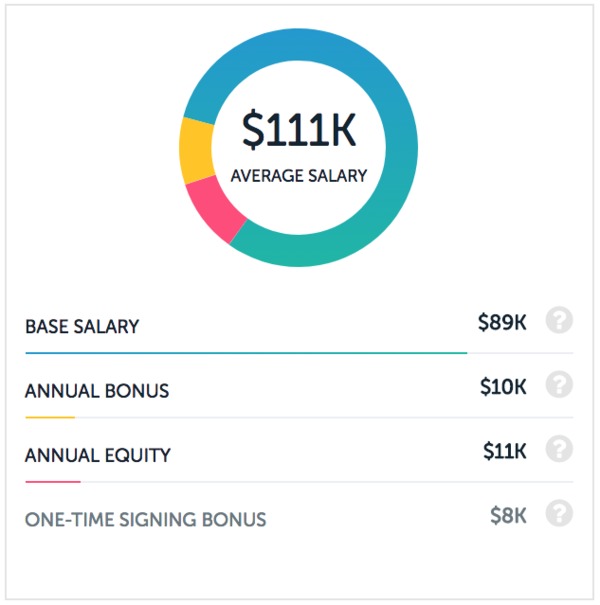 Average salary for a software engineer at Hewlett-Packard, per Paysa data.
That's nearly a $40,000 bump to the salary expectations at Cisco. 
But, with any great salary comes a tough interview process. Here's what you can expect when interviewing for Cisco jobs.
What is the Interview Process Like for Cisco Jobs?
With nearly 250 jobs listed on Paysa at the time of publication, there's ample opportunity to join the Cisco team. But getting hired is no easy feat.
Cisco's Careers Page gives a high-level view of what you can expect from an interview:
"This process helps us get to know you, and for you to learn about our people, culture, and business. We'll evaluate your skills and experience against our current business needs. We'll ask you about your academic and work experience, and you can ask questions, too. Be prepared to tell about your achievements and the value you could bring to Cisco."
This Cisco recruiter wrote a great blog post with tips for the interview process, but in short, here are a few things you can do to prepare:
Be prepared to demonstrate ways you stay "innovative." When a company cares as much about innovation as Cisco does, you need to make sure you can speak to how your own experience aligns with that mentality.
Network with other Cisconians. With over 70,000 employees, Cisco has a robust referral network. Make connections on LinkedIn or through networking events with Cisco employees to get their advice or a referral.
Know all about Cisco.
Hiring managers want to know the answer to one specific question: Why Cisco? Talk about why they're a company that aligns with your goals and don't be afraid to show you've done your research. One note, though: even though we shared the story about stealing from Stanford, you might want to leave that part out.
Conclusion
If you're interested in exploring Cisco jobs, Paysa can help you get your foot in the door.
In addition to valuable interviewing tips shared through this blog, Paysa offers the opportunity to apply to Cisco jobs directly and access salary data for nearly every role within the company.